2016: My year in music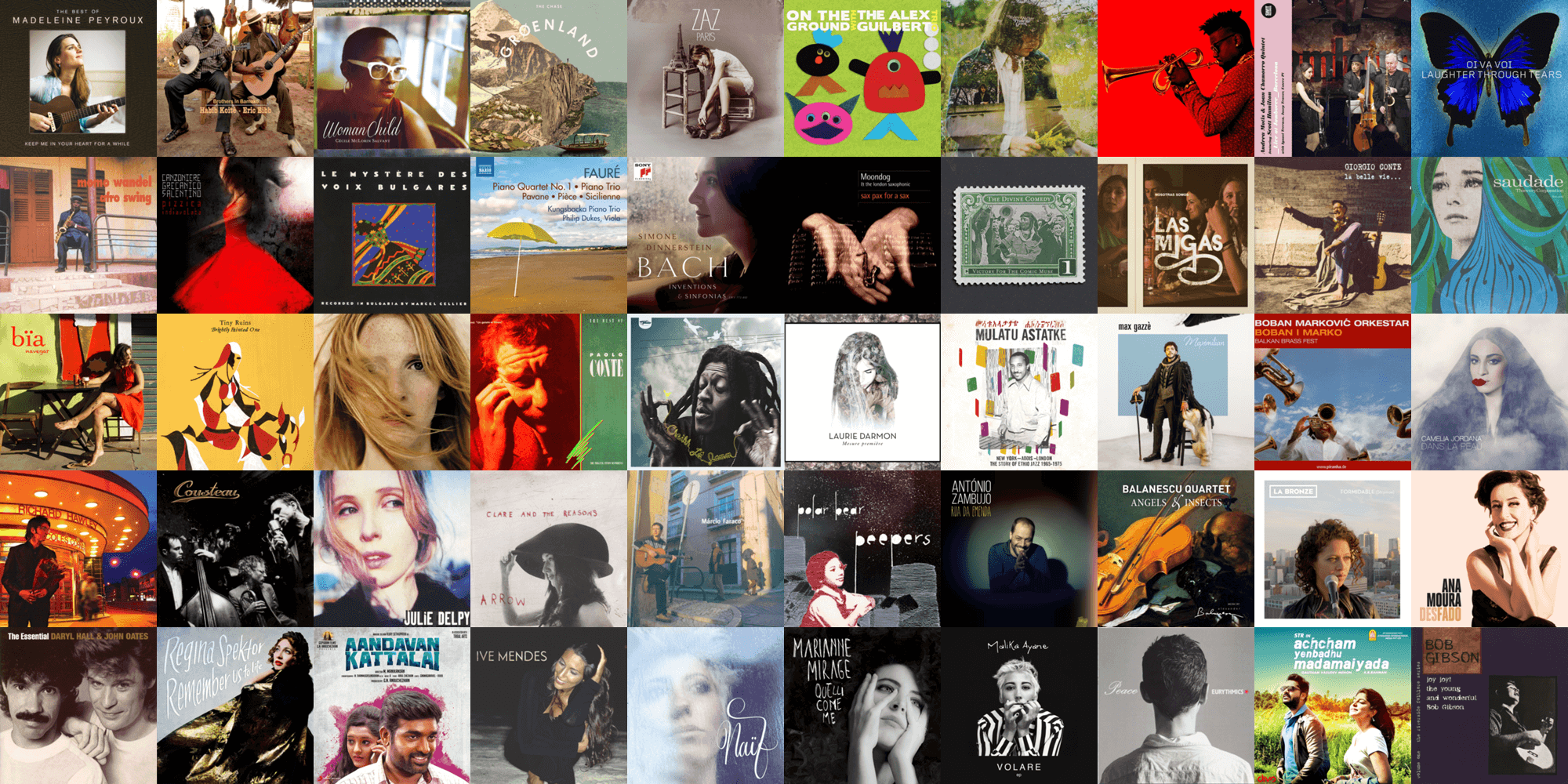 Montage
Just a few years ago, the universe of music I had access to was small. I also had limited means of discovering new music. And while Napster and torrenting made acquiring music easier, I rarely used them. I guess where others saw a greedy music industry that we didn't owe our hard-earned money to, I saw artists and labels that deserved to be paid fairly for creating something that consistently brought so much joy to my life1.
Apple's iTunes music store didn't come to India until relatively recently. I was still buying CDs till about five or so years ago. I'd usually buy from local stores in Bangalore (MusicWorld anyone?). Occasionally, when traveling to the US on work, I'd order them from Amazon to friends in the US and collect them when we'd meet. Some of the CDs in my collection were procured from Airports in Europe - for direct flights to west-coast from India don't exist and layovers in Europe were inadvertantly long2.
When we moved to Amsterdam, I had to digitise my entire collection and leave the CDs behind. This helped shift my notion of ownership of music from being something you bought physically to something that only existed as a file on your machine.
Moving here also dramatically expanded my musical horizons. How it started happening was a happy accident. Just five years ago, Spotify was not mainstream and other services, including Apple Music, didn't exist. Almost everyone had hours of music on their work laptop and almost everyone used iTunes. Turns out, iTunes has a feature called "Home Sharing". When it is enabled, others on the same network can see and listen to your entire library - just as you can see and listen to others's library. At a workplace where there were at least 30 nationalities at that time, musical tastes were bound to span genres and artists I had no idea about3.
I had always considered myself something of a prolific listener so discovering so much new music that others would consider mainstream but I hadn't even heard about, let alone heard, came to me as a bit of a shock. I also found new works by artists I already knew and enjoyed. Asking about musical tastes of others over lunch would often lead to new discoveries that I probably wouldn't have stumbled upon myself.
There was also bit of a moral dilemma for me. While I was buying a lot of the music I was discovering4, I wasn't going to be able to keep up with the sheer volume of new music I was now listening to. The advent of affordable streaming services couldn't have been more timely.
With Spotify's ad-supported "freemium" model, it was a no-brainer to get started. Once their catalog grew (as did the frequency of advertisements and the sort of arbitrary restrictions they'd place on the mobile app), it was an easy decision to become a paid subscriber.
2016 was probably the first year where I almost exclusively streamed music. And while Spotify's algorithmically generated "Discover Weekly" playlist has been uncannily good at recommending music I would enjoy, I found that like the "Hosts" in Westworld, it'd get stuck recommending the same narrow bands of genres and artists over and over again (theres only so many cover versions of "Summertime" one can enjoy).
So I've had to do some legwork myself and go in search of fresh music. I've had to keep my ears peeled for music in cafes, bars and on the radio in cabs. I've had to keep an eye out for tweets that mention music, pay attention to passages in books that reference music (which btw happens a lot if you are reading Murakami), and generally browse around Spotify's catalog using an artist or band I know as an anchor.
I found around 248 new tracks (of the thousands that I must've I heard) that I considered worth adding to my "favourites" playlist in Spotify. Of these I picked around 52 tracks (spanning 50+ unique artists and albums) for my year-end retrospective. A lot of this music featured here was released way before 2016 - I only happened to find about it this year.
I've compiled a playlist with these tracks on spotify. Below is a short review of each track in the playlist. It's futile to try and rank music this diverse, so I've listed the songs in the order in which I came across them in 2016.
Don't Wait Too Long: Madeleine Peyroux

Spotify | Youtube
Perhaps because I discovered this track early in the year, the lyrics almost sounded like a call to action for seeing all those new years resolutions through:

You can cry a million tears
You can wait a million years
If you think that time will change your ways
Don't wait too long

Madeleine's voice is unlike anything I had heard before and I was instantly hooked.
On My Way To Bamako: Eric Bibb & Habib Koité

Spotify | Youtube
Spotify recommended a fair share of music from and about Africa to me this year. This song takes me to a sunny place inside my head, I guess exactly what the lyrics intend:

Well I'm on my way to Bamako
A place I always wanted to go
I'm on my way to Bamako
To see what I can see

I Didn't Know What Time It Was: Cécile McLorin Salvant

Spotify | Youtube
A very unexpected discovery. The piano interlude around the half-way mark (2:56) still gives me goosebumps.
Daydreaming: Groenland

Spotify | Youtube
Intentionally left blank as an exercise for the listener.
Sous le ciel de Paris: Zaz

Spotify | Youtube
Paris must hold some kind of record about the no. of songs that've been written and sung about it. A cover version of a classic (I personally consider this an improvement over the original), it conveys the bustle, the chaos and the energy of life in Paris beautifully.
New Slang: Alex Guilbert Trio

Spotify | Youtube
The sort of melody that grows on you and then begins to loop inside your head days after you last heard it.
Primrose Green: Ryley Walker

Spotify | Youtube
I have no idea why this song reminds me of the period in the 60s when the Beatles visited India. Certain songs work for you for weird reasons. This one takes me to a place and a time I've never experienced personally.
Sunrise in Beijing: Christian Scott, Elena Pinderhughes

Spotify | Youtube
Another one of those little tunes that grow on you slowly and then go on to acquire tenancy rights inside your head.
Summer Time: Andrea Motis, Joan Chamorro, Scott Hamilton, Ignasi Terraza, Esteve Pi, Josep Traver

Spotify | Youtube
I wasn't complaining about Spotify serving me more than my share of cover versions this year for nothing! Now even as an accomplished group of musicians, a cover of Summertime is not something you'd consider doing lightly. This one works because of the wonderful chemistry between the members of the ensemble and also because of the improvisation that takes this familiar number to a new territory. My favourite part is around 2:11 when the Saxpohone takes over from the vocalist who in turn takes it forward after a minute - but as a trumpeter! (Andrea Motis, the lead vocalist, is a trumpeter too)
Ladino Song: Oi Va Voi

Spotify | Youtube
Intentionally left blank as an exercise for the listener.
Félenko Yéfé: Momo Wandel Soumah

Spotify | Youtube
Wikipedia describes Félenko Yéfé as having a

"

characteristic gravelly voice". It's certainly a voice that as a child, I wouldn't have believed capable of making music. As an adult, I find this voice magical. The Saxophone is a powerful presence throughout this song.
Nu te fermare: Canzoniere Grecanico Salentino

Spotify | Youtube
The probability of me discovering a traditional music ensemble from Salento (in southern Italy) before Spotify would've been close to zero. In this song the full, passionate voices of the vocalists find a perfect match in the fiddle. The music video is worth a watch too and should have you tapping your feet in no time.
Svatba (The Wedding): Bulgarian State Television Female Choir

Spotify | Youtube
A lot of my time in 2016 was spent finishing the Game of Thrones books. If I were deciding the music for the

TV

series, this is the song I would've picked for the Red Wedding episode.A great reminder of the power of the human voice.
Sicilienne, Op. 78 (version for piano): Gabriel Fauré, Simon Crawford-Phillips

Spotify | Youtube
Came across this piece in an episode of Better Call Saul - glad I looked it up.
Invention No. 13 in A Minor,

BWV

784: Johann Sebastian Bach, Simone Dinnerstein

Spotify | Youtube
Back in the 90s when getting a SoundBlaster for your

PC

was a big deal, the installation CDs used to come with

MIDI

files to demonstrate how realistic the sampled sounds stored on the sound card were. I'd heard this little piece on one of those CDs and even used it in one of the college computer science projects. I had no idea the piece was an Invention by Bach so I hadn't been able to find it all these years. I was ecstatic to discover the real thing this year.
New Amsterdam: Moondog

Spotify | Youtube
Moondog's music is saxophone at its most sublime. The choir singing:

New Amsterdam was her name
Before she was New York

Takes me to a strange place in my mind. As a foreigner living in the Netherlands I can perhaps feel the pangs of homesickness the Dutch settlers of New York must've felt.
A Lady Of A Certain Age: The Divine Comedy

Spotify | Youtube
Beautiful singing, poignant lyrics. This song breaks my heart every single time.
Con Toda Palabra: Las Migas

Spotify | Youtube
Intentionally left blank as an exercise for the listener.
Gne' gne: Giorgio Conte

Spotify | Youtube
This song reminded me that music can be fun and playful even if you don't understand a single word being sung.
Décollage (feat. Lou Lou Ghelichkhani): Thievery Corporation, Lou Lou Ghelichkhani

Spotify | Youtube
French lounge music - why not?
Beijo: Bïa

Spotify | Youtube
I made a conscious effort this year to seek out Portuguese music that's not Fado. I haven't been disappointed.
Me At The Museum, You In The Wintergardens: Tiny Ruins

Spotify | Youtube
Intentionally left blank as an exercise for the listener.
M'Envoyer Des Fleurs: Sandrine Kiberlain

Spotify | Youtube
First two bars and you know you are going to like this song a lot
Via con me: Paolo Conte

Spotify | Youtube
Love the dark piano notes and Paolo Conte's voice. I didn't understand a word of Italian being sung here, but then out of nowhere comes this bit in English that you can hum along:

It's wonderful, it's wonderful, it's wonderful
Good luck my baby
It's wonderful, it's wonderful, it's wonderful
I dream of you
Chips Chips
To do do do do…

Il N'est Jamais Trop Tard: Cheikh Lô

Spotify | Youtube
Beautiful, effortless singing. I felt compelled to look up the lyrics and their English translation:

Il Ñ'est jamais trop tard - It's never too late.
Mes mots tes lèvres douces: Laurie Darmon

Spotify | Youtube
Intentionally left blank as an exercise for the listener.
Tezeta: Mulatu Astatke

Spotify | Youtube
Ethiopean Jazz. Another track that made me nostalgic about my childhood. Redolent of lazy, sunny, sundays in front of the big family radio
La Vita Com'è: Max Gazzé

Spotify | Youtube
Discovered Max Gazzé while browsing for artists similar to Jovanotti. The music video is hilarious.

SAT

: Boban Markovic Orkestar

Spotify | Youtube
For me, this song was a reminder that big brass band can create some unsual melodies and harmonies.
Colonel chagrin: Camélia Jordana

Spotify | Youtube
Intentionally left blank as an exercise for the listener.
The Ocean: Richard Hawley

Spotify | Youtube
Hypnotic. Every time I hear Richard Hawley's deep, rich voice and the song's orchesterisation I can close my eyes and feel like I am standing alone at a beach at night and that the tide would sweep me away.
Last Good Day Of The Year: Cousteau

Spotify | Youtube
The song I rang 2017 in with.
My Dear Friend: Julie Delpy

Spotify | Youtube
A song of friendship, lonliness and longing
That's All: Clare & The Reasons

Spotify | Youtube
Spotify describes the band's output perfectly as

"

quirky, jazzy, indipop". This song is as fine a specimen as any.
Baile De Mascaras: Márcio Faraco

Spotify | Youtube
Another song that puts me in a sunny disposition.
Peepers: Polar Bear

Spotify | Youtube
Intentionally left blank as an exercise for the listener.
Pica Do 7: António Zambujo

Spotify | Youtube
I love António Zambujo take on contemporary fado. The use of a wind instruments by his ensemble adds a new dimension to the music. We heard him live this year in Amsterdam, which makes this track extra special.
Waltz: Balanescu Quartet

Spotify | Youtube
This is contemporary classical music but composed in a

"

period" style as this was composed for a film set in Victorian England. Reminds me of Josef Lenner's waltzes - just a tad more melancholic.
Formidable: La Bronze

Spotify | Youtube
A very unique cover of Stromae's Formidable that alters between Maghrebi Arabic and French.
Com A Cabeça Nas Nuvens: Ana Moura

Spotify | Youtube
This is fado performed in a more traditional mold and yet sounds very contemporary.
I Can't Go for That (No Can Do) - Remastered: Daryl Hall & John Oates

Spotify | Youtube
I had only heard the cover version of this song by The Bird and The Bee. In fact, I didn't even know that the version I had heard was a cover of an original till I stumbled upon a reference to it in Murakami's After Dark. I much prefer the original with its energetic saxophone solo.
Older and Taller: Regina Spektor

Spotify | Youtube
I had discovered Regina Spektor because Microsoft used her number

"

Us" on the lunch website for Zune. Zune is long gone but Regina Spektor has been getting better with each album. I love her whimsical and often poignant ballads. This one is from latest album Remember Us To Life. While I'll highly recommend listening to the entire album, this song tugged at the chords of my heart the hardest.
Yaaro Petha Pillai: K, Anthony Daasan

Spotify | Youtube
The composer of the music for this Tamil film goes just by the initial K. Rustic folksy voices, beats remniscent of the 70s and playful violin come together surprisingly well in this song.
Castiçais: Ive Mendes

Spotify | Youtube
Intentionally left blank as an exercise for the listener.
Imsai Rani: K, Karthik

Spotify | Youtube
Another one from the South Indian composer K. This one features here because I love the song's deep orchestration.
Senza fare sul serio: Malika Ayane

Spotify | Youtube
Somewhere towards the end of 2016, I found myself listening to a lot of contemporary Italian electronic/dance music. This one stood out.
Game Over: Marianne Mirage

Spotify | Youtube
Intentionally left blank as an exercise for the listener.
Nel blu dipinto di blu: Malika Ayane

Spotify | Youtube
Another cover of another very popular classic. Done surprisingly well.
I Saved The World Today: Eurythmics

Spotify | Youtube
My go to song for a tough day at work
Rasaali: A.R.Rahman, Sathya Prakash, Shashaa Tirupati

Spotify | Youtube
I consider this and the next track, two of the finest works A. R. Rahman has ever produced. Rahman's strength is taking elements from Carnatic and Western Classical and weaving them seamlessly with modern electronic music into a song. The carnatic violin solo in the first interlude around 1:31 and the vocal solo around the 3:28 mark are excellent examples of this.
Avalum Naanum: A.R.Rahman, Vijay Yesudas

Spotify | Youtube
In this song elements from western classical dominate. The violin solo around the 1:18 mark, reminds me of Rondo from Beethoven's violin concerto.
Joy, Joy: Bob Gibson

Spotify | Youtube
Just play it :)
---
Date
January 1, 2017
---
---