2019: My year in music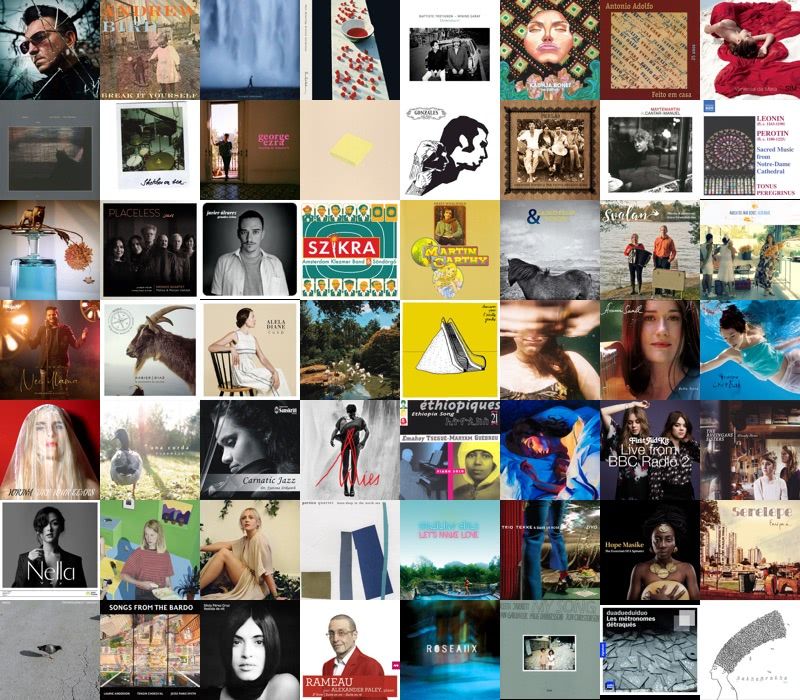 This is the fourth year I am sharing my selection of 50 or so tracks that I really enjoyed that year. Like years before, and unlike most mainstream media countdowns, these tracks were not necessarily released in 2019, I just happened to discover them last year. While in previous years' playlists I'd leave the tracks in more or less the same order in which I discovered them, this year I spent some time arranging them so that overall playlist has a bit more "flow"1.
I had switched to Apple Music last year. This year Spotify launched their service in India. While I live in the Netherlands, their India launch led to them expanding their catalog of music from India offered here to a point where I felt I wasn't missing what I wanted to listen to. So I switched back. Not only do I find usability/responsiveness of Spotify's apps better, their recommendations are better too. So yes, if two services offer the exact same content, they can still differentiate themselves on experience.
While Spotify's algorithmic recommendations played a big role in helping me discover new music in 2019, I Shazam-ed a lot of them during my travels. Then there were other curated playlists, such as the one that Ryuchi Sakamoto made for an NYC restaurant and World Music Network's monthly charts, that provided both new material and inspiration for this annual playlist ritual of mine.
Here's my 2019 musical retrospective.
Tuesday pm: Richard Hawley

Youtube
Richard Hawley's deep baritone is what carries this song. Also a tune that grows on you over time.
Danse Carribe: Andrew Bird

Youtube

When I featured Andrew Bird in my annual playlist in 2016, I had no idea he had been making music since the 90s! He was prolific this year, but the song I've picked is from his 2012 album 'Break It Yourself'. Not only because is it a lovely song, I find myself relating to these bits of lyrics:

Here we go mistaking clouds for mountains, oh
Here's the thing that brings the sparrows to the fountains, oh
Here's the thing that makes you run for the highlands, oh
Here we go mistaking clouds for mountains


each time we come back from spending time in the German alps.
Come On, Dreamer: Tom Adams

Youtube

Come on dreamer
come on dreamer
The night belongs to you


The sort of lyrics that go on to become sport anthems. Tom Adam's falsetto is quite magical too.
Junk - Remastered 2011: Paul McCartney

Youtube
From Paul McCartney's 1970 solo debut album McCartney, recorded around the time of The Beatles' acrimonious break up in 1969/70. Poignant.
Jenny Wren: Baptiste Trotignon, Minino Garay

Youtube
Talking of Paul McCartney, here is a wonderful jazz piano rendition of his 2005 song Jenny Wren. From the album Chimichurri (the spicy sauce whose name, as per Wikipedia, roughly translates to

'

a mixture of several things in no particular order', which is precisely what this album ends up being).
The Visitor: Kadhja Bonet

Youtube

I enjoy works that naturally resist being classified under one genre. Wikipedia summarises various critics' view of Khadja Bonet's music rather well:

"Bonet's music has been described as psychedelic soul while, for other critics, it

'

amalgamates folk, jazz and soul,' or evokes

'

Billie Holiday, whisky, and 1940s Disney' in a

'

genre-defying' way."

Aonde Voce Vai: Antonio Adolfo

Intentionally left blank as an exercise for the listener.
Boa Sorte / Good Luck: Vanessa Da Mata

Youtube
I quite enjoyed this Vanessa Da Mata/Be Harper Portuguese/English duet. Spotify recommended me a fair share of bilingual songs this year - mostly duets where each person sings in a different language. Perhaps because the phenomenon went sufficiently mainstream this year with collaboration between Madonna and Colombian singer, songwriter Maluma on their number Medellín?
Psychic Elephant: Shankar, Jan Garbarek, Palle Mikkelborg

Youtube
A wonderful collaboration between L. Shankar (who plays a rather unusual looking electric

"

double" violin), Jan Garbarek (saxophone) and Palle Mikkelborg (trumpet) from their 1984 album Vision. Made me very nostalgic about my childhood in India for some reason (the album cover of a cat sitting across a reed sun screen on a bright day might have something to do with it).
Züri: Sophie Hunger

Youtube
If 4

AM

in the morning had a sound, this would probably be it.
Hold My Girl: George Ezra

Youtube
I've been captivated by George Ezra's voice since I first heard him in 2013 (he was just 19 then, and I couldn't believe that a voice so mature could emanate from someone so young!). This song is from his 2018 album Staying at Tamara's and clearly shows that he has been getting better each year…
Wrong I: h hunt, Gentle Threat: Chilly Gonzales

Youtube

From an NYTimes article published in Jul 2018:

Last fall a friend told me a story about Ryuichi Sakamoto, the renowned musician and composer who lives in the West Village. Mr. Sakamoto, it seems, so likes a particular Japanese restaurant in Murray Hill, and visits it so often, that he finally had to be straight with the chef: He could not bear the music it played for its patrons.

The issue was not so much that the music was loud, but that it was thoughtless.

Mr. Sakamoto took matters into his own hands and ended up curating a playlist for the restaurant. These two tracks are from his playlist. Though not related to each other, they seem to belong together - much like Debussy and Ravel's string quartets that were usually issued together on CDs (I remember reading the term

'

disc buddies' in liner notes).

Youtube
Puerto De Santa Maria: Josephine Foster, The Victor Herrero Band

Youtube
Some inspired guitar playing and singing.
Por la Mar Chica del Puerto: Mayte Martin

Youtube
Sublime Flamenco.
Beata viscera (monophonic conductus): Pérotin, Tonus Peregrinus, Antony Pitts

Youtube
Attributed to the 12th century French composer Pérotin, this is hauntingly beautiful music. Although the album cover depicts the southern transept rose window at Notre-Dame, the album itself was recorded at the Chancelade Abbey in Dordogne, France. The compositions featured in this album used to be sung during the liturgy at the Cathedral of Notre-Dame hundreds of years ago. Given this year's devastating fire at Notre Dame, I couldn't help but include the track it into this year's playlist.
Gallipoli: Beirut

Youtube
This is track is from Beirut's 2019 album of the same name (named after the Italian town where it was written). The opening brass section immediately hooks you in.
My Ruthless Companion: Mahsa Vahdat, Kronos Quartet, Marjan Vahdat

Youtube
A beautiful collaboration between persian vocalists Mahsa and Marjan Vahdat and Kronos string quartet. Sometimes magic happens when two disparate styles of music come together.
Por Que Te Vas: Javier Alvarez

Youtube
A cover of the popular 1974 song ¿Porqué te vas?. A catchy tune.
Moroka: Amsterdam Klezmer Band, Söndörgő

Youtube
The homepage of Amsterdam Klezmer Band defines

'

Klezmer' as

'

traditional Yiddish party music'. While traditional Klezmer is still the foundation of their music, the overall sound is very contemporary. This album is a collaborative effort with the Hungarian band Söndörgő.
Billy Boy: Martin Carthy

Youtube
This year I stumbled upon a playlist of English folk music so ended up listening to more music from this genre than I usually would. I was immediately drawn to Billy Boy for its melodic and rhythmic complexity.
Speedmotion: Lajkó Félix, Vołosi

Youtube
Brilliant collaboration between string quintet Vołosi and violinist Lajkó Félix. This track from their epoynomous album leaves me feeling breathless.
Svalan: Maria Kalaniemi, Eero Grundström

Youtube
Beautiful accordion playing and vocals that celebrate the spirit of swallows (svalan is Swedish for swallow). These are the sort of obscure works I wouldn't even know about, let alone listen to, had it not been for streaming services like Spotify.
Tonada Camagüeyana: Maria del Mar Bonet

Youtube
This is the sort of music that takes me to a sunny place inside my mind…
Nee Illama - Madras Gig Season 2: Ghibran

Youtube
Intentionally left blank as an exercise for the listener.
O baile de Noró: Xabier Díaz

Youtube
Folk music from northern parts of Spain. Evokes a very unique feeling with hurdy gurdy, violin, percussion and some accomplished solo and choral singing.
Émigré: Alela Diane

Youtube
Intentionally left blank as an exercise for the listener.
Quiero Saber: Odyssey

Youtube
Intentionally left blank as an exercise for the listener.
Funeral Blues: Marc Sarrazy, Laurent Rochelle

Youtube
Piano, saxophone, jazz, blues. Hauntingly beautiful.
Random Rules: First Aid Kit

Youtube

Quirky lyrics that sound unsingable and yet here you are listening to them in a song:

In 1984 I was hospitalized for approaching perfection
Slowly screwing my way across Europe, they had to make a correction
Broken and smokin' where the infrared deer plunge in the digital snake
I tell you, they make it so you can't shake hands when they make your hands shake


This is a cover sung as a tribute to David Berman who died this year.
L'Amor: Arianna Savall

Youtube
Magical harp playing and singing.
Merci: Jeanne Cherhal

Youtube
To sustain a full song at that pitch…
Dry Your Tears: Yorina

Youtube
A tune at once familiar (almost something I'd expect to hear in a Hindi film) and new.
Traveller: Daisuke

MATSUTAKE

Youtube

I stumbled upon this track quite by accident. I was reading about this rather unusual piano called Una Corda Piano2. There is a video clip on this page about how the instrument came about. While you can hear Una Corda Piano being played in the background of this video, there weren't any other/longer pieces on their web page. So naturally, I turned to Spotify.

Now Una Corda is also a name for the piano's soft pedal and it's also a musical instruction. Naturally, the name has been used before in the context of a conventional piano for many years and I didn't find any pieces played on the Una Corda Piano itself. I did find this delightful little piece from an obscure3 Japanese composer's album called Una Corda.
Haunting Thoughts - Sallapam: Jyotsna Srikanth

Youtube
From the album Carnatic Jazz. This track is what the album title says.
Afro Blue: Melanie De Biasio

Youtube
Intentionally left blank as an exercise for the listener.
The Song of the Sea: Emahoy Tsegué-Maryam Guébrou

Youtube
A quick look at Wikipedia page for ninety something Emahoy Tsegué-Maryam Guébrou would show you that she has led a very eventful life. Her music sounds vaguely from the late classical/romantic period but there are forms and motifs within that are very uniquely her own. I was very happy to hear her voice in this wonderful 2017

BBC

4 radio documentary and to learn that she continues to compose to date.
Perfect Places: Lorde

Youtube
A very danceable track from Lorde's 2017 album Melodrama. I recently heard a cover of this number by First Aid Kit and was amazed at how a song with the same lyrics and even the same general tune can sound completely different because of its stylistic treatment. Had to include both the cover and the original in this year's list.
Perfect Places - Live From

BBC

Radio 2: First Aid Kit

Youtube
See above.
Mackerel: The Rheingans Sisters

Youtube
Folk music that evokes feelings of a calm, warm, bright, late spring day. Almost like a pastoral painting.
Voy: Nella

Youtube
Intentionally left blank as an exercise for the listener.
Cigarette: Marika Hackman

Youtube

The music with guitar and vocals is simple, calm, introspective but the lyrics have an undercurrent of tension; an argument quickly escalating out of control:

And I tried to hold my tongue
But you, you yanked it from my grip
Bathed it in petroleum, lit a cigarette and gave it a kiss


A Hard Rain's A-Gonna Fall: Laura Marling

Youtube
This one came to my attention because it was used for the closing credits of Peaky Blinders' 4th Season. A worthy cover of the Bob Dylan original!
Prickly Pear: Portico Quartet

Youtube
The Hang is a relatively new percussion instrument (invented 2000) that produces a very soothing sound. It's very popular with buskers in Amsterdam but I had never heard it in a studio recording. Portico Quartet's 2007 jazz album Knee-Deep In the North Sea changed that. This track shows the potential of the Hang and how it might be incorporated into an ensemble of other instruments.
Karaköy: Brazilian Girls

Youtube
The song Karaköy from Brazilian Girls' 2018 album is titled after a neighbourhood in Istanbul. One even hears a smattering of Turkish (Güle Güle - Good Bye)!
Crazy Birds: Trio Tekke, Dave De Rose

Youtube
Peppy, energetic, contemporary, Greek urban pop (Rebetiko)
Idenga: Hope Masike

Youtube
From Hope Masike's 2019 album: The Exorcism of a Spinster. This song has a certain haunting quality to it and grew on me over several listenings.
Mixaria de Amor: Serelepe

Youtube
Intentionally left blank as an exercise for the listener.
Tan Pequeñica Y Sincera: Amaia

Youtube
A lovely tune (and a beautiful voice). The mere 1 minute 16 second duration of this song makes you wonder if this is just an overture to a larger body of work. Alas, this single is all we get at the moment.
Heart Sutra Song - Gone Beyond: Laurie Anderson, Tenzin Choegyal, Jesse Paris Smith

Youtube
Songs from the Bardo, the album this song is from, is an unusual body of work. An interpretation of the Tibetan Book of the Dead the tracks are a mix of chanting, spoken English text and some soulful singing. I found this track deeply moving.
Ai, Ai, Ai: Sílvia Pérez Cruz

Youtube
A very peppy tune. The song lyrics are English but have been unabashedly sung in the singer's original Spanish accent, so

"

leave" comes out as

"

live". Charming!
Suite en Mi, Deuxieme livre: X. Tambourin: Jean-Philippe Rameau, Alexander Paley

Youtube
I discovered 18th-century French composer Jean-Philippe Rameau through a book (John Fowles' The Magus - one of the protagonists played harpsichord). While I found the book quite dated and boring, I am glad I took the trouble to look up the composer on Spotify! While this piece was originally written for the harpsichord (via Wikipedia), this piano rendition is quite beautiful too.
Kaät: Roseaux, Blick Bassy

Youtube
Intentionally left blank as an exercise for the listener.
My Song: Keith Jarrett, Jan Garbarek, Palle Danielsson, Jon Christensen

Youtube
Keith Jarret weaves an intricate tapestry of notes and chords that always manages to stir complex emotions within me. This is a beautiful collaborative work with Norwegian saxophonist Jan Garbarek from their 1978 album My Song.
Les métronomes détraqués: Christophe Rieger, Jean-Louis Marchand

Youtube
Les métronomes détraqués is the title track from the album of the same name. The words translate to: the broken métronomes - an allusion perhaps to complex interplay of slow and fast clarinet and saxophone themes within the track. As if played when keeping time to a faulty, erratic metronome.
Kolyskova: DakhaBrakha

Youtube
I recently came across another piece by the Ukranian quartet DakhaBrkha, performed as part of

NPR

'

s Tiny Desk Concerts series, on YouTube. They are described there as making

"

music that sounds like nothing I've ever heard, with strands of everything I've ever heard". I couldn't have described the group's output in general and this track in particular, any better.
---
This is all very subjective of course, and you might find that you simply enjoy this playlist more on shuffle.↩︎

called thus because it uses 1 string per key as opposed to roughly (depending on the note) 3 per key for a modern piano.↩︎

there exists a Wikipedia page for a professional Japanese baseball player of the same name. None exists for the composer/pianist.↩︎
---
Date
January 1, 2020
---
---