A week in Malta - Day #4
I'll start this post with the obligatory photo of the Mediterranean taken from our hotel's balcony. Future posts won't feature one because on this day we checked out of the hotel and moved into an apartment in Valletta1.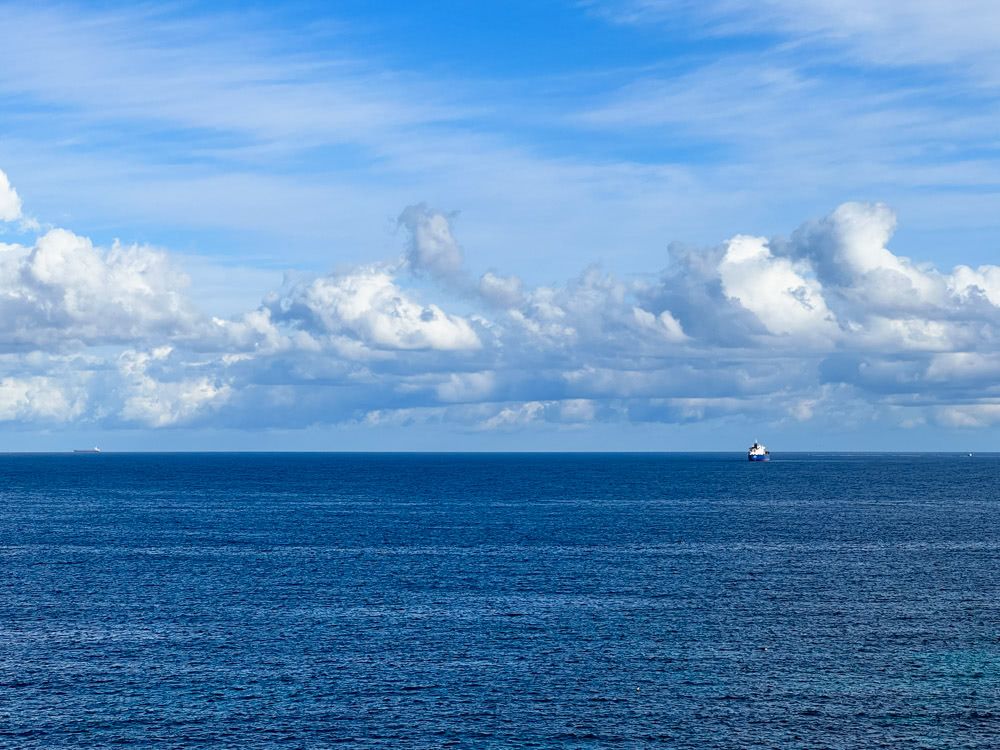 The view from our hotels' balcony on Day 4
The apartment was in a street that was decked with green plastic festoons. I couldn't tell if it was old Christmas decoration they hadn't yet gotten around to taking down or if they were commemorating some obscure patron saint.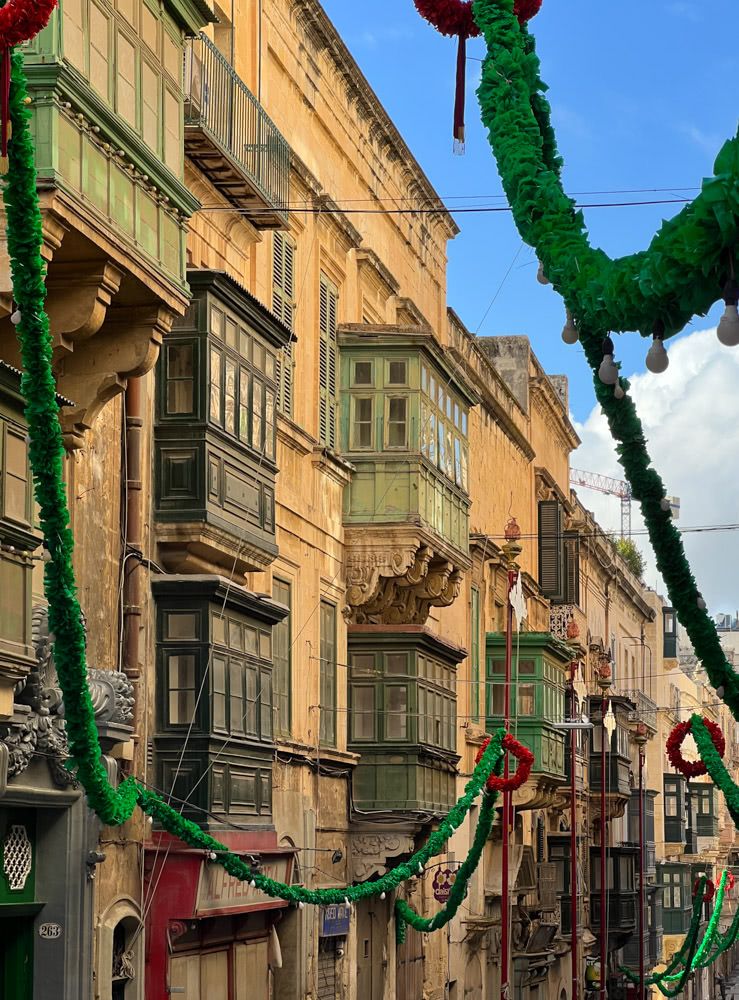 The street of our apartment
Our plan for the day was to take a ferry to the Three Cities and explore them on foot.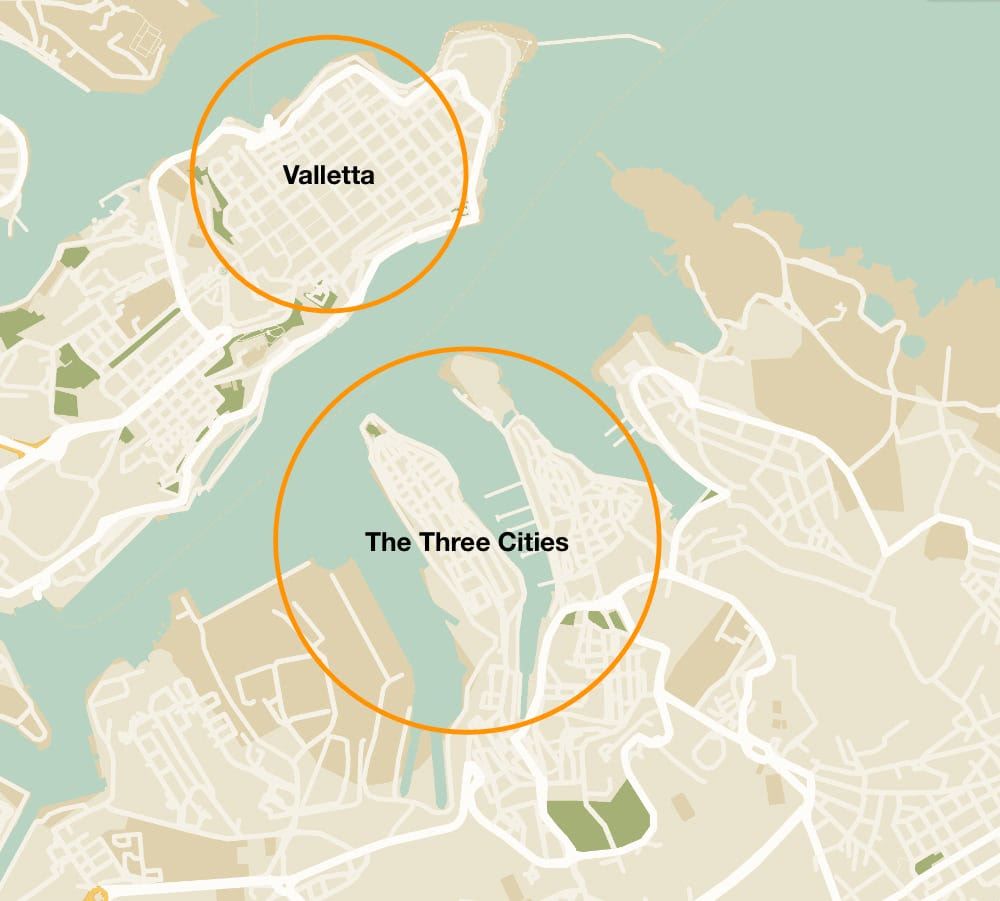 On our way to the ferry, we were greeted by young a British man in his 20s who politely asked us to wait a couple of minutes in the street we were in. A film was being shot next door and he was preventing people from accidentally straying into the scene. Film shoots are a big source of income for Malta these days2.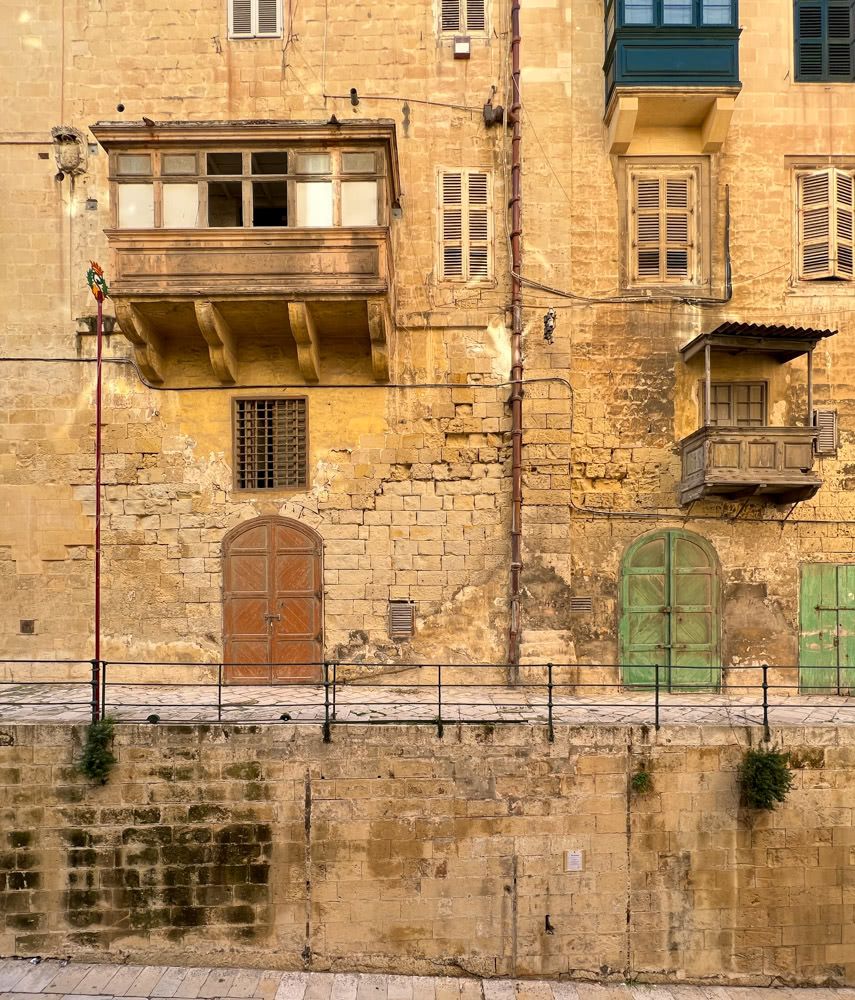 Our view while we waited for a film scene shoot to be over
The ferries weren't very large but had ample seating space. They seemed to be mostly in use by tourists. We sat on the upper deck and I made a video of the short journey to the ferry stop. Never before had I seen such a large concentration of expensive yachts over such a small ride.
One still comes across pandemic era public health messaging in public transport.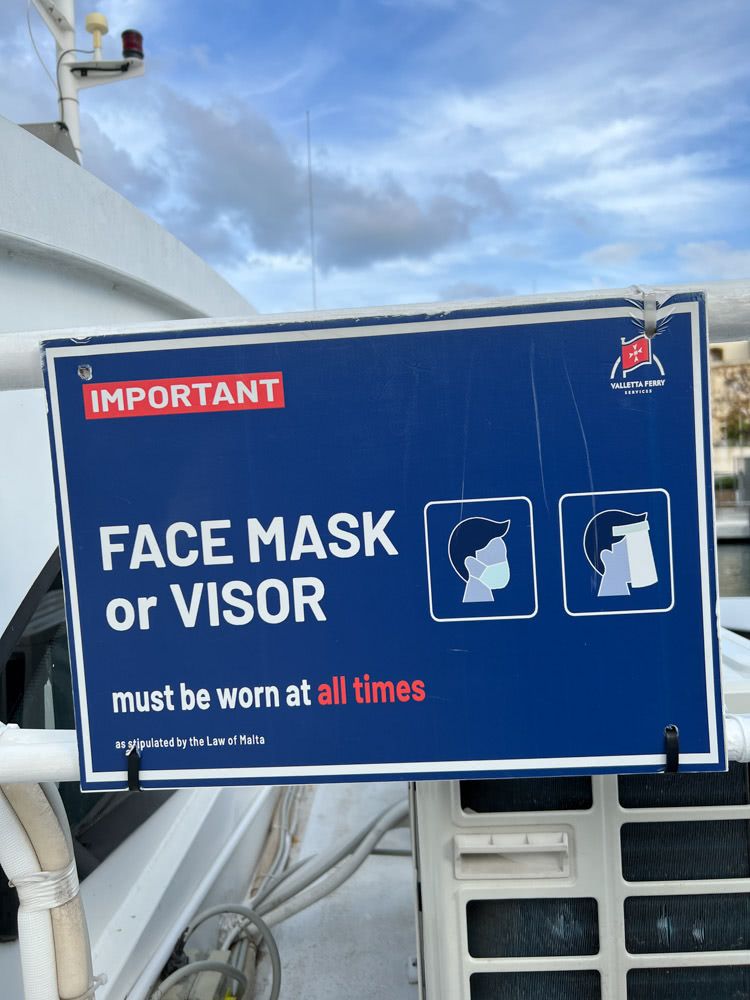 Pandemic era public health messaging
Of course, no one took this one seriously. There wasn't a mask or visor in sight on or off the ferry. I guess it'll be another year or two before these signs completely disappear from our public spaces and from our collective memories.
The ferry stop at the other end looked positively makeshift. A decrepit building right opposite the stop warned visitors about falling debris.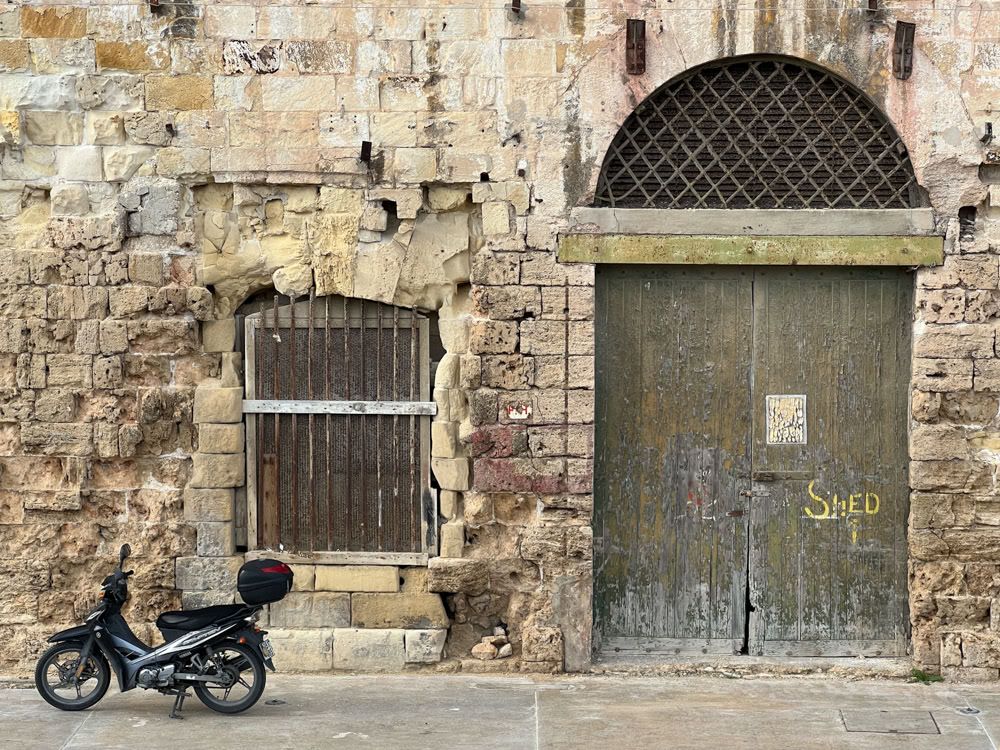 A crumbling building opposite the ferry point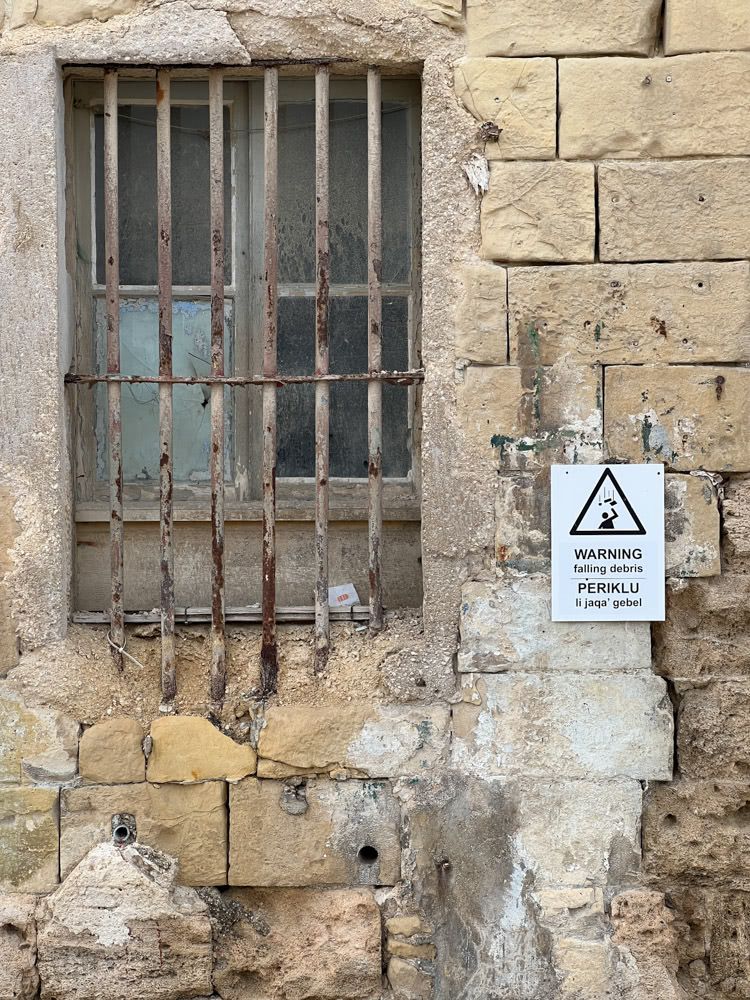 WARNING falling debris
This was the second of such a warning I had seen during our stay. Just a couple of days ago we had come across this sign at Cittadella in Gozo. It seemed like public buildings in Malta had to be either historically significant or dangerously derelict or both.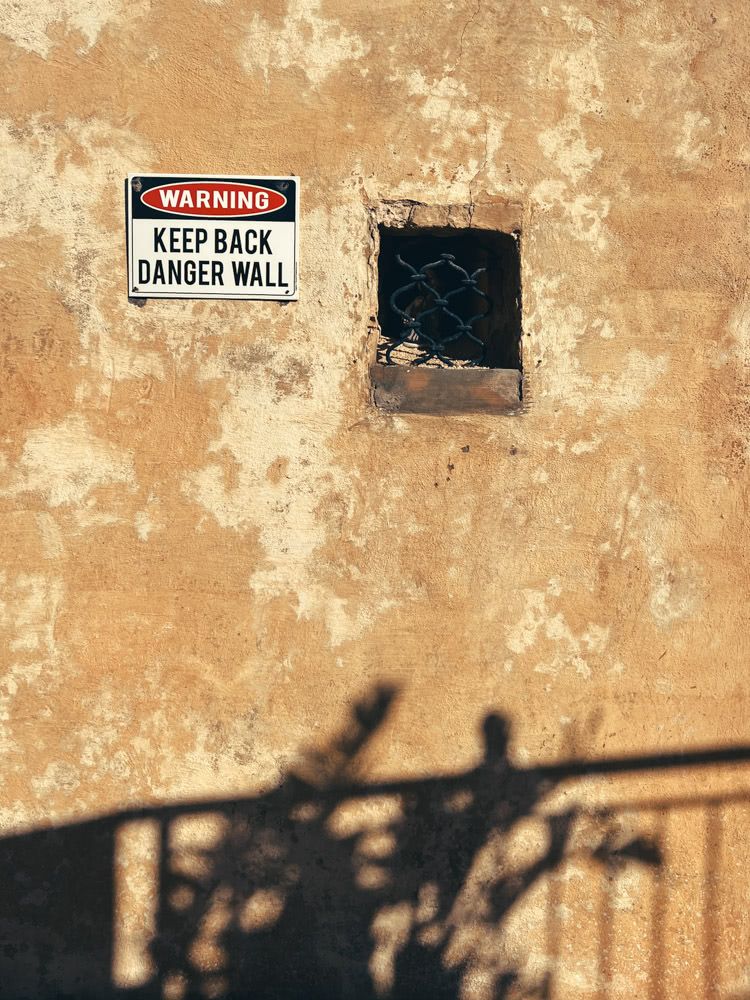 And after all, you're my danger wall… Oasis reference anyone?
Just a short walk from the ferry stop was this art-installation that looked like a steampunk blimp. It was thankfully free of warnings about falling debris.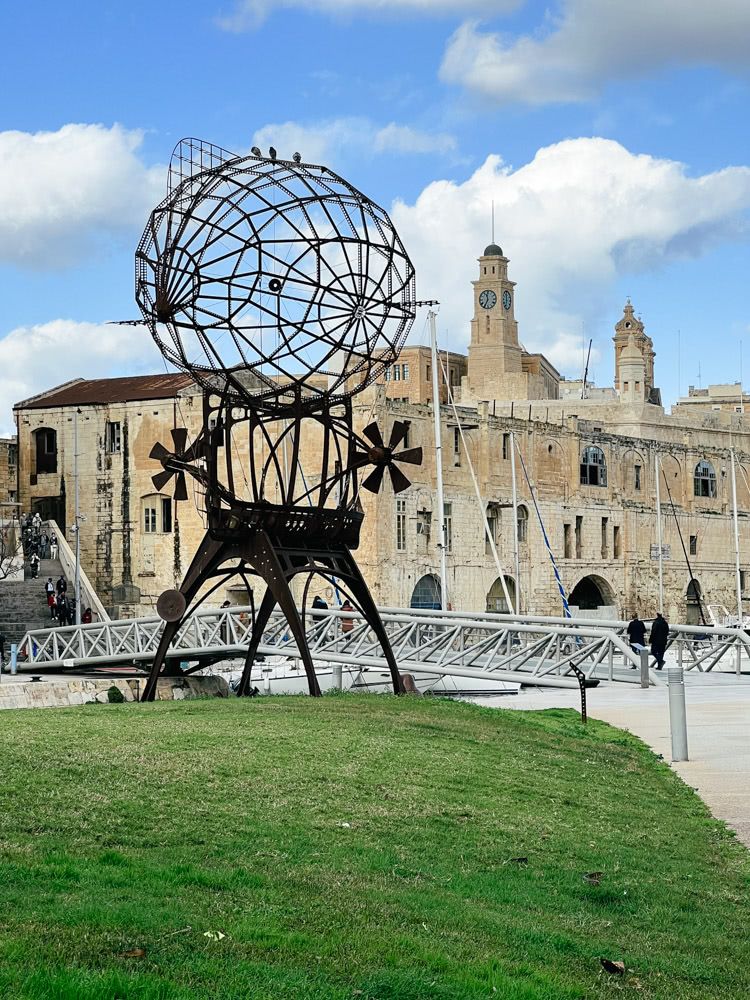 A steampunk blimp
We walked through the warren of narrow streets and enjoyed the (by now familiar) sight of colourful boxy wooden balconies.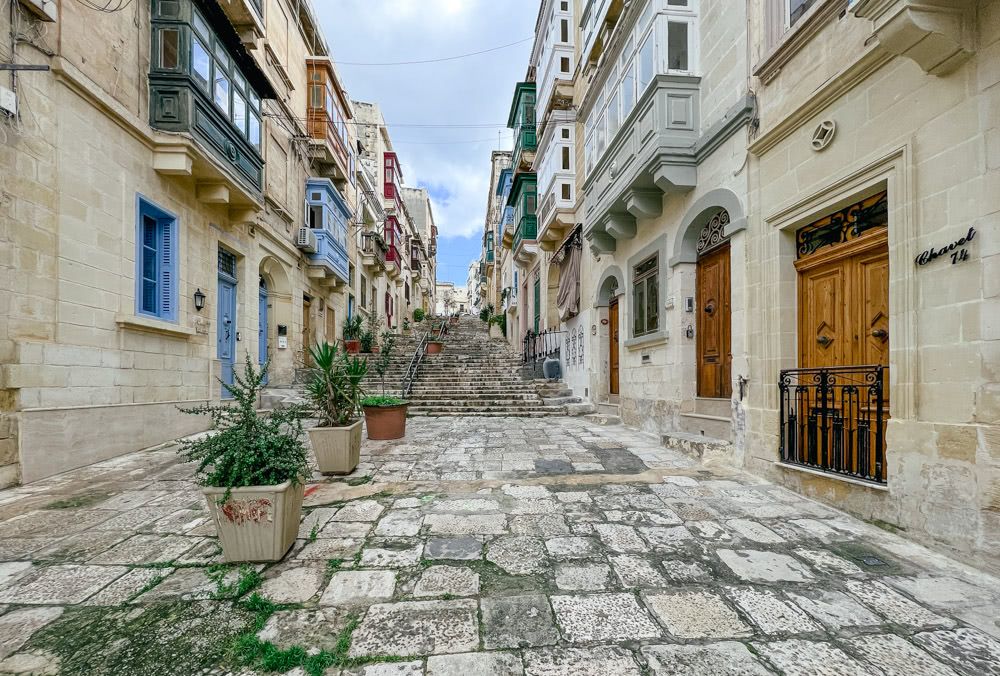 A street with boxy balconies
It had been a wet start to the year in Malta and tiny plants were thriving even in the gap between the cobblestones.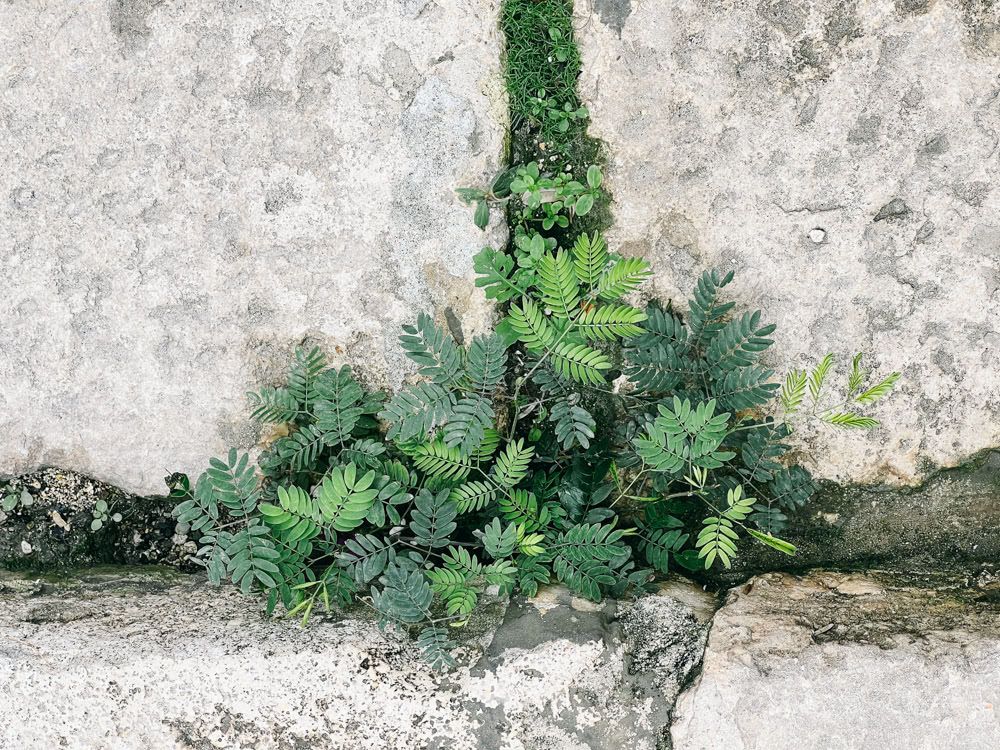 Tiny plants thriving in the gap between cobblestones
Like that street on our first day here, the houses here prominently displayed tiny figurines depicting Christian themes. The statuettes of mother Mary and baby Jesus were most common.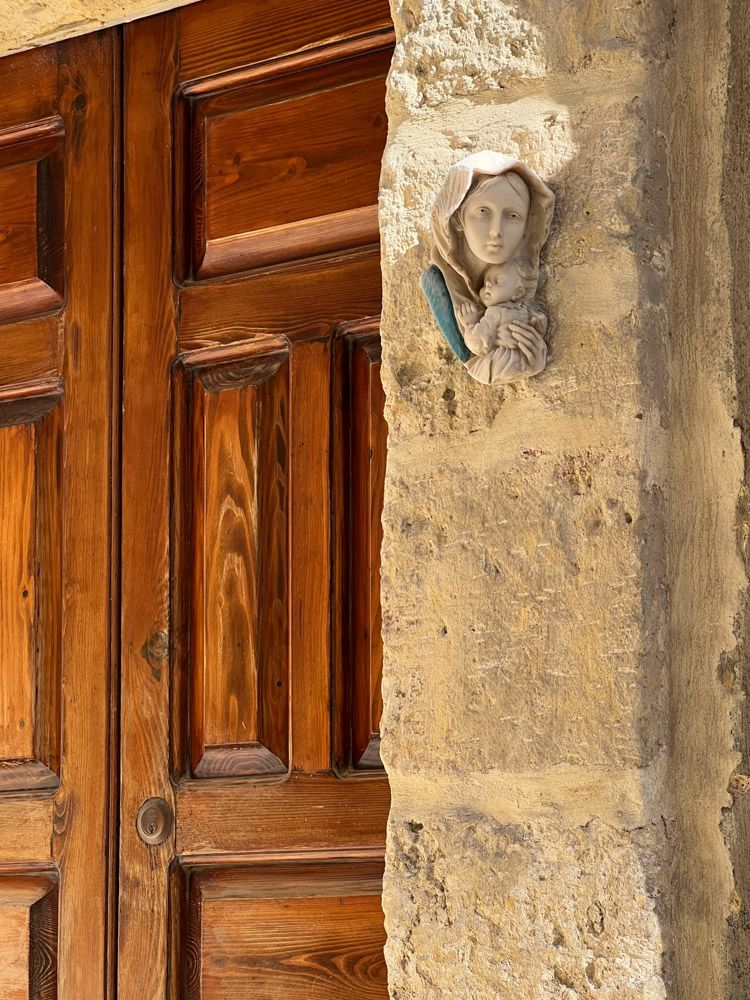 A figurine of Mary and baby Jesus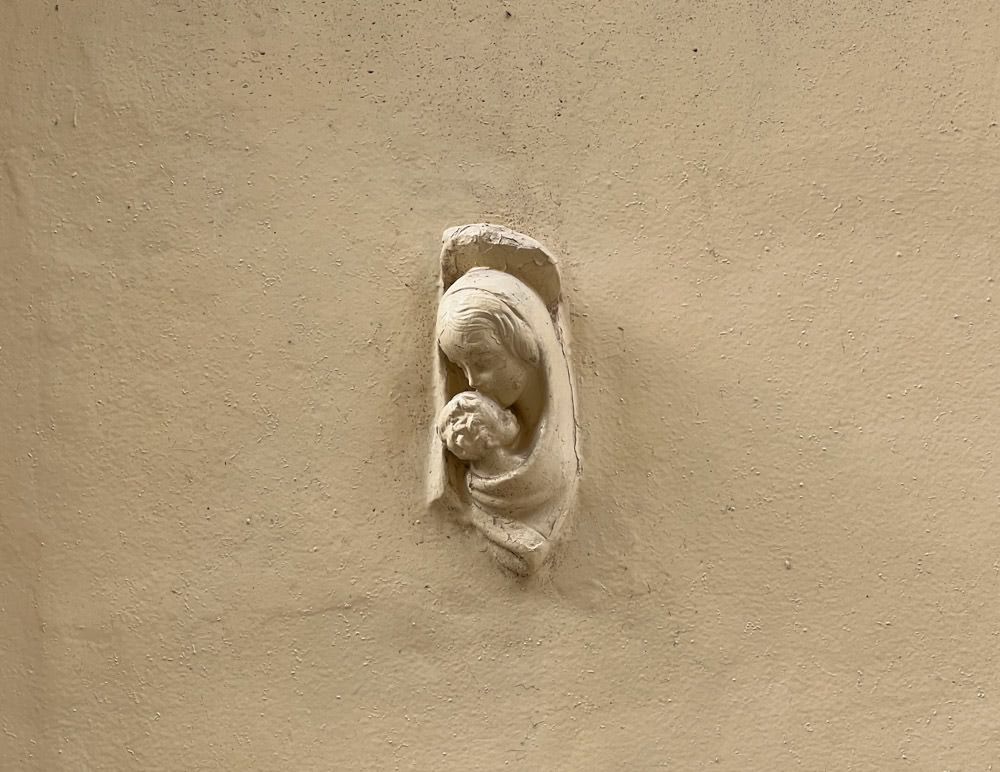 A figurine of Mary and baby Jesus
The geography of the Three Cities was quite varied too. One moment you'd be looking at domes and spires of distant cathedrals from a good height and the other moment you'd be walking right along the water.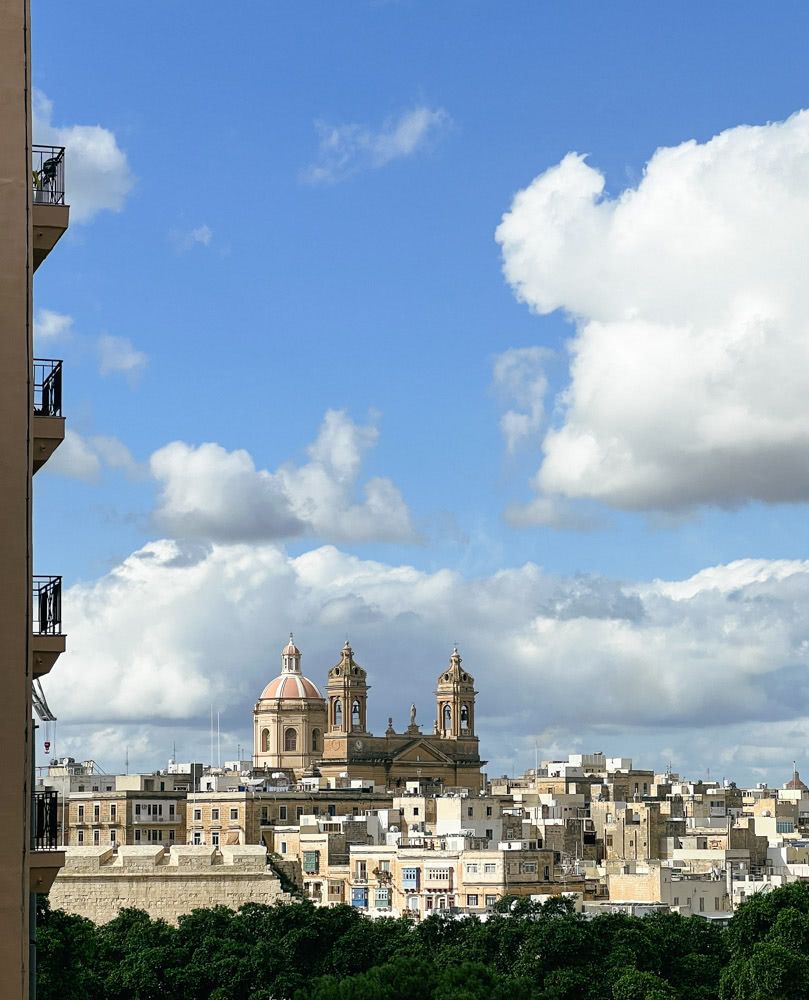 Thanks to the varied geography of Malta, the views were rarely boring
In one street, a small gap between two streets had been designated to a small shrine to Jesus.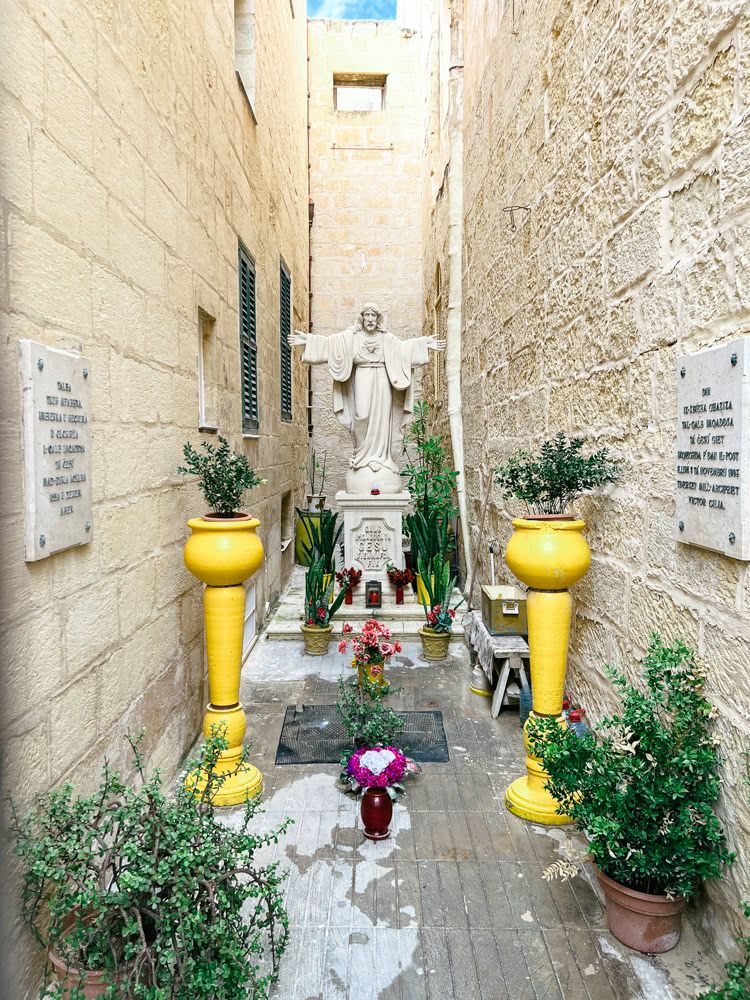 A small shrine in the gap between two houses
We also saw a statue of St. Dominic inside a large niche inside a wall. I learned that he is customarily depicted with a dog carrying a flaming torch in its mouth.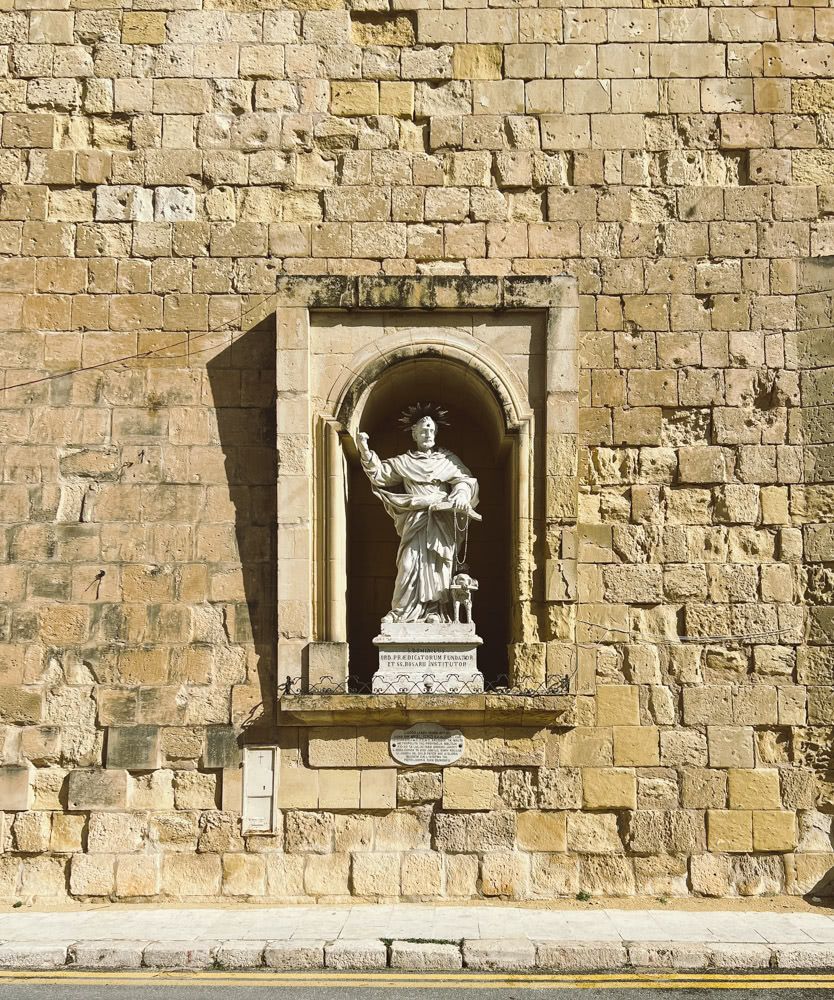 A statue of St. Dominic
Wikipedia later clarified why it is so:
The story is told that before his birth his barren mother made a pilgrimage to the Abbey at Silos, and dreamt that a dog leapt from her womb carrying a flaming torch in its mouth, and seemed to set the earth on fire. This story is likely to have emerged when his order became known, after his name, as the Dominican order, Dominicanus in Latin, and a play on words interpreted as Domini canis: "Dog of the Lord."
We continued walking some more and came by Birgu's (aka Vittoriosa, one of the Three Cities) harbour front. The view of the blue water with sunlight illuminating historic buildings and fortifications in the background was absolutely magical. Little wonder then, it's a popular location for making films, especially if their plots have a historic/fantasy angle.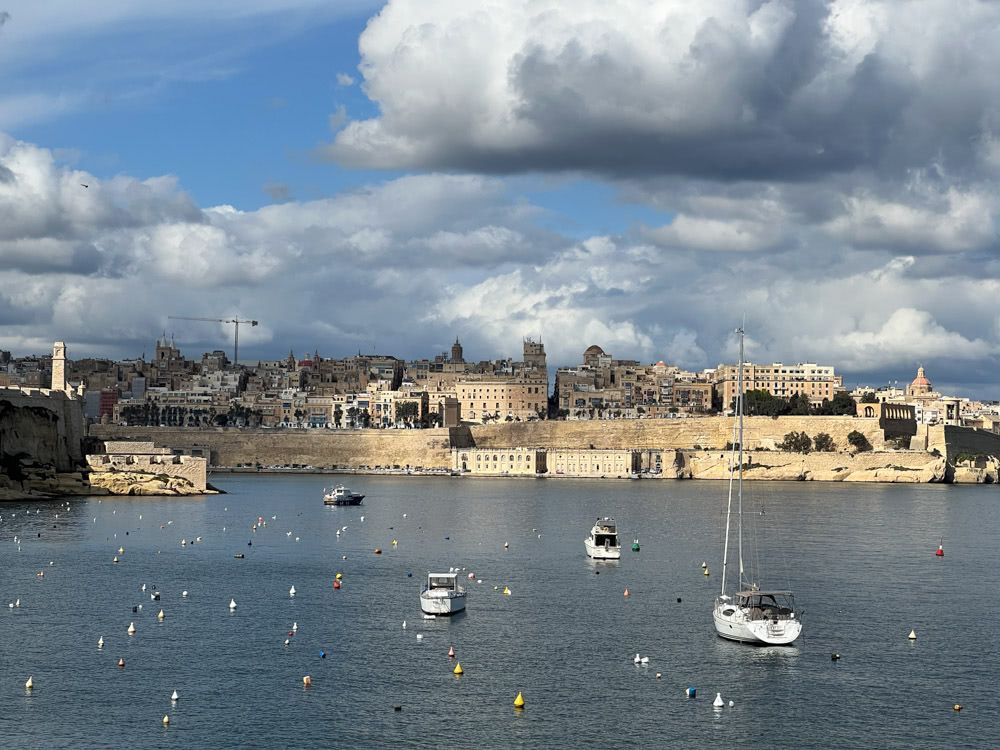 A view of Birgu Harbour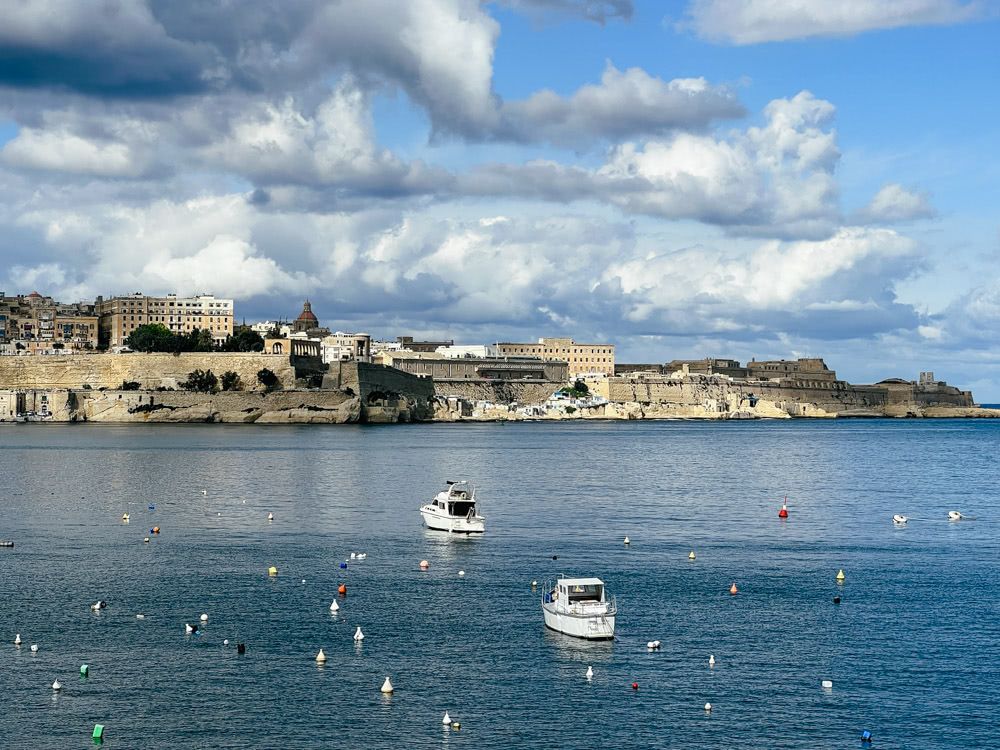 A view of Birgu Harbour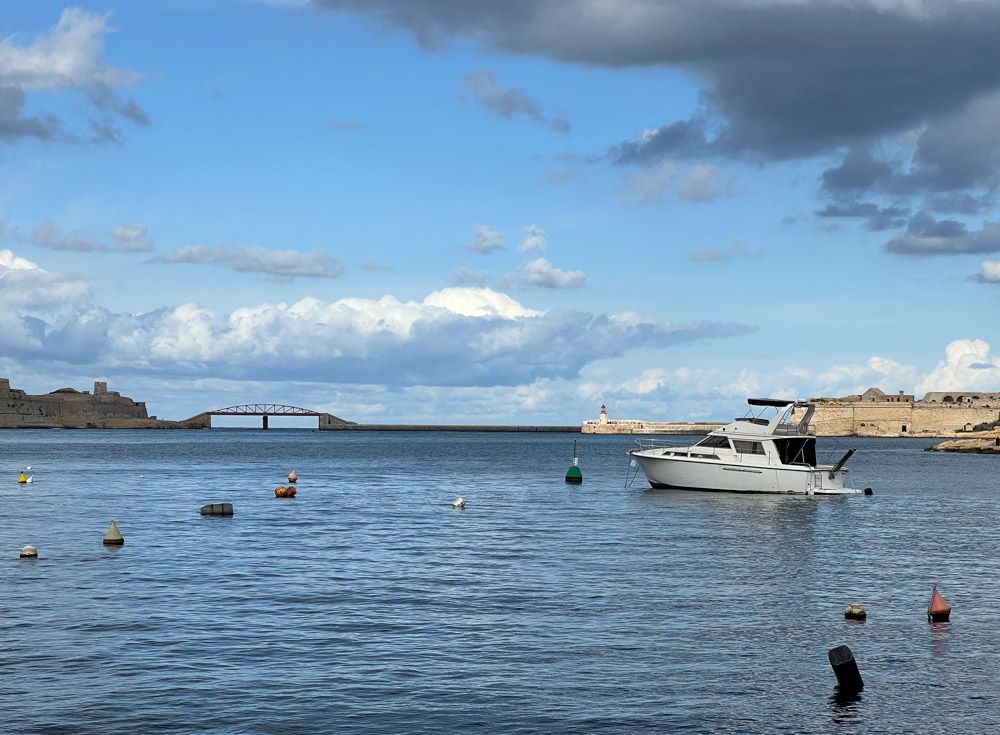 A view of Birgu Harbour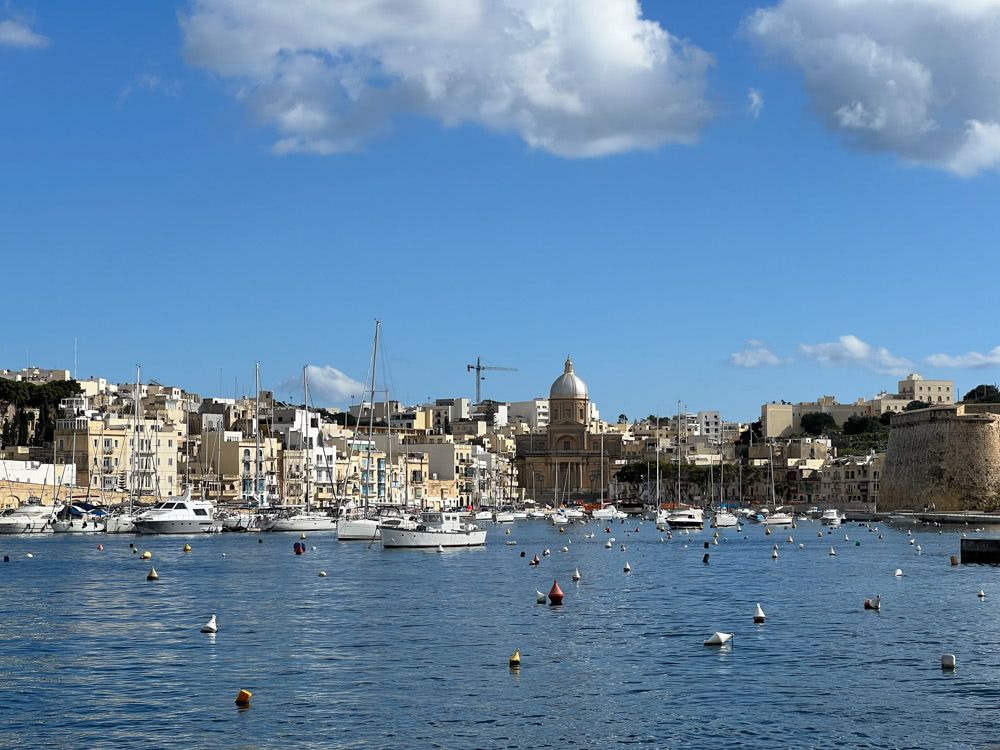 A view of Birgu Harbour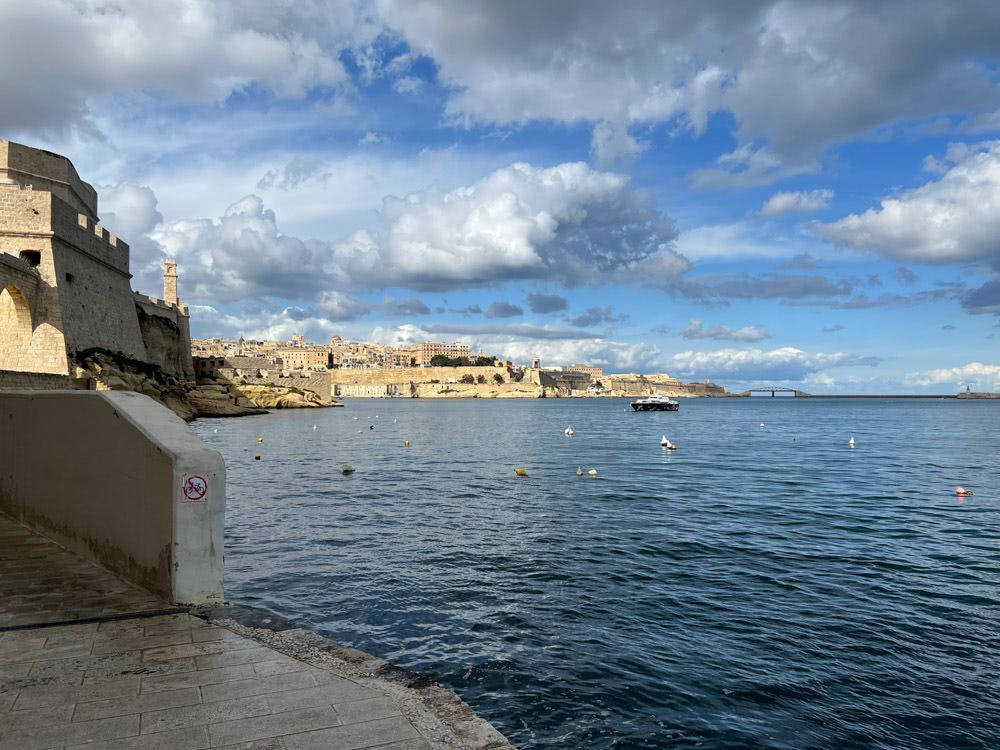 A view of Birgu Harbour
We eventually settled at a small Italian restaurant by one of the numerous marinas for lunch.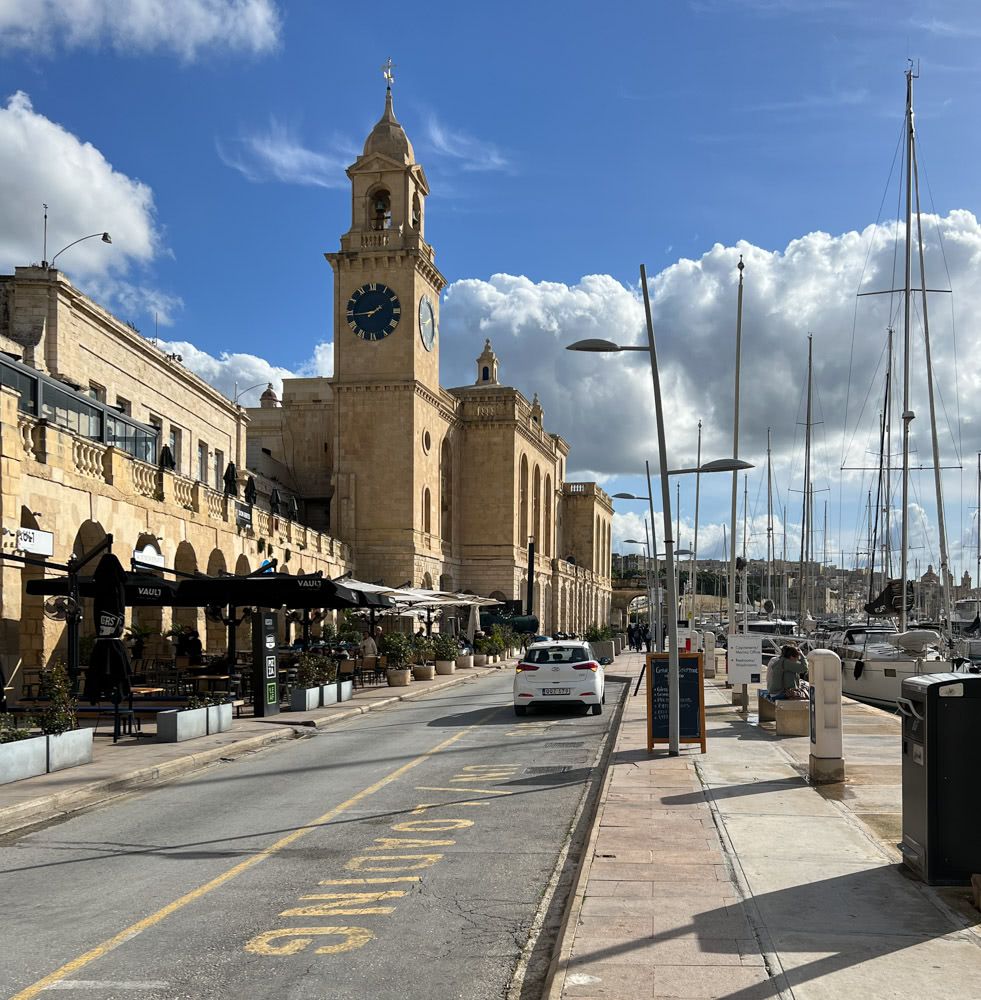 The setting for our lunch break
A short postprandial walk later, it was time to head back to Valletta. The views from the ferry on the way back were again gorgeous.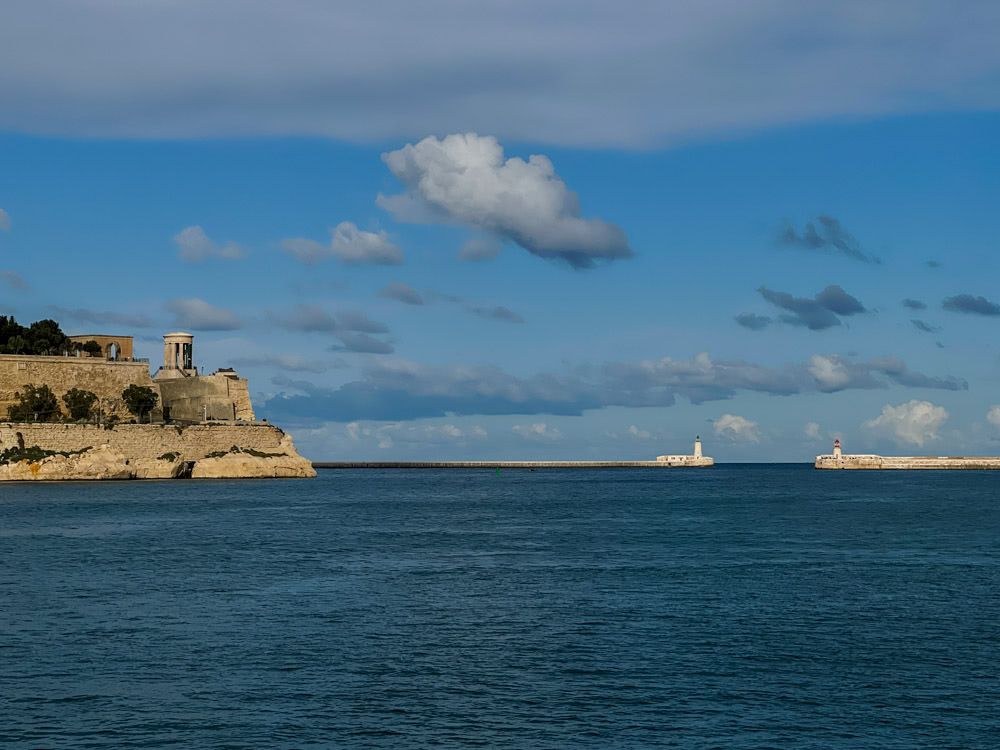 From left to right: Siege Bell Memorial, St. Elmo Breakwater Lighthouse, Ricasoli Breakwater Lighthouse
Once back at the ferry station, we noticed that there were also gondoliers offering rides, probably to the Three Cities. We'd have opted for them if these were canals of Venice or Amsterdam but in these relatively open waters with a lot of varied marine traffic, they just didn't feel like a good idea to us.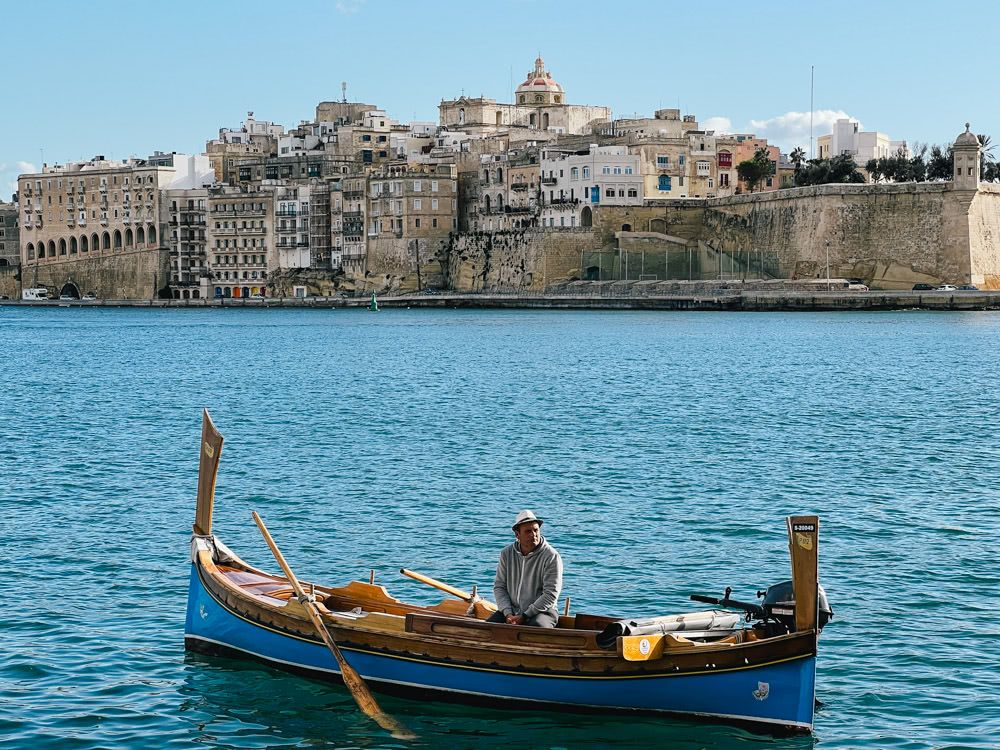 A Gondolier plies his craft at the Ferry point in Valletta
We walked back into Valletta and took the paid elevator to Upper Barrakka Gardens. From here we looked out towards the Three Cities and tried to locate landmarks we had walked past.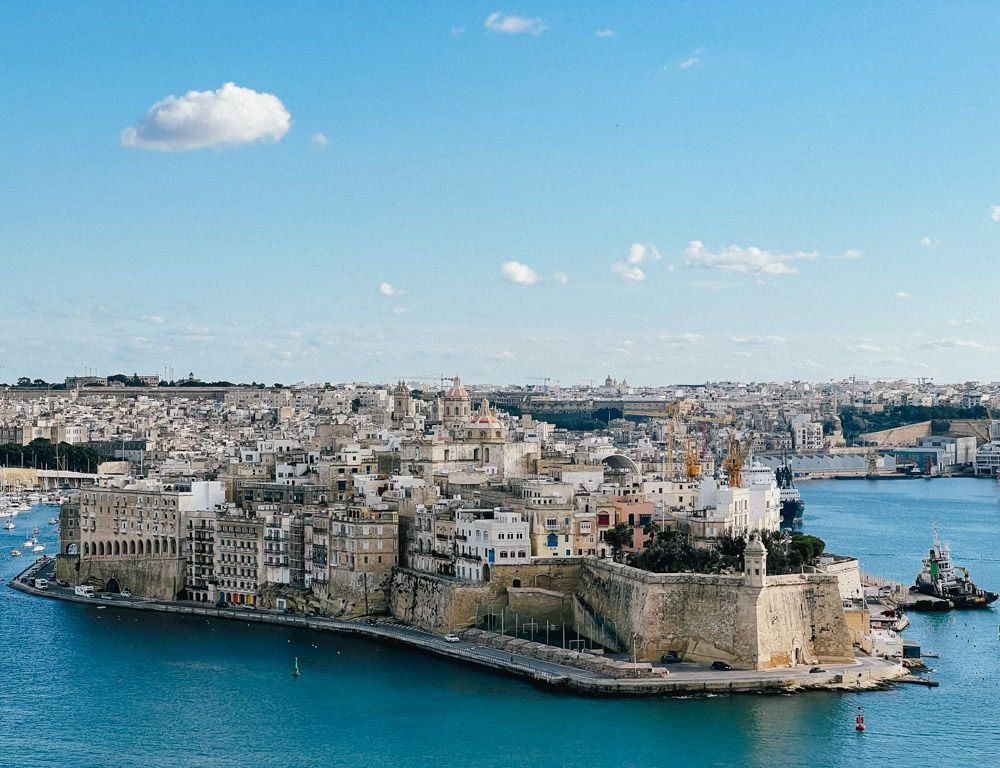 Looking towards the Three Cities from Upper Barrakka
We wandered a bit more but the day's exertions had left us a little tired and we lacked the purposefulness of this morning. It was time to head back to the hotel, rest, grab dinner and plan our next day.
---
I am writing this post when Malta, like the rest of the region, is undergoing severe heat waves with record temperatures and power cuts. The rainy Malta we visited in Jan feels like a distant idyll. I'd rather have my vacation ruined by the occasional rain than 40ºC+ heat.↩︎

Theres a whole Wikipedia page dedicated to films shot in Malta↩︎
---
Date
July 24, 2023
---
---