Cricket: a year on
I saw SRT's tweet this morning but didn't catch the reference till the wife mentioned it this evening:
Time flies but memories last forever. What a day it was!!! 02-04-2011
Time flies indeed. There we were in a borrowed apartment, on borrowed moments, cheering for the Indian cricket team till our throats went hoarse. I have hardly followed cricket since moving here. I've only kept a tab on all the series in which India has played and have been disappointed at the growing tally of losses in the last year or so. It's as if the team reverted to the dispirited, losing side I used to follow in the 90s.
But it's been easy to pretend that the Indian cricket team's losing phase after world cup hasn't happened. Cricket is neither followed nor broadcast on the 'regular' sports channels here. The Netherlands has a cricket team on paper, but I haven't seen it covered anywhere other than Cricinfo, so the question of cricket stars endorsing products and hogging media doesn't arise. In fact, it's quite easy to believe while living here that cricket itself doesn't exist. The only public reference about cricket I've found till date has been this vintage poster in the loo of the Olympic Stadium here: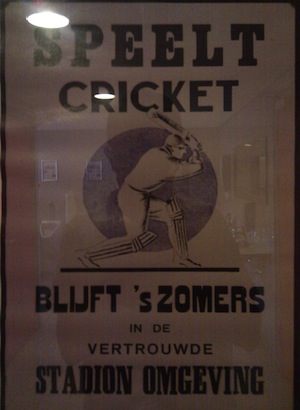 Vintage cricket poster
(Seeing it reminded me of that scene in The Planet of the Apes where the protagonist discovers the archeological remains of a human settlement that has toys and articles implying the humans' once dominant existence. I felt the same sense of helplessness and being in a long exile.)
Over the last few months I've found myself gradually slipping into indifference towards the game. I've never followed football (the dominant sport and spelled 'voetbal' here), and at my age find it quite impossible to 'get into it'.
The only sport that I still actively follow is Formula 1, which is quite ironical because I would refuse to even acknowledge it as a sport till 2 years back. I then got involved with the launch of espnf1.com and started following it actively (it's easier to build a product when you enjoy using it). Ironically still, I sometimes find myself relating to the sense of sorrow and loss portrayed in the novel Netherland.
---
Date
April 2, 2012
---
---