King's Day in the time of a pandemic
A few years ago, when we were relocating from my company-provided temporary accommodation to our apartment in the last week of April, we were told to avoid Queen's Day. Thankfully, we were able to arrange our move a few days earlier and on 30th April, got to experience the Queen's Day Celebrations first hand. We hadn't seen anything like it before.
Over the years we have swung between dressing in orange and joining the revelry, to actively avoiding it by using the national holiday to go travel to someplace new. Eventually we've settled on staying at home for a lazy morning and stepping out for a walk in the afternoon to sample the various street parties and food stalls.
In 2014, queen Beatrix abdicated the throne to her son, King Willem-Alexander. Queen's Day thus became King's Day and would be celebrated on 27th April instead of 30th1.
A few days before King's Day, you start seeing families laying their claim to a rectangular patch of footpath by marking it with duct tape. Inside, they tape their name or initials and the Dutch word for taken - bezet. On King's day the entire city turns into a flea market and these rectangles of footpath real estate are occupied by families and children selling everything from antiques, old toys, clothes, LPs, DVDs, books, magazines to lemonade, coffee and cake.
The footpaths on the run up to the King's Day this year were devoid of any tape markings. With large public gatherings banned in Amsterdam till 1 September 2020, this year's King's Day was being pitched by the mainstream media as a stay-at-home day2.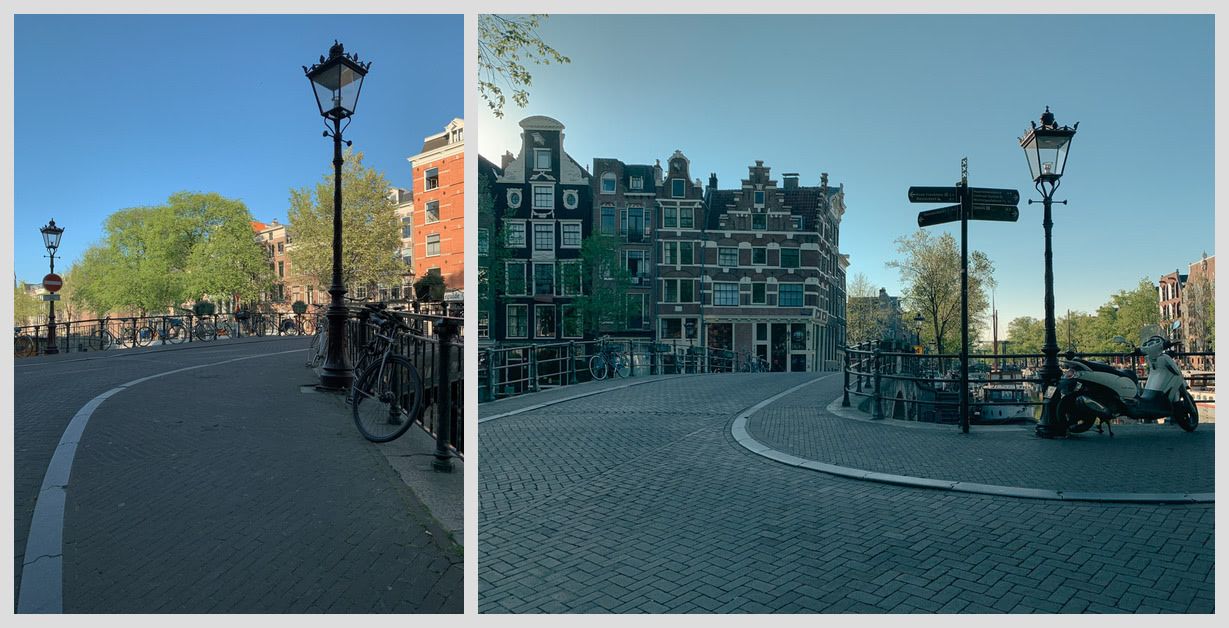 Empty streets on the eve of King's Day 2020
The mood in Amsterdam on the evening before King's Day is festive. There are scores of parties and concerts on the streets that start in the evening and go on until the wee hours. Cafe De Blaffende Vis, a local cafe, marks King's Day eve (and has been doing so for the last 20 years or so) with the unveiling of giant, cheesy cutouts (think Dad jokes, only worse) with themes related to the royal family.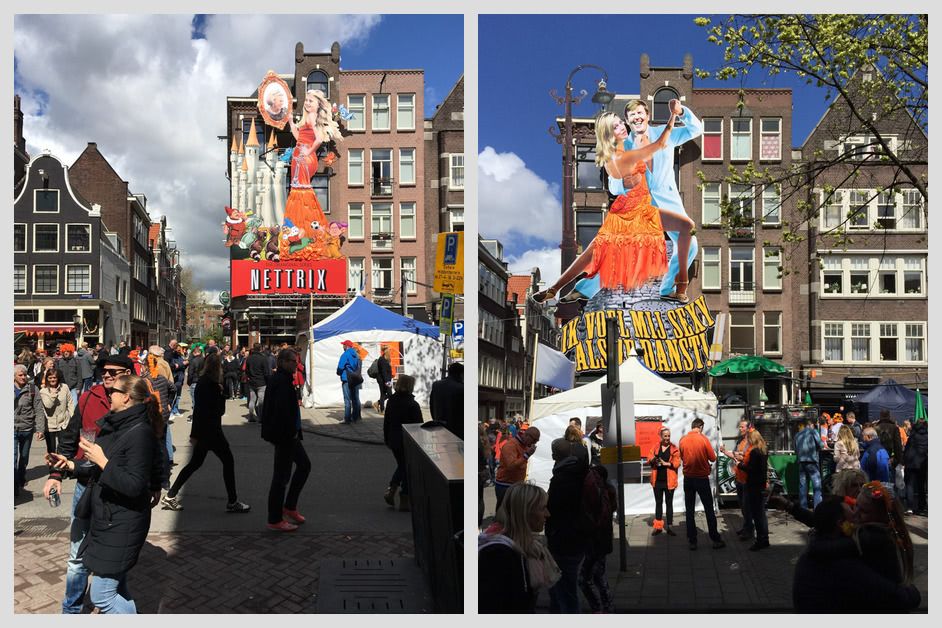 Giant Dutch royal family themed cutouts at Cafe De Blaffende Vis from 2015 and 2016
The mood on King's Day eve this year was somber. The city was quiet and the streets were empty. The only evidence of King's Day in the neighbourhood was the orange and red-white-blue 3 bunting a pub had decorated their terrace with. Ironically, it had been paired with red-white barricade tape forbidding people from using the terrace.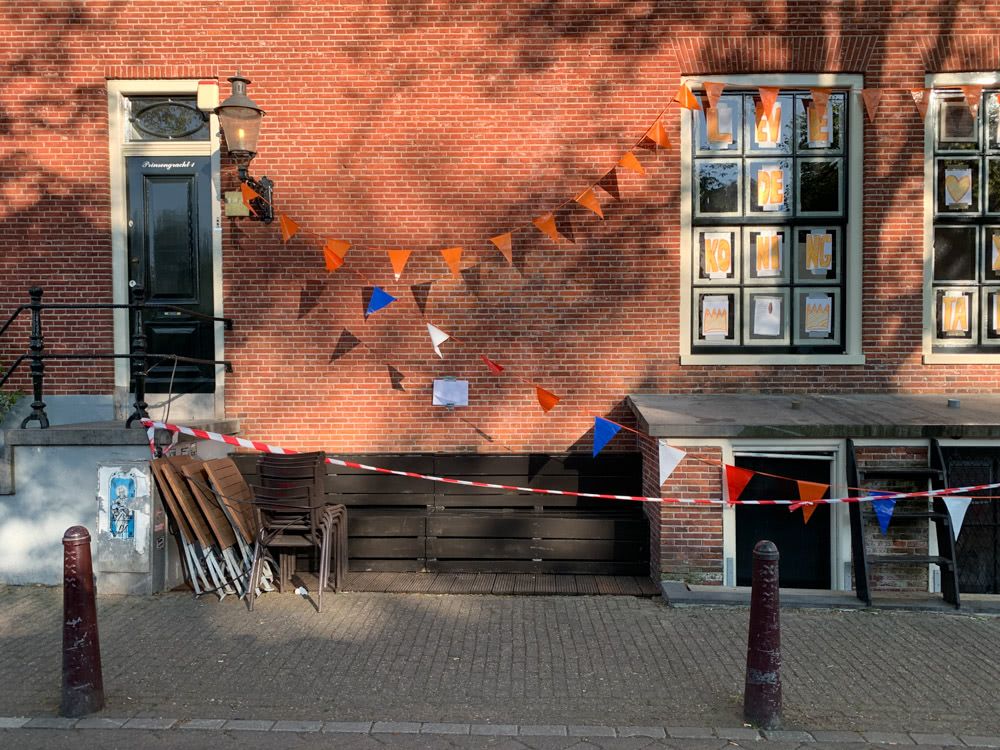 Bunting and barricade tape
Even Cafe De Blaffende Vis forwent their annual tradition of unveiling the giant King's Day cutout. Instead, a nondescript banner instructed the visitors to go to a website for an online "reveal". In keeping with the times, this year's theme "Alexanderhalvemeter" was a wordplay on the Dutch word for 1½ meters (anderhalvemeter, the standard corona deterring distance), the King's name (Willem-Alexander) and the Dutch language's propensity to coin new words by merely combiningexistingwordswithoutspaces.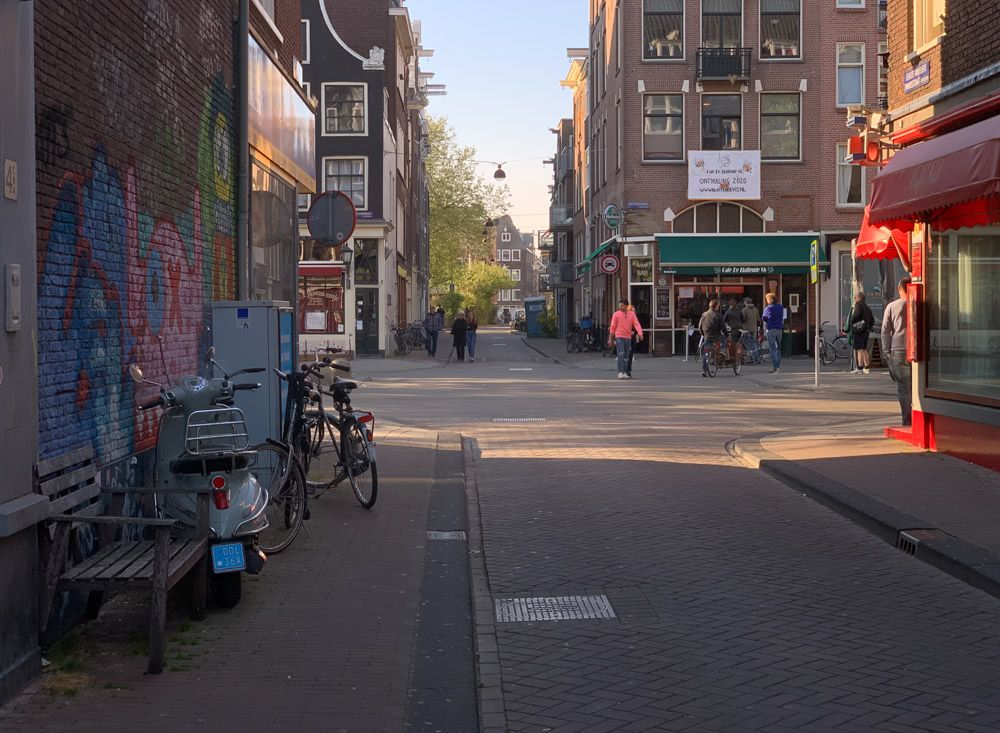 Cafe De Blaffende Vis announced their annual reveal through a nondescript, white banner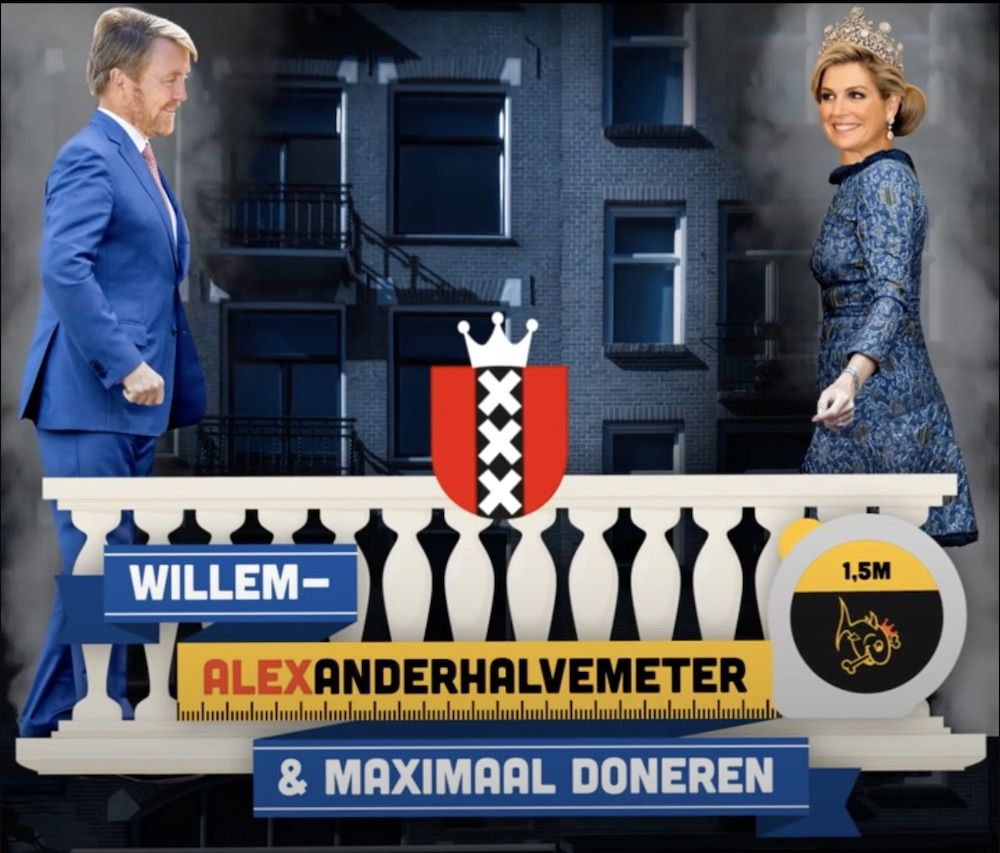 Alexanderhalvemeter
On King's Day thousands of Amsterdammers' dress in orange, spill onto the streets and enjoy even more parties, concerts, boat parades and the flea markets that spring up in every neighbourhood.
This year, despite the pleasant, sunny weather on King's Day, very few people were out. The municipality had already banned boating during the long weekend so there wasn't going to be any traffic in the canals either. The only evidence of the day's significance was the higher than usual per-capita density of Dutch flags topped with orange pennants.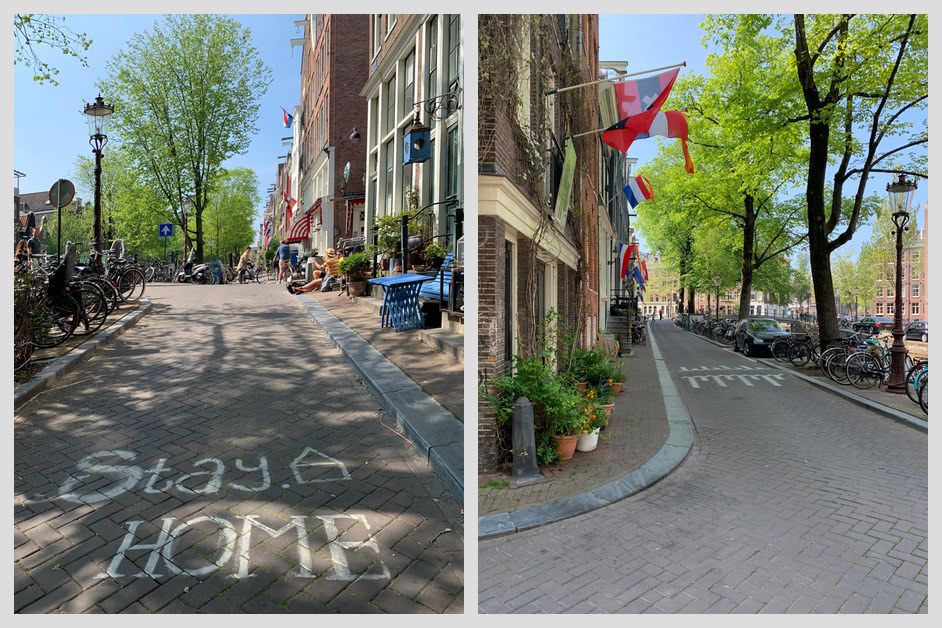 Dutch flags, Amsterdam flags and Dutch flags with orange pennants
In a fit of nostalgia, someone had hung a decades old picture of young Queen Beatrix and Prince Claus outside their home. Given how 2020 is going, I am sure they weren't the only ones pining for yesteryears. Besides people enjoying the sun at the terrace outside their homes, the only other significant human presence on streets was that of food delivery personnel zipping on their bikes. As I stood to take a picture of the house, one whizzed past me in his orange livery - it's perennially King's Day for Thuisbezorgd delivery workers. I couldn't have asked for a better picture to sum up this year's King's Day.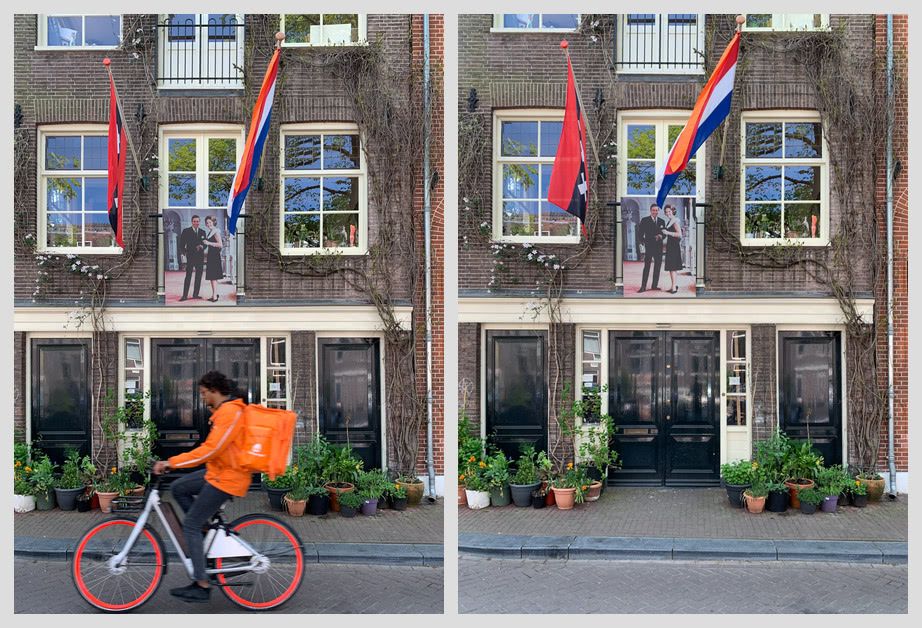 Every day is a stay-at-home King's Day for Thuisbezorgd
p.s. A naval vessel firing salutes had sailed past our house to mark the abdication in 2014. Our windows had shaken so violently, I was worried they'd break.
p.p.s. The only picture of the current King and Queen I saw outdoors was of them in dowdy, gingham nightshirts urging the public to celebrate King's Day at home. Someone had hung a garland around it. I tried not to interpret this through the lens of Indian culture.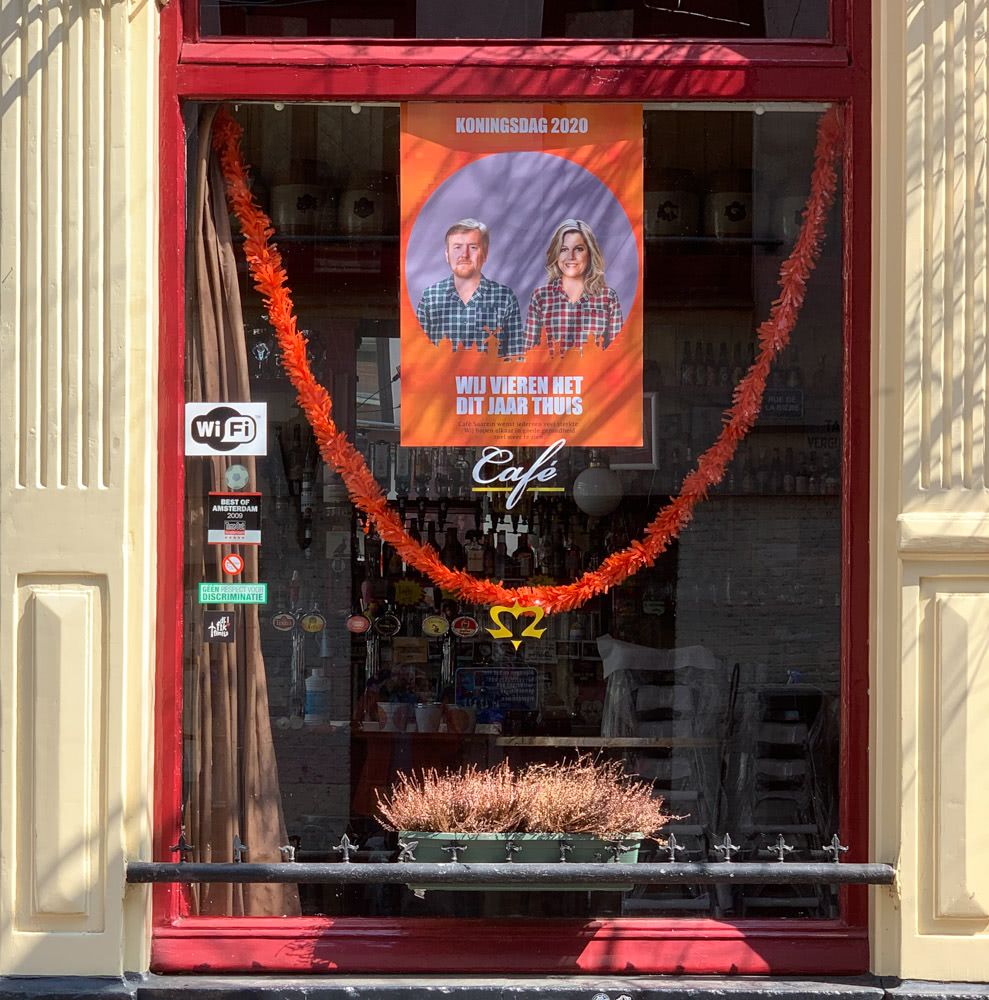 We are celebrating at home this year
---
For at least a couple of years afterwards, much to everyone's amusement, come April 30th and you'd be guaranteed to spot at least one group of tourists all dressed in orange and eager to join the legendary Queen's Day parties in Amsterdam. If you must still buy a paper travel guide, make sure you get the latest edition.↩︎

The Dutch word for King - Koning, rhymes with the Dutch word for house - Woning. Koningsdag was thus being pitched by the mainstream media as Woningsdag or Balkoningsdag (Balkon = Balcony). The English translation just doesn't have the same ring to it.↩︎

The colours of the Royal house and that of the Dutch flag respectively.↩︎
---
Date
May 3, 2020
---
---