Rijksmuseum's very special Vermeer exhibition
In Oct last year, I had written about having procured tickets for a very special Vermeer exhibition being organised by Rijksmuseum in Amsterdam. Mansi1 and I visited 3 weeks ago.
A few weeks before the start of the exhibition, the museum had posted a wonderful guide to the works for Vermeer2 with English audio by Stephen Fry. It really helped me appreciate the works more. I would highly recommended a visit to the online guide even if you don't plan to attend the exhibition.
A couple of days before our visit we received an email with a link to a short video that clearly explained how to reach the exhibition.
Since this is a special exhibition not open to regular visitors of Rijksmuseum, after our tickets were scanned, we were issued wrist bands so we could move freely through the exhibition area without having to show our tickets again. The exhibition was quite busy. It took a few minutes longer than it usually takes at museums for a turn to get closer to each painting.
No amount of seeing Vermeer's works on a computer screen prepares you for how lively the paintings look in real life. You can only truly appreciate Vermeer's renown for capturing light once you've seen his works in person.
We also noticed details that we had somehow glossed over when looking at Vermeer's works digitally. For example, the reflection of the girl in the window pane in Girl Reading a Letter at an Open Window: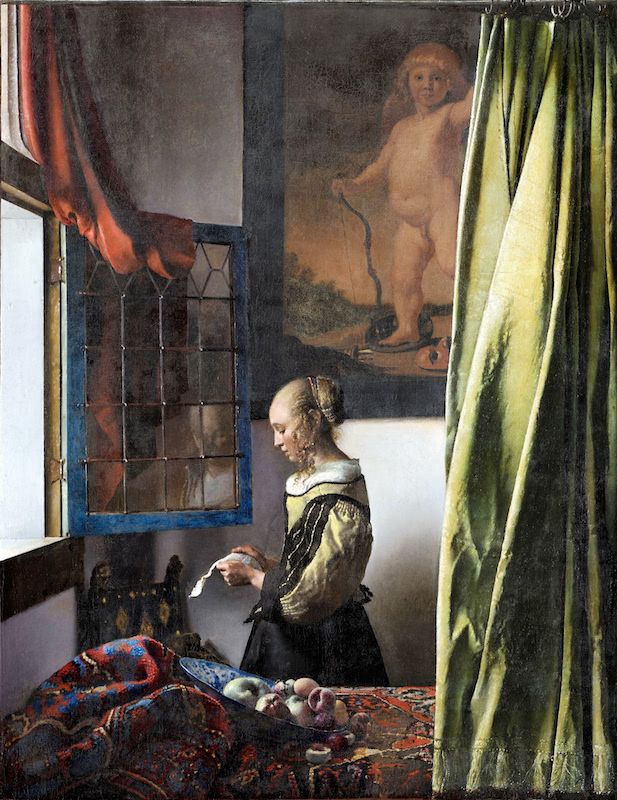 Vermeer - Girl Reading a Letter at an Open Window
In my last post had I expressed misgivings about having booked tickets to the exhibition months in advance. I am now glad I booked when I did. The exhibition has been quite popular and it's been very difficult for people to get tickets: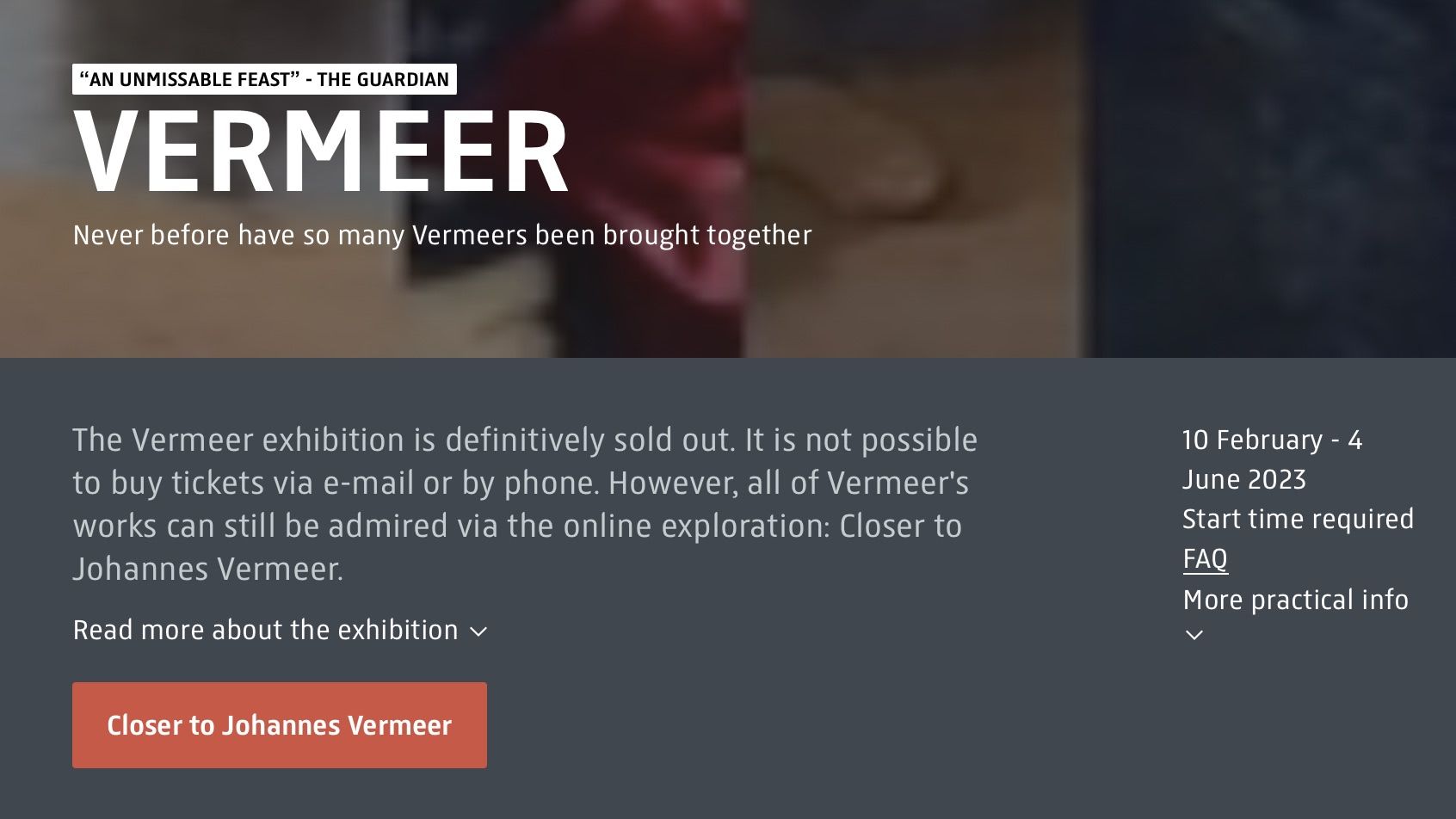 Sold out message at the Rijksmuseum website
The exhibition hasn't entirely been without controversy. There was some kerfuffle in the media here about Rijksmuseum not having been entirely forthcoming about the fact that not all paintings would be around for the entire duration of the exhibition. People visiting the exhibition after March 30 would miss out on The Girl with the Pearl Earring as it goes back to The Mauritshuis
I was personally a little disappointed that Vermeer's Art of Painting wasn't part of the exhibition. I had wrongly assumed that it would be because Rijksmuseum had featured it in their guide to works of Vermeer on the museum web site. Well, at least this one is not in the private collection of some royal family - so I now have an excuse to visit Vienna's Kusthistorisches Museum.
---
aka 'the wife'↩︎

Hope this link keeps working past this exhibition. Rijksmuseum sometimes apply a different standard of stewardship to their online content than what they exercise over their collection. Or perhaps my expectations are misplaced - some things are meant to be ephemeral.↩︎
---
Date
March 15, 2023
---
---