Rough Draft: House-Hunting in Amsterdam
The only thing more distressing about moving to a new country; other than the financial insecurity of the early days, is not having a place to stay.
I was lucky to have my wife take over the house-hunting project. She got in touch with the estate agents, did background work on the places listed on the realtors' websites and even got a few first-person leads from craigslist. During the day, while I would wrap my head around work, she'd go with the estate agents from one apartment to another - conscientiously going through all the rooms, kitchens, bathrooms and fixtures. She'd scribble down the address, the asking rent, the possible move-in date and any other special conditions that the landlord might have. And she'd record a video walkthrough of each apartment she'd think we'll both find livable for us to pore over during our evening tea.
When looking for a place to stay in a new city, usually you'd be disappointed for the familiar reasons of the place being too small or too expensive or being the right combination of the first two attributes but in a neighbourhood with not the most savoury reputation in town. In Amsterdam we had to add another reason to this list - the staircase. Most of the charming, old buildings in the heart of the city are notorious for their very steep staircases - or rather they have ladders who dropped out from the college where they teach them to grow up into responsible, sturdy stairways. Apparently it is so, so that the houses take lesser area in front of the canals and thus save on heavy taxes. There are no elevators in most of these buildings. Going to see a 3rd floor house that has a steep staircase with a perfunctory footing and is carpeted with a fabric that's so worn with age that it's slightly lustrous and slippery, is as hard on your knees as it is on your adrenal glands.
Getting anything into these houses other than a medium sized suitcase is also a logistical nightmare. You'll need to hire someone to pull things over through the windows.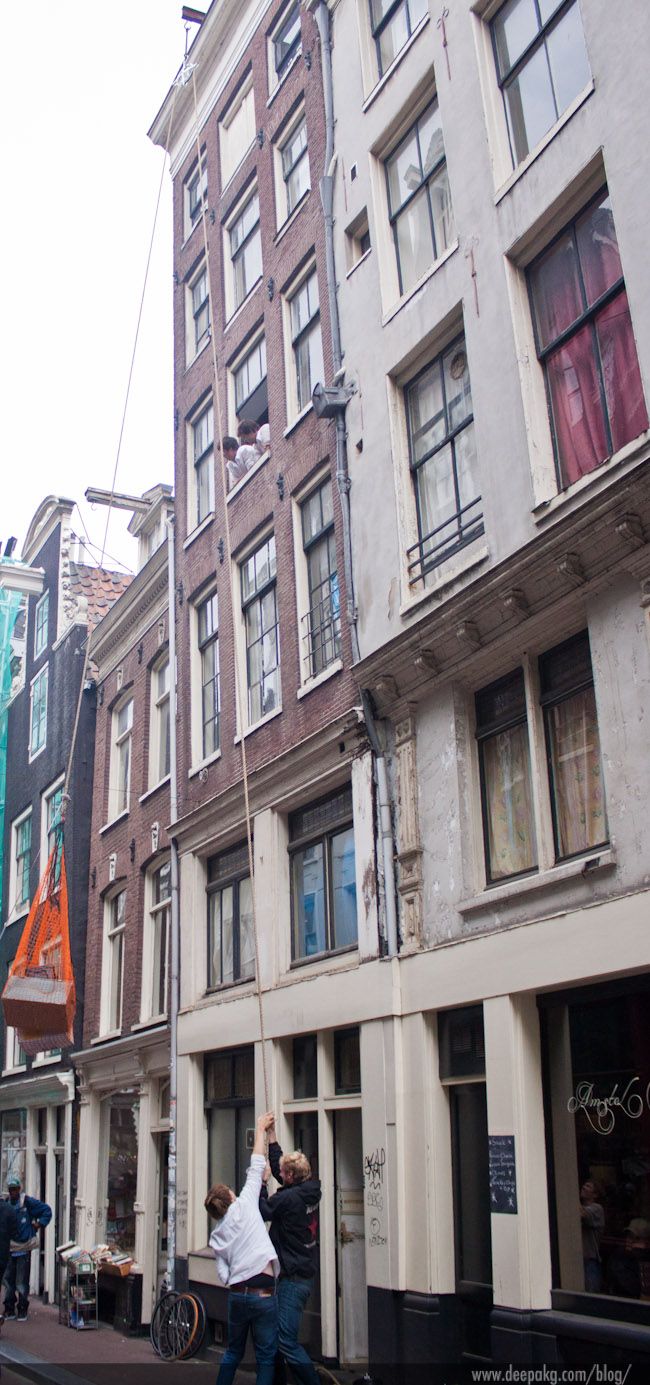 GettingThingsIn
And at some point during our stay in Amsterdam, we'd like our parents to visit us - even if our knees can take this grind for the next 20 years, none of our parents' can. This cut down our choices in Amsterdam by more than half. At this point we knew that we'd need a week's extension to our temporary accommodation but were also beginning to worry about having to eat into our savings for paying for our stay beyond the 3 (2+1) weeks allotted to us.
Then one afternoon my wife called me from a pub across the road from my office to see the video of an apartment she had just seen. It was a spacious, one-bedroom flat in a modern building (hint - with an elevator and a spacious fire-exit staircase) just a 15 minutes walk from Centraal Station. There is this unwritten rule of apartment-hunting - don't let the estate agent know that you like a place too strongly or it'll be the last decent place he'll ever show you. If I remember our reaction upon visiting the apartment that evening correctly, the estate agent must have seen two kids in a candy store.
Things moved swiftly from here (though there was enough time for doubt about having made the wrong choice to gnaw at us a little) and on one sunny April morning, we arrived in the house we presently call home, to collect our keys. Things in The Netherlands are done a lot more thoroughly than what we are used to from our days back in India. The fixtures were inventoried, the condition of the house and the furniture documented (our real estate agent went around taking pictures to support what was written), the gas, water and electricity meter readings were put down and two sets of neatly bound lease agreements (in Dutch with English translations) signed on every page. Once the estate agents left, all we did for some time was stare at each other in utter disbelief at having done what we had both done in India at some points in our life as individuals, again - we had found a place to stay - together and in a new country.
---
Date
June 4, 2011
---
---