Rough Draft: Spring/Summer etc.
Those first three days in Amsterdam are about to become three weeks. Here are some more rants and observations - this time with pictures from my phone's camera:
The chauffer waiting for us at the airport almost laughed when we took out our thick jackets to tackle the cold weather outside. We were acting the way we had in January. The weather in Amsterdam, meanwhile, had moved on. As we stepped out we realized that the air only had the sort of pleasant nippiness that makes you feel more alive.
A fortnight later and not only has spring stopped knocking, it has kicked the doors down, barged in, and is now threatening to call its friend summer over for a long stay.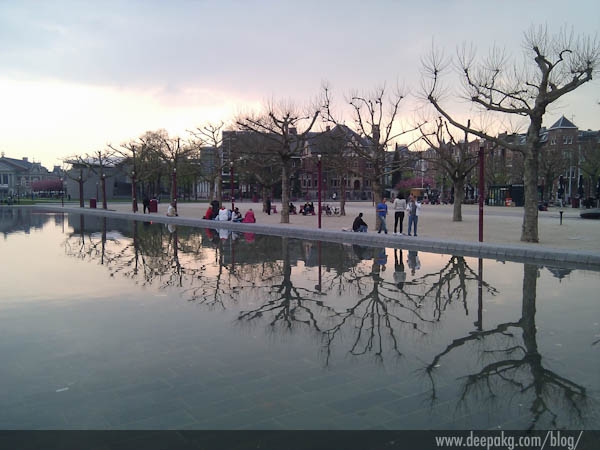 Sunset near Rijks museum
Already our room is sometimes a little too warm for comfort on some evenings. Though overall, the advantages of spring/summer more than offset this incovenience. For instance, the sun sets around 8:50 at night which means that there's plenty of life left in the day after I finish work and my wife can often join me for a small impromptu picnic.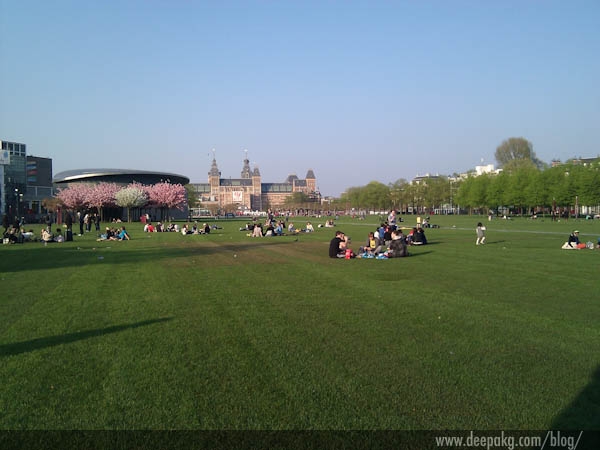 Picnic at the park outside Concertgebouw
This has also been a good time to look around for a place to stay. We'll hopefully be moving out of the company provided accommodation into a rented apartment of our own next week.
It all still feels a little unreal. While working, I often forget that I am in Amsterdam. Only a look outside the window brings some sense of time and place back.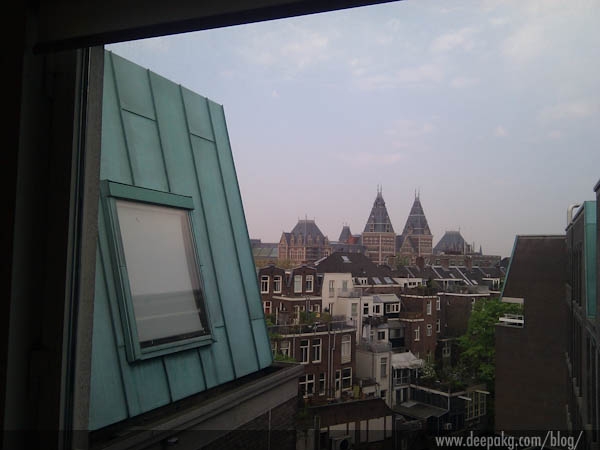 The view from one of the office windows
---
Date
April 24, 2011
---
---