The canal in
IKEA

'

s Amsterdam photo

When we moved to our apartment in Amsterdam, all its walls were bare except for the living room wall where this cheesy, mass-produced IKEA print hung: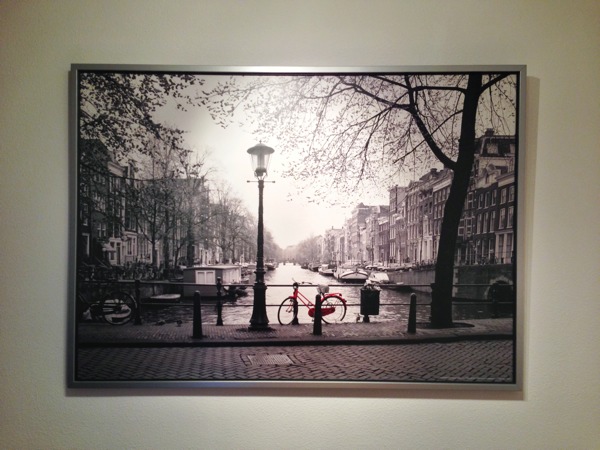 After a few days of living in Amsterdam, we began to wonder where this picture was taken. Not once did it occur to us to consult the all-knowing internet (our old-fashionedness manifests itself in strange ways sometimes). Yesterday, while randomly browsing some of the pictures I had taken earlier this year, I came across a picture that looked vaguely familiar. As I looked up from my computer screen to the print on the wall, it dawned on me that I had finally found the canal where the original had been clicked.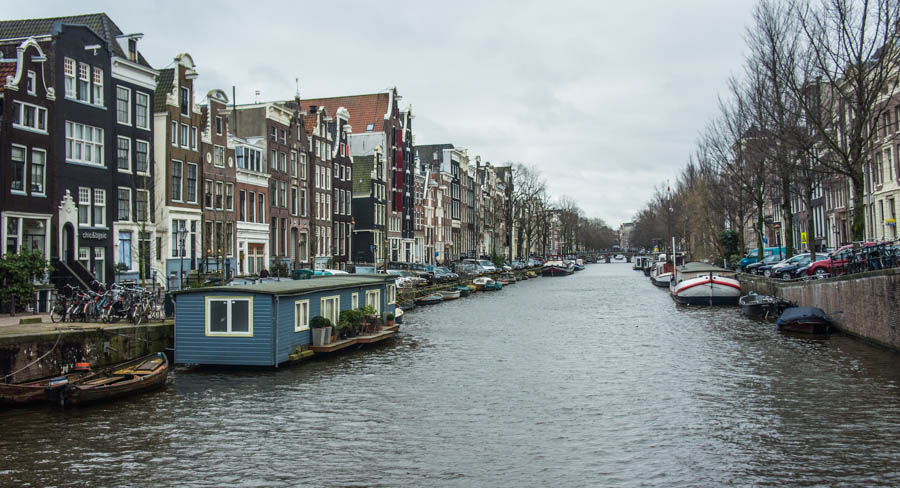 The wife didn't believe it at first, but once we compared the details, we became sure that my picture and the IKEA print depicted the same canal (those mis-aligned stickers on the window panes of the house boat sealed it for us).

Of course I had no idea where exactly I had taken the picture so we started scouring my photo for clues that would give the location away. The wife spotted a hotel (Chic and Basic) in the photo and from there it was just a matter of firing up google maps and switching to street view: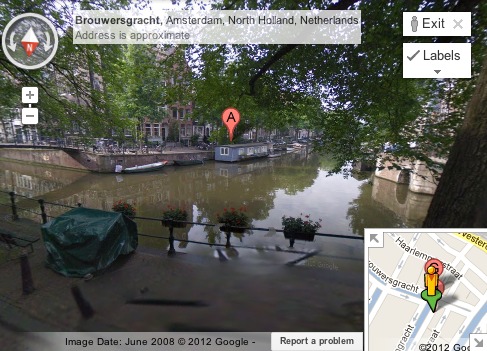 That print on the wall will never be the same again.
P.S. The pictures were taken near the intersection of Brouwersgracht and Herengracht.
Update (9 Sep 2019): A local TV channel produced a documentary last year about this print. The documentary is in Dutch but if you watch it on YouTube, you can turn closed captioning on (click the tiny CC icon on the bottom right of the player window) to get English subtitles:
I was interviewed about an accompanying print article and it's funny to think that my idle curiosity from 6 years ago led me to contribute to the corpus of knowledge about this print on the Internet.
Comments:
HR: This print taken pride of place in my living room the past four years. Even though I've never been to Amsterdam, I've always been curious about its actual location. Friends who have been to Amsterdam offered their suggestions but none were sure. And normally I'm the first to google an answer for even the mundane, so I'm surprised it didn't cross my mind earlier to do the same with this. Thanks for the detailed post! The location is certainly on my list of places to visit when I do eventually make it to Amsterdam.
Ann: Where can I buy that print???
deepakg: It's available at the Netherlands IKEA, hopefully you can find it in elsewhere too: http://www.ikea.com/nl/nl/catalog/products/20150946/
cavecats: I absolutely love that IKEA print. In 2009, hubby and I visited Amsterdam for a couple of days. For one of those days we rented bikes. When I saw the print at IKEA (Canada), I got goose bumps and had to have it.
Once home from the store, I checked all our photos of Amsterdam and found one of him on a "red" bike leaning on the railing above a canal. Not the same one mind you, but still eerily similar. Very cool! I then did some internet research on the actual print and found that it had been taken by the late Fernando Bengoechea who had been the partner of Nate Berkus, a regular on the Oprah show. Fernando lost his life while vacationing with Nate in Sri Lanka during the tsumani of 2004.
Curious, I too, scoured Google Earth and found the coordinates of this photo to be N52 22.761 E4 53.535. It was the tree, lamp and sewer grate that proved the location for me.
Fast forward to 2013, would you believe we have planned a couple days layover in Amsterdam this September to literally go to the photo's location to take photos while WE are on red bikes. I'm also potentially planning a "geocaching" flashmob event asking others to come on their bikes to this location. Know any good photographers in Amsterdam? ;)
deepakg: Sorry to hear about Fernando. I hope you enjoy your next visit.
cavecats: Thank you, I'm sure we will. Now that I have found your blog, I may visit from time to time to view your wonderful photos.
dutchie: I have this great picture, I was born in Amsterdam and moved to Canada in 1967, I bought my picture at IKEA Toronto, my daughter has had hers for a few years. When I got it home I started wondering where this was taken, searched with google st view along all,the canals. But had no success, typed some words in on the internet and there you were, you helped m us, thanks this is great info, I am so glad to know where this is, and will enjoy itmeven more. Will check in to your site often to enjoy all the great pictures you have taken, grretings from the Willemsen's in Peterborough Ontario
Allison: I stayed in this houseboat when I visited Amsterdam last year and have been searching everywhere for a copy of that Ikea print in Australia! If anyone is interested the name of the houseboat is called "Jannetje Reinette" and is an amazing place to stay in Amsterdam!
Corri: Someone near Page, Arizona, USA, painted this photo on the side of a metal building. It's almost in the middle of nowhere, a treat to drive by on one's way to Antelope Canyon inn the Navajo Nation. (Check out images on the internet of Antelope Canyon, AZ for a visual treat!!
Hand painted IKEA print on the side of a container in Arizona
Bobby Ray: The IKEA photo is on the wall (of all places) of my therapist's office! I've studied it for years, until I got curious enough to want to find out where it was taken. It is a brilliant photo. Thank you so much for solving the mystery for me!
Lisa P.: Pride of place in my waiting room! Just got back from AMS, and wish I'd duscivered your excellent detective work sooner. Thank you so much.
Dick de Koning (Living in Zwolle, the Netherlands): Well hello to all of you. I was borned (1958) and lived in Amsterdam till my 18 the birthday. So this place is familair to me. It is the corner of the Herengracht and Brouwersgracht. I only want to know in which year this picture was taken.
Greetings, Dick de Koning
Cathy: I just purchased this print at the IKEA in Bolingbrook, Illinois. It was half price at only $25 and it's huge, barely fit in my car. Thanks for the location info.
Sweet: Deepak & others. Thanks for the great detective work and colorful stories! I lived in Amsterdam and the surrounding areas for 13 years off and on and was racking my brain where the IKEA picture had been taken.
Matt: Just bought this print at IKEA in Burbank. Love it even more now knowing where this image was taken.
---
Date
December 18, 2012
---
---