The library during the lockdown
On the evening of 13 Mar 2020, I received an email from the library announcing that all branches of the library would close temporarily. A couple of days later, the Netherlands entered a lockdown.
A few weeks into the lockdown, I received another email from them informing me of a new pickup service. It contained a link to a hastily put together web form where you could enter your name and library card number, indicate the genres you were interested in and even leave a note with specific titles. The staff would then do their best to put together a packet of 5 books spanning the genres of your choice. A couple of days after filling the form, I got an email saying that my packet was ready and I could come pick it up on the specified date during a 2h30m time window in the afternoon.
The walk to the public library from our home is probably my most frequently walked route right after the walk to the grocery store. Undertaking it during the lockdown felt strange. Very few cars were on the road. Each time one would pass me by, my ears would complain about how loud it had been. Having spent the past few weeks indoors wearing noise cancellation headphones for hours at end, even the ubiquitous sounds of modern civilisation would take some getting used to again.
When I reached the library, there was no one outside. The landing was marked with striped black and yellow tape for people to stand in. The library looked dark inside. As I entered through the revolving door, I saw a long table blocking the entrance. A dozen or so library-branded cloth book bags full of books were lying on it. A folded sheet of A5 paper was attached to each bag with a paperclip. It bore that day's date, the appointed time slot, the member's name and the last 4 digits of their membership number - all handwritten in a neat hand. A person standing behind the table instructed me to just pick up the bag with my name on it and leave. As I left, I saw a couple of more people rushing in and out after collecting theirs.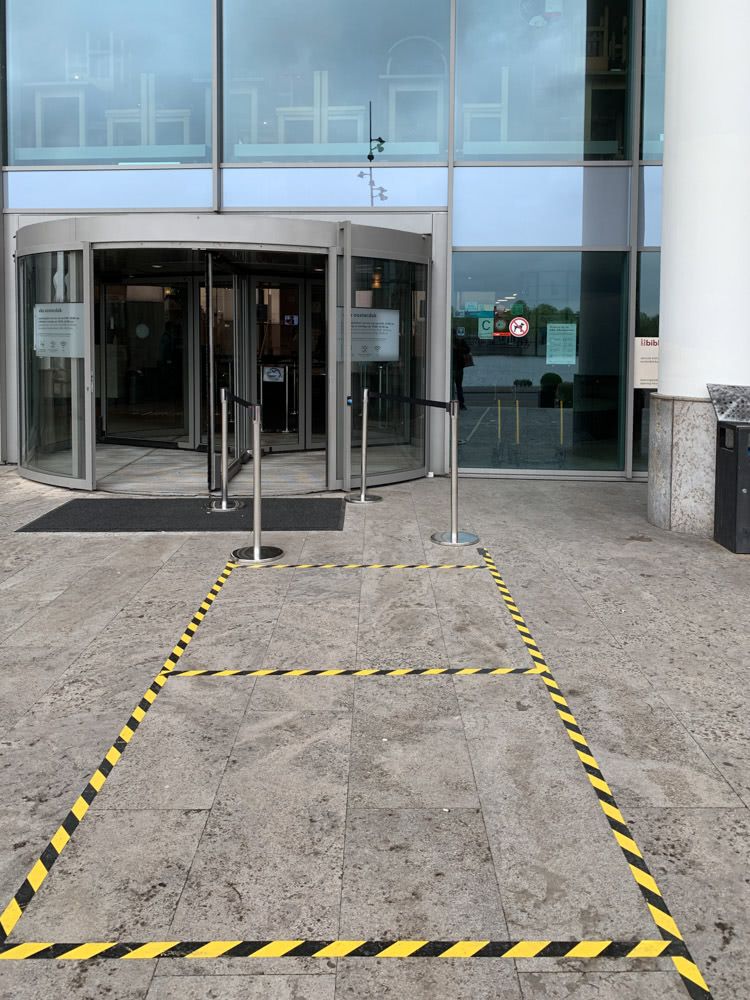 Entrance to the library
Once home, I took a look at the books they had chosen for me. While they all more or less fit the genres I had indicated (thrillers, historic fiction), I wasn't sure if I would've picked any of the books myself. And still, this bag of new, unread books was a source of great comfort and joy. I did end up reading Brad Thor's Backlash and I was thankful for the vapid, escapist distraction from work that it furnished for a few evenings.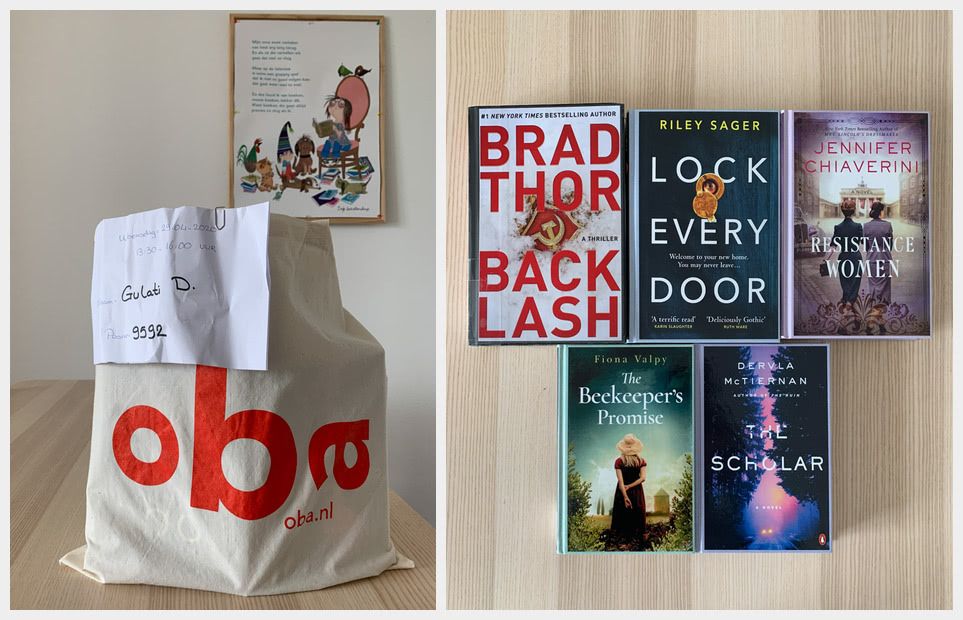 Surprise book bag
On May 13, a handful of branches of the library started opening for a short number of hours for a fews days of the week (minus any public facilities like restrooms, restaurants, reading rooms). By May 19th, pretty much all branches were operational and the delivery service was stopped. On May 23, I returned all books save Backlash.
The library for me is all about serendipitous book discovery. Short-lived as it was, I am grateful to whomever took the initiative to launch this service during a stressful and uncertain period. It is also hearting to know that a similar service for people 67 years and older continues to operate - complete with a volunteer-run home delivery.
The library is now open as normal. Not only that, on 2nd July I received an email offering free fruit ice pops to visitors and upto 3 of their accompanying friends for showing up at the library's attached restaurant. There is still a hygiene stand at the entrance to sanitize your hands and there are markings all over the floor that remind you to keep your distance. They also serve as reminders of the past few days that have changed our public spaces forever.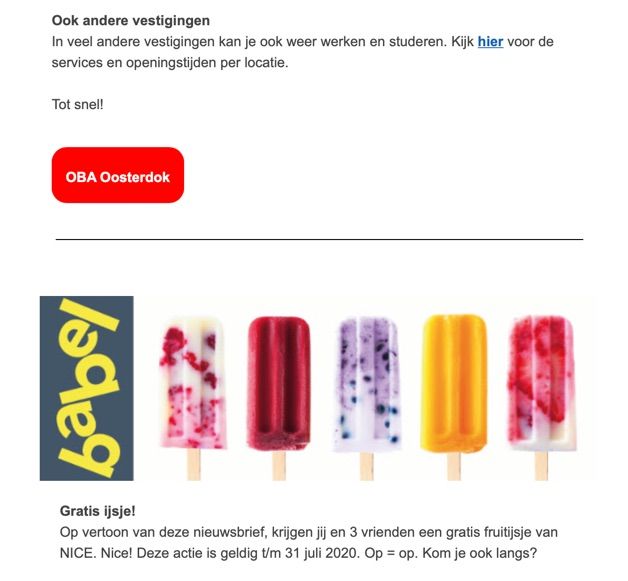 Free ice pop
---
Date
July 12, 2020
---
---