Utrecht
The wife and I had a day off together a couple of weeks ago. Between me being fully vaccinated, her having had her first shot for a few days and the community transmission being low1 here in Netherlands, we decided that it was time to finally get on a train for a short trip to another city. We ended up picking Utrecht because we hadn't been there in a while and because the station there has a Pret that we both love.
The trains here have a silent coach where you are supposed to sit quietly. We prefer them on most days but given what we now know about how covid spreads, it felt like an especially good idea. Face masks are still mandatory in public transport and the vending machines at the station will gladly dispense you a pack of 5 for a mere 4€. Since we were traveling during off-peak hours, our coach was mostly empty. I played Chikku Bukku Rayile from the 1993 Tamil film Gentleman on my headphones as a private celebration of being inside a train again after more than year.2
Our train arrived at Utrecht Centraal in no time. To our dismay, the Pret here had vanished without a trace so we decided to look for lunch elsewhere. The Hooge Catharijn mall across from one of the station's exit also serves as a passageway into the city centre. That's where we first went. Being inside a mall felt a bit surreal - as if we were in Singapore after a mere 30 minutes on the train. While the mall did offer a lot of food options, it felt like a copout. Also, neither of us would have felt safe spending a long time in an indoor space shared by hundreds of strangers. Out into the city centre we walked.
Utrecht's centre is ringed by canals and dotted with shops and cafés. This being afternoon on a working day, we weren't expecting things to be as busy as they were. It was a cloudy but an otherwise pleasant summer day and I guess everyone was enjoying the relative freedom that has come with the easing of the lockdowns. We eventually found a place at a small restaurant called Soep-er (a world play on soup - spelled as soep in Dutch - and super) that served delicious, creamy soups with several vegetarian choices and bread.
We wandered without any specific destination in mind and enjoyed the city's architecture, the occasional windmill, sculpture and street art.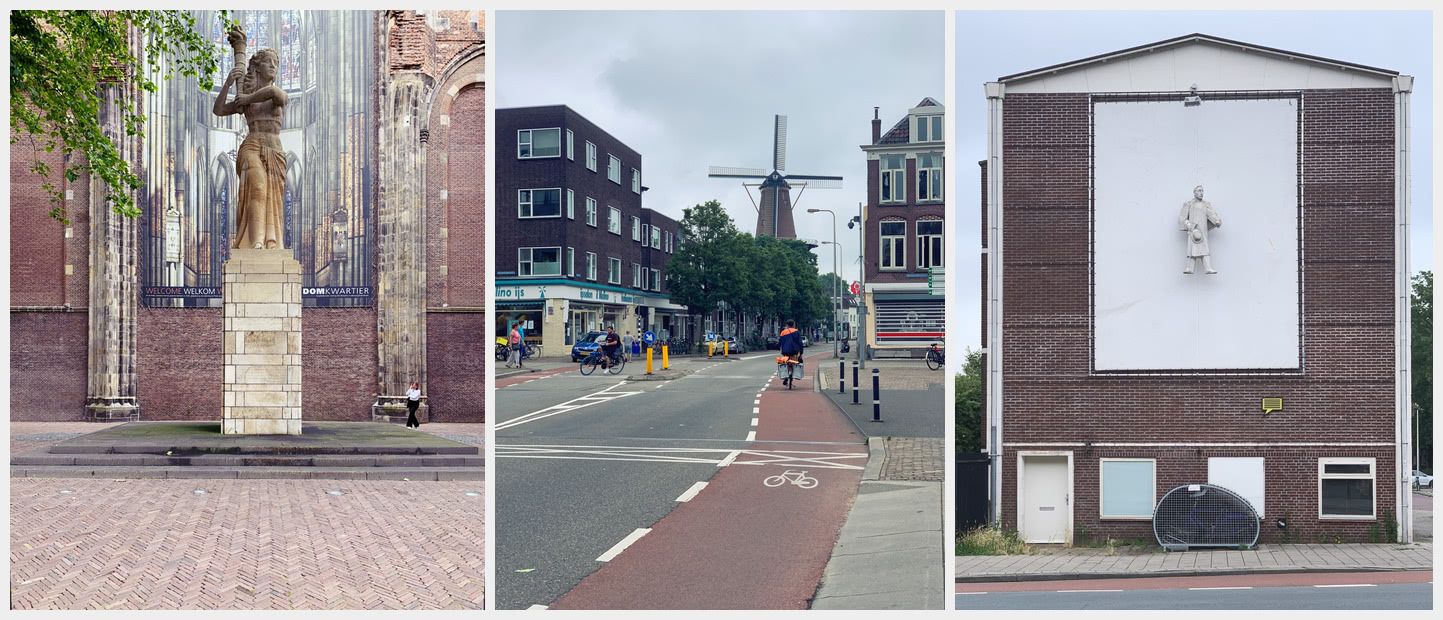 Utrecht sculptures and a windmill
A poster by Dik Bruna3 that encouraged people of Utrecht to take good care of each other, could be seen displayed behind the windows of many homes and shops throughout the city4.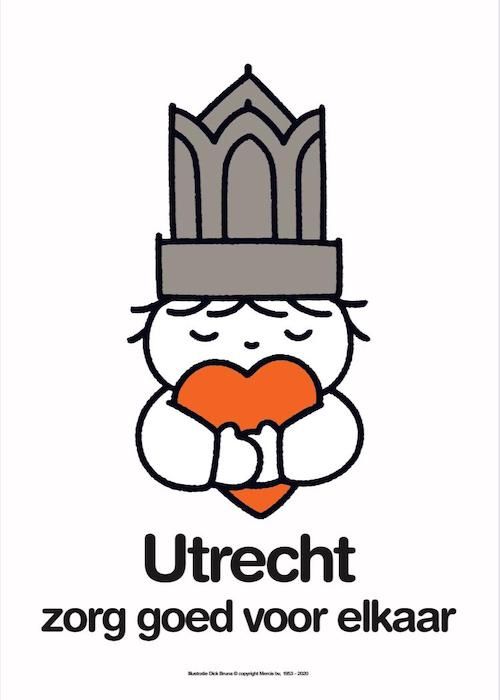 Dik Bruna poster
While the buildings in Utrecht were not radically different from the sort of buildings you would come across in Amsterdam, or for that matter, in most Dutch cities, the street lamp posts were quite distinct. Baskets of flowers hung from several lamp posts. The wife drew my attention to colours of the flowers - the red and white had been carefully chosen to match the colours of the flag of Utrecht.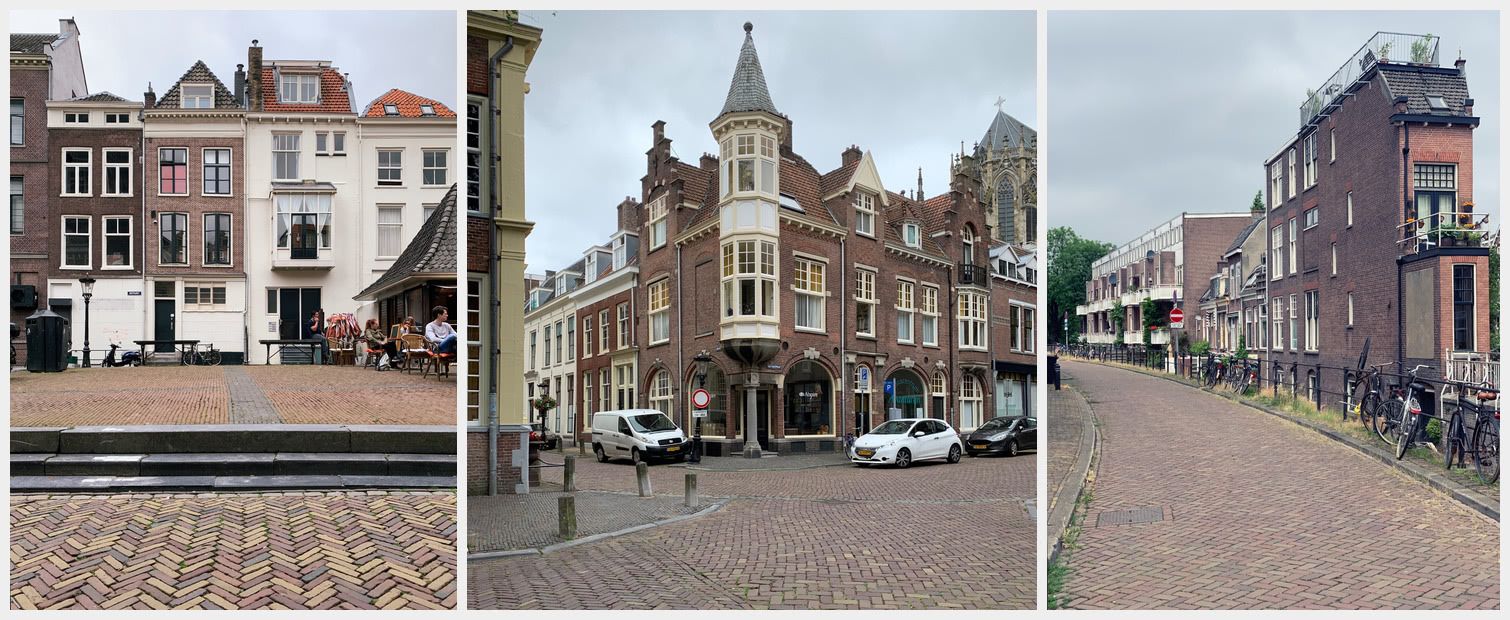 The general architecture you come across in Utrecht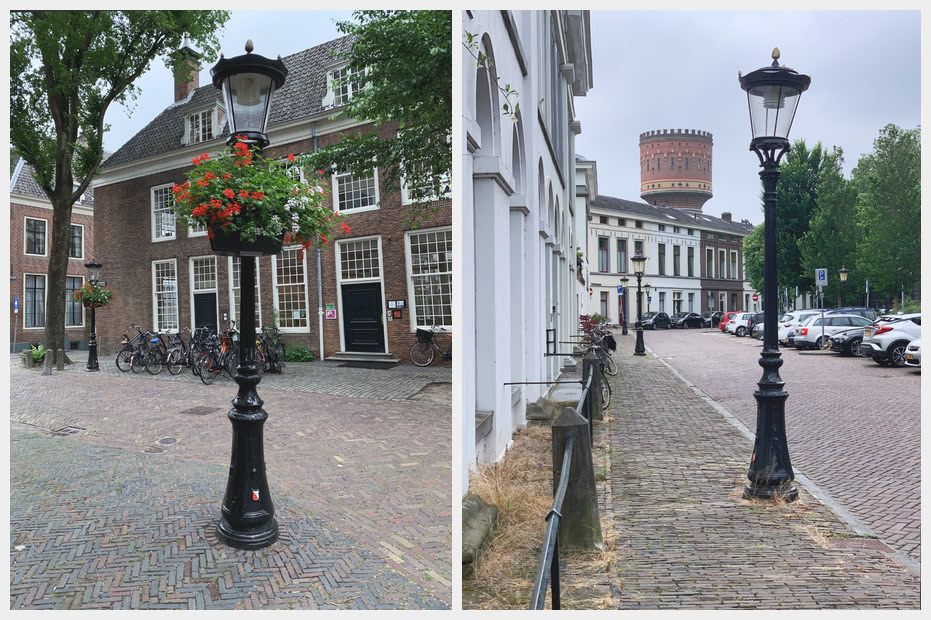 The distinctive Utrecht lamposts
Utrecht has recently witnessed an amazing transformation to its urban landscape. The Catharijnesingel used to be a canal but was landfilled into a motorway in the 1970s and that is how it remained for the next many decades. A few years ago they started a project to bring the canal back. This finished last year. To walk on a placid, green, tree-lined stretch along the canal was to walk on a stretch of land where the clock had been miraculously turned back.
The video shows this transformation from Jul 2014 to Dec 2020 through a series of Google Street View photos. In Jul 2014, there is just a highway. The next year a bike lane comes up followed by a bike parking alongside. Eventually, the highway is dug up and metamorphoses into a canal!
Even though this trip was short5 enough to have been a mere detour from our daily walks, it left us feeling refreshed and reminded us how much we miss traveling.
---
Date
July 18, 2021
---
---