2017: My year in music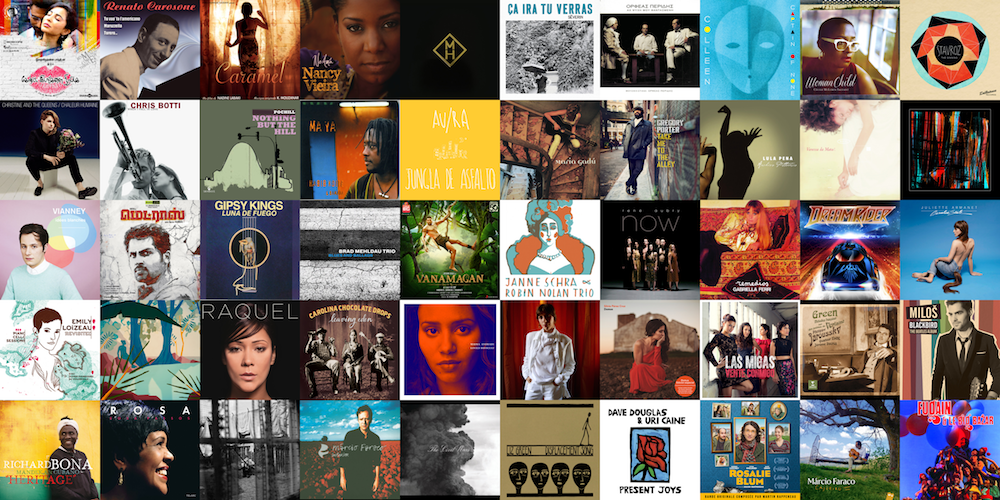 Montage
Kurt Vonnegut in Timequake:
I say in speeches that a plausible mission of artists is to make people appreciate being alive at least a little bit. I am then asked if I know of any artists who pulled that off. I reply, 'The Beatles did'.
Here is a little tribute to all the artists that helped me appreciate being alive. Very little (if any) of this music was released last year. 2017 just happens to be the year I discovered these artists or songs in. And as for The Beatles, this list includes one jazz piece inspired by them, one cover and a Paul McCartney solo.
The playlist is on Spotify.
Just like last year, the songs are not ranked by play count or how much I like them, but rather in more or less the same order that I came across them. One notable exception is the last track in this list, which even though I had been listening to since July, I decided to include here at the last minute.
En Oruthiye: Sreeramachandra

Spotify | Youtube
Modern Tamil film music defies classification. It's an ecelectic mix of contemporary electronic, western classical and carnatic/hindustani classical sounds seamlessly weaved with decades-old playback singing tradition that is perhaps unique to India. This song has it all. The opening bars reminded me of Joan Osborne's 90s hit - One Of Us.
Piccolissima serenata: Renato Carosone

Spotify | Youtube
Renato Carosone's voice is magical. A simple song from simpler times. Growing up in India one heard a lot of 50s, 60s, 70s film music as that is what the parents would lean towards. Despite the likelihood of this song having ever come up on Indian Radio during my childhood being close to 0, the song manages to evoke nostalgia about those days.
Succar ya Banat: Mouzanar Khaled

Spotify | Youtube
From a Lebanese film from 2007 (Caramel). I have no idea what cosmic (algorithmic?) coincidence caused this song to appear in my weekly Spotify Discovery playlist but I am glad it did. The piano and strings intro almost had me anticipating a German Lied and not a woman singing in Arabic.
Cab'Verde Na Coracon: Nancy Vieira

Spotify | Youtube
Certain songs evoke the warmth of the sunny places of their orgin. I simply need to close my eyes with this song on my headphones and I feel as if I am at a sunny white sandy beach. A welcome discovery during the cold early months of the year.
Down: Marian Hill
Spotify | Youtube
I discovered this song because Apple used it for their AirPods ad. The song starts with just a piano playing a simple repeating motif in a minor key. Vocals join the piano after four bars but soon things take quite an unexpected turn. After multiple hearings feels a few seconds too long but it makes the cut for the sheer surprise element.
Ça ira tu verras: Séverin
Spotify | Youtube
The sort of music that fills your heart with joy and hope.
Fevgo: Orfeas Peridis
Spotify | Youtube
European languages like French, German or Spanish come up enough in popular culture that if I hear two people talking in any of these languages I might not understand them but I'd know which language they are talking in. Not with Greek. Hopefully, if more songs like these keep showing up in my recommendations that would change. A poignant song about goodbyes.
Soul Alphabet: Colleen
Spotify | Youtube
Ethereal. At times reminded me of Strauss' Pizzicato Polka and the second movement of Ravel's string quartet.
Le Front Cache Sur Tes Genoux: Cécile McLorin Salvant
Spotify | Youtube
This one seemed to capture my dark mood earlier this well rather well. Many hearings on, and the piano interleude around 2:06 mark still gives me goosebumps. I seem to have said the same thing about another track (I didn't know what time it was) from the same album I featured last year. To think that she is just 28 and the music she'd go on to make…
The Finishing: Stavroz
Spotify | Youtube
A long-ish electronic intro that doesn't seem to be going anywhere but around 1:37 mark the tempo picks up and a saxophone joins in and lifts the track to an entirely different level altogether
Paradis Perdus: Christine and the Queens
Spotify | Youtube
I learned from Wikipedia that

"

the song interpolates Kanye West's best-selling single Heartless as well as Christophe's 1973 song Les Paradis Perdus

"

. I felt that this song a considerable improvement over the material it uses as source.
La Belle Dame Sans Regrets: Chris Botti
Spotify | Youtube
Some inspired trumpet playing redolent of Chet Baker.
Porquè - Original: Pochill
Spotify | Youtube
Breezy
Wassiye: Habib Koité
Spotify | Youtube
This one grew over me gradually. I'd love to know what the lyrics mean. Sadly Bambara is not a big enough language for Google Translate to have support for it.
Jungla de Asfalto - Acústica: Au/Ra
Spotify | Youtube
A song about cities and modern life. Sounds more cheerful than the slightly dystopian contents of the lyrics would lead you to believe.

e.g. a couple of lines from the 2nd stanza:

Emporios al por menor abandonados - Abandoned malls
Amazon Prime la nueva potencia mundial - Amazon Prime the new world power
Shimbalaiê: Maria Gadú
Spotify | Youtube
Intentionally left blank as an exercise for the listener.
In Fashion: Gregory Porter
Spotify | Youtube
I almost discovered Gregory Porter in 2016. Lufthansa's in-flight magazine in my seat pocket on a flight back from Munich had a little feature on him. I had hasitly snapped a picture of the page with the intention of looking him up but I promptly forgot about it. Only when this song showed up in my Discovery playlist in February last year, did I realise what I had been missing.
Ausencia: Lula Pena
Spotify | Youtube
I love songs that keep things simple. This one features just a guitar and Lula Pena's warm voice. Full credit here to the sound engineer as well - if you listen to this on headphones you'd appreciate how intimate it sounds.
Não Me Deixe Só: Vanessa Da Mata
Spotify | Youtube
I have to borrow from Wikipedia again to accurately describe the stylistic elements of this song:

Música popular brasileira (Portuguese pronunciation: [ˈmuzikɐ popuˈlaʁ bɾaziˈlejɾɐ], Brazilian pop music) or

MPB

is a trend in post-bossa nova urban popular music in Brazil that revisits typical Brazilian styles such as samba, samba-canção and baião and other Brazilian regional music, combining those with foreign influences, such as from jazz and rock.

Or in short, should have you tapping your feet in no time.
Walking On the Moon (feat. Aloe Blacc): Roseaux
Spotify | Youtube
Fun, playful lyrics:

Giant steps are what you take
Walking on the moon
I hope my legs don't break
Walking on the moon

As you might've noticed by now, a lot of songs I listen to are not ones you could hum along. This one is a rare exception!
Aux débutants de l'amour: Vianney
Spotify | Youtube
Intentionally left blank as an exercise for the listener.
Naan Nee: Shakthi Shree, Dheekshitha
Spotify | Youtube
This song is not exactly what you'd think of an

'

earworm', but don't be surprised if it begins to loop in your head several days later.
Calaverada: Gipsy Kings
Spotify | Youtube
I came across this song just a few days after our Seville visit and somehow in my mind it is now associated with that trip. The singing is just so full of energy and almost feels like a live performance rather than studio recording. I can only imagine what it must've been like to listen to Gipsy Kings live.
And I Love Her: Brad Mehldau Trio
Spotify | Youtube
The music The Beatles made 50 years ago, continues to inspire musicians to date. As far as derivative works go, this is sublime.
Pachai Uduthiya Kaadu: Abhay Jodhpurkar, Harini
Spotify | Youtube
A tune at once both familiar and new. Bright guitars, wonderful singing, flute and orchesteral interludes. Though at first it was a little hard to look past the ridiculous Tarzan-themed album cover.
C'est si bon: Janne Schra, Robin Nolan Trio
Spotify | Youtube
This is probably one of the most covered French song. It's hard to best the Eartha Kitt version but I like it because of its gentler touch (e.g. instead of the brass heavy opening of Kitt's version you get guitars).
Replay: René Aubry
Spotify | Youtube
The track begins with piano and the guitar building up a lot of anticipation for about 50 seconds and then the drums come in quite unexpectedly release the tension. Must be fun to choreograph to a piece like this.
Remedios: Gabriella Ferri
Spotify | Youtube
Huantingly meloncholic?
Cruise: Lazerhawk
Spotify | Youtube
This sort of synth-heavy electronic music is as far as it gets from the kind of music I usually enjoy, and yet I find this track oddly fascinating. Probably because it reminds me so much of a Kitaro mix-tape I used to listen to in my early teens…
Adieu Tchin Tchin: Juliette Armanet
Spotify | Youtube
When you listen to opera, you come across a lot of vocal feats on the higher side of the octave. Yet singing in a high octave in contemporary pop music is bit of novelty and that's what drew me to this song.
Gigi L'Amoroso: Emily Loizeau
Spotify | Youtube
The cello and piano opening draws you in immediately. As a song it is a little unusual in structure with a little monologue towards the end punctuated with singing. I leanred only today that it's a cover of a 1974 single.
O Vai: Vaiteani
Spotify | Youtube
Music with roots in French Polynesia and yet sounds very contemporary. The lyrics are in Tahitian but thankfully, French translation is available on the duo's website. I have a feeling there'll be more songs by Vaiteani in the list in the coming years.
Gostar de Quem Gosta de Nós: Raquel Tavares
Spotify | Youtube
It must be hard being part of a folk tradition like Fado that goes back a couple of centuries. Adhere too much to the genre and you don't have anything new to offer, adhere too little and you risk being an outcast. Coming across a song that strikes that delicate balance between the old and the new is always a joy.
Mahalla: Carolina Chocolate Drops
Spotify | Youtube
The sort of music that catches your attention in a noisy café and makes you want to ask the first available attendant if they could find out what song is playing. Of course these days one just uses Shazam.
Trés Mininu: Mayra Andrade
Spotify | Youtube
Music by Mayra Andrade is fast becoming my aural equivalent of comfort food. That's why there are two of her songs in this list.
Imagining My Man: Aldous Harding
Spotify | Youtube
One of the joys of Spotify is how easy it makes artists to share their influences and favourite works. Came across this song in a playlist by Lorde. Aldous Harding shows a wide vocal range in this song. I love how the mood of the song shifts from despairing to hopeful (if not outright triumphant). If you told me I could pick just one song from last year, it'd probably this one.
Segundo Movimiento + Improvisación Cerca De Tu Casa: Sílvia Pérez Cruz
Spotify | Youtube
After 1 minute 40 seconds of piano, a beautiful voice joins in, hums along and gives it wings.
Téra Lonji: Mayra Andrade
Spotify | Youtube
Intentionally left blank as an exercise for the listener.
Ojos Grandes: Las Migas
Spotify | Youtube
Soulful, contemporary Flemenco music.
Ferré: Colloque sentimental: Léo Ferré, Philippe Jaroussky
Spotify | Youtube
Philip Jaroussky sings in a beautiful counter-tenor voice. Once you've heard him perform a work, to hear anyone else perform it often sounds wrong.
Let It Be: Miloš Karadaglić, Gregory Porter
Spotify | Youtube
If you want to cover a song that The Beatles released at the top of their game, you better be good. Miloš and Gregory are, without any doubt, quite up to the mark.
Matanga: Richard Bona, Mandekan Cubano
Spotify | Youtube
Richard Bona's voice is this song is like warm honey being poured down your ears - without the complications that'd arise if you were to attempt such a thing literally.
Fusion: Rosa Passos
Spotify | Youtube
Hypnotic.
Jenny Wren: Paul McCartney
Spotify | Youtube
This reminded me of The Beatles of the old (think the White Album, Blackbird) and I was quite surprised to learn that this is a more recent (recorded 2004) solo work by Paul McCartney. When you are an artist as celebrated as Paul McCartney, the fans will pore over every single work of yours and put something equivalent up on Wikipedia. I learned from this song's page that what I had taken for clarinet in this song, was actually an Armenian woodwind instrument called Duduk.
Efemera: Márcio Faraco
Spotify | Youtube
This song evokes in me the feeling of being adrift in a vessel on a calm body of water at senset.
Sacred Heart: The Civil Wars
Spotify | Youtube
Talking of metaphors that if applied literally would be uncomfortable at best and fatal at worst, this one should melt your heart the moment you hear the first bars.
Bei mir bist du schoen: Liz Green
Spotify | Youtube
I actually thought this recording was from 1930s and not from 2011. I wasn't that far in the sense that the original song this one covers is from 1932, but that a recording in 2011 would sound so much like one made in the 1930s was a bit surprising. I wonder if they tried to use vintage studio equipment for recording this or treated it digitally to sound like an old recording. Regardless, Liz Green's voice definitely sounds like one that'd would've been popular in early 20th century. Quirky lyrics too:

Bei mir bist du schoen, please let me explain
Bei mir bist du schoen means you're grand
Bei mir bist du schoen, again I'll explain
It means you're the fairest in the land

I could say

"

Bella, bella", even say

"

Wunderbar"
Each language only helps me tell you how grand you are

Verde: Sílvia Pérez Cruz
Spotify | Youtube
Filed under - is nothing like what I grew up listening to but makes me nostalgic.
Soar Away: Dave Douglas, Uri Caine
Spotify | Youtube
Bound to do to your mood exactly what the label says - make it soar away.
Get Me Away from Here, I'm Dying: Luna Picoli Truffaut
Spotify | Youtube
Sung in a high key - the sort of voice you'd use when humming. To carry it through an entire song must've taken quite some effort. And as was the case many times last year, this too is a cover of an original.
Neguinha: Márcio Faraco
Spotify | Youtube
Intentionally left blank as an exercise for the listener.
Une belle histoire: Michel Fugain & Le Big Bazar
Spotify | Youtube
When you are an outsider to a country's music, it is even harder to tell if a song is original or a cover. I began listening to a Dutch podcast this year. It's basically a recording of a late night current affairs radio show put out by one the public radio stations. Between news stories and interviews, they play light music - mostly Dutch, English, French and German songs from the 1970s and the 1980s. This song came up in the episode they published on 22 Jul 2017. It was then that I realised that a song that I had been listening to since April 2016 was a cover of one by Michel Fugain.

Un belle history (A beautiful story) sounds like an appropriate note to end this playlist on.
p.s. There was of course more music in my life this year than listed here. I added 207 new songs to the "master playlist" off which I compile this year-end retrospective. There were a couple of songs - one in Hindi and one in Tamil - that I must've heard tens of times. My new-found affection for this period of Indian music is making me wonder if I am finally turning into someone from my parents' generation (surely everyone's greatest fear when they are in their teens). Music is also an integeral part of many shows that Netflix produces. I wish they'd release this one from Godless on Spotify.
---
Date
January 1, 2018
---
---