Bhutan - Day 1 - Phuentsholing to Thimpu
By the time we finished our breakfast, our tour-guide had already arrived at the hotel. We had a minor confusion about our starting time as Bhutan is 30 minutes ahead of India (GMT +6). We loaded our meagre belongings into a white Toyota Corolla and set off.
I was right about being close to Himalayas. The mountains were visible on all sides from Jaigaon itself. Within 2 minutes of our drive we found ourselves at the India-Bhutan border. A large, colourfully painted gate marked the entrance to Bhutan. A man stood a couple of meters ahead of the gate with a hosepipe and washed the tyres of every car entering Bhutan. I think I only saw him doing two tyres on one side of the car and wondered if the gesture was merely a symbolic one.
I haven't crossed into another country by road before, so I was interested in seeing how drastic the transition between India and Bhutan would be. And drastic it was. You enter Bhutan to leave crowd and congestion behind you. The roads are much cleaner with little or no litter. The architecture of buildings in Bhutan (more on it later) accentuates the feeling of having entered a new nation. Even the petrol stations were beautifully done up!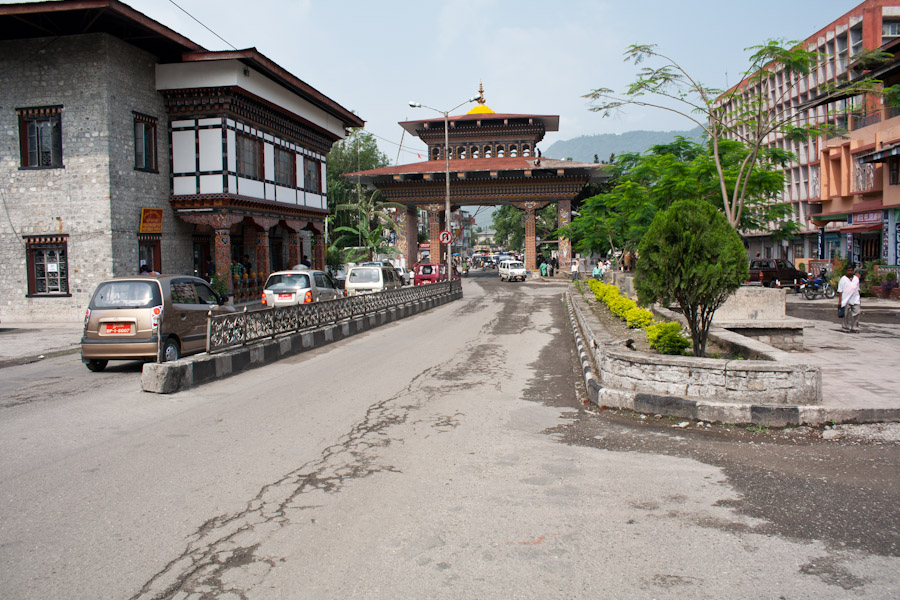 In Bhutan (from Jaigaon)
Right at the entrance was the immigration office. During the half an hour or so it took the guide to arrange for our tourist permits we made calls home at a princely rate of 21 Rs/min! Our phones weren't picking any of the domestic carriers since last night and we would be relying on telephone booths for staying in touch with our families for the rest of our trip.
Phuentsholing is about 200 km away from Thimpu - Bhutan's capital city and our destination for the first day. The weather was very pleasant and we covered good ground for the first hour or so. The drive - though smooth, was full of some very sharp turns which made me a little giddy. The combination of altitude and the lack of sleep from last night gradually made it worse for me. All I could do at this point was close my eyes and try to catch a nap.
Shortly we ran into our first big traffic jam. All the vehicles - which included a motley assortment of small tourist buses, trucks and cars - stood queued up on one side of the road waiting for traffic from the opposite direction to pass. I could see mountains all around me. Clouds occasionally drifted to the highway and hung there for minutes, making it the most scenic traffic jam I had ever been in. With nothing better to do, we started counting the vehicles passing us and gathered useless trivia.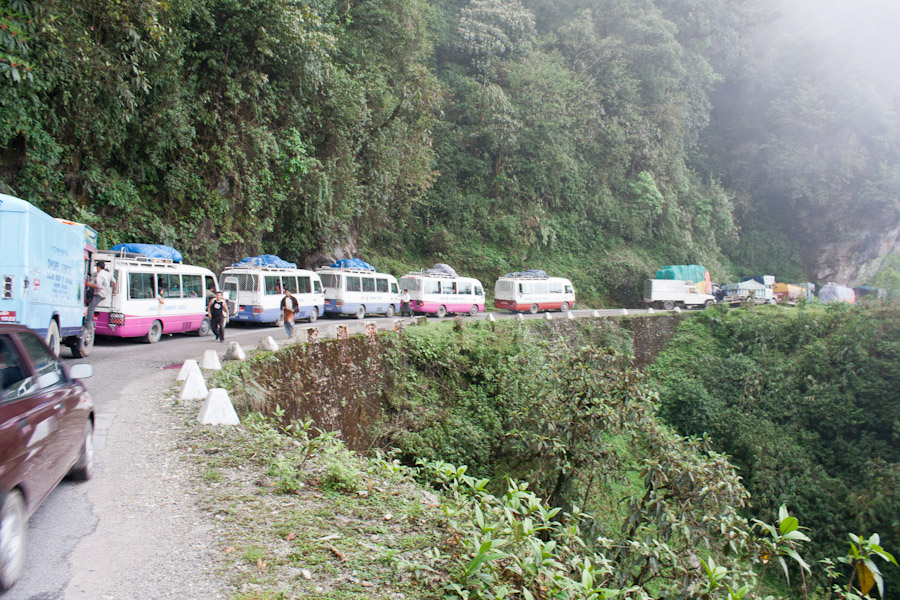 A picturesque traffic jam
Most vehicles in Bhutan have red number plates with the vehicle's registration number written in white. A number beginning with BP indicates a private vehicle, BT indicates a taxi while BG indicates a government vehicle. We later learned that vehicles belonging to the Royal family use BHUTAN as a prefix. I found the message on this truck parked next to us funny: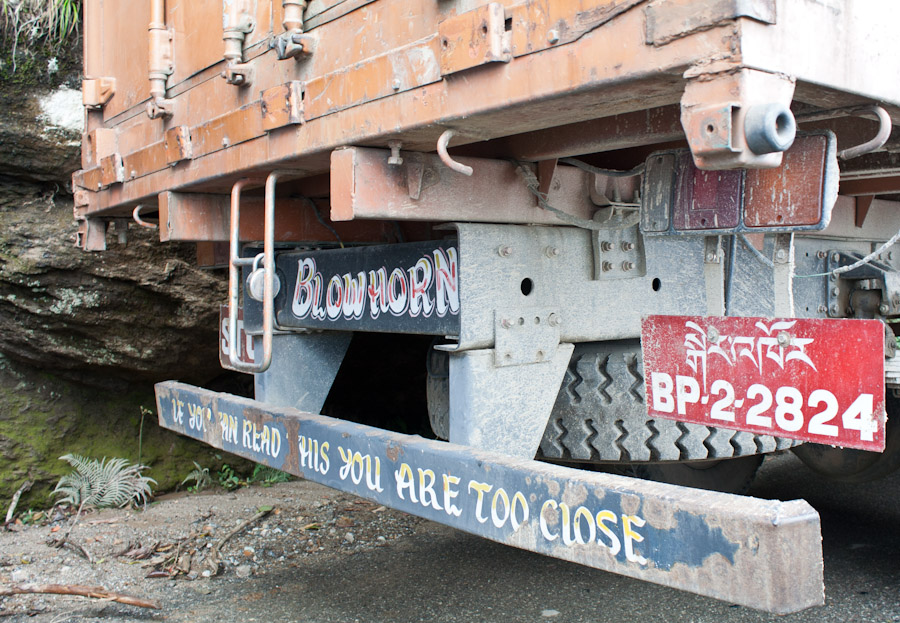 If you can read this... you are too close!
The jam lasted over an hour and soon we were crawling towards our destination again. We covered our way in spurts and were often stalled for 10-20 minutes every now and then. During one such stop I spotted this large flock of tiny birds (I wish I knew what birds these were) flying into a valley. While the individual birds moved at random, the flock as a whole moved in a single direction.
At around 2:00 we halted for lunch at a small canteen probably being run by the Indian army. You could get Dosas (!!!), Maggi noodles, Pakodas, rice-curry combo and even fresh momos for a very reasonable (read subsidised) price. The place was obviously a hit with the soldiers and we saw several of them come in in small groups of 4-8 during the 40 minutes we spent there. The man taking orders was a brusque, corpulent, Punjabi man in his late 30s. He'd yell your order to cooks working in the kitchen and soon piping hot food will be waiting at the counter for us to pick. It was like being in a small road-side eatery on the way to Chandigarh from Delhi (right down to stinking, dirty loos!).
The remaining day passed in a blur. We kept running into small traffic jams frequently and that slowed us down a lot. We stopped just once to see a small hydro-electric power station down in a valley, and that was about the only "sight-seeing" we could manage. By the time we were in Thimpu, the daylight was fading fast. My first impression of Thimpu was of a beautiful, well-organized city with a lot of character. The highway that led us into the city, almost had the air of a fast-paced city in a developed country.
We stayed at a small hotel called "Hotel Wangchuk". Our room was small but cozy. The amount of wood I saw used in the room was mind boggling. The wood was of a dark grain and that probably contributed to the feeling of the room being small.We were very close to, what seemed like, the main market in Thimpu (think M. G. Road in Bangalore). It was nippy and quite windy outside but a lot of people - mostly teenagers - were out shopping. This was the only time I would see so many people together in Bhutan! Our room had an electric kettle so picked some Taj Mahal tea-bags for the morning's tea (the shop packed it for us in a brown paper bag instead of a polythene one). Most things in Bhutan cost the same as they do in India. You can use Indian Rupees interchangeably with Bhutanese Ngultrums.
We returned to hotel to find that a lavish "fixed menu" had been ordered for us. The idea of the food, I guess, was to gently introduce us to Bhutanese cuisine without deviating too much from the Indian fare we are used to. The fact that we are vegetarians makes this task a little harder because despite being a Buddhist nation, beef, pork and fish are staple fare in Bhutan. Still the food was amazing and it would be grave injustice to not include a list of what we had as part of this post:
Vegetable coconut fried rice generously sprinkled with fried cashews
Sautéed vegetables and mushrooms
Sautéed ferns
Cauliflower Manchurian
Spaghetti Primavera (topped with loads of cheese)
Coke
The dinner set us off by about 300 Rs. per head, which in hindsight wasn't bad at all!
It is easy to drift into sleep on a full stomach. I slept a sound, dream-less sleep and woke up only around 7:00 AM to the chirping of a lone sparrow outside. We were staying in a room right above the portico at the hotel's entrance and so ours was the only room with a balcony and this is where the sparrow had come looking for food! It was a cold, cloudy morning - the sort I find very inviting for a long day's drive.
---
Date
May 2, 2008
---
---