Bhutan - Day 2 - Thimpu To Trongsa
We left Thimpu at 8:30 morning. Our destination today would be Trongsa in central Bhutan. We would cover about the same distance as we did yesterday. We hoped that the traffic would be better today.
A breathtaking sight awaited us at DochuLa Pass barely an hour after our departure from Thimpu. 108 small white towers or chortens, arranged in concentric circles on a small mound mark this pass. Beautiful white flowers blossomed amidst these towers. Some of them had fruits too; we learned that they were wild strawberries! Hundreds of prayer flags fluttered in the valley surrounding the mound.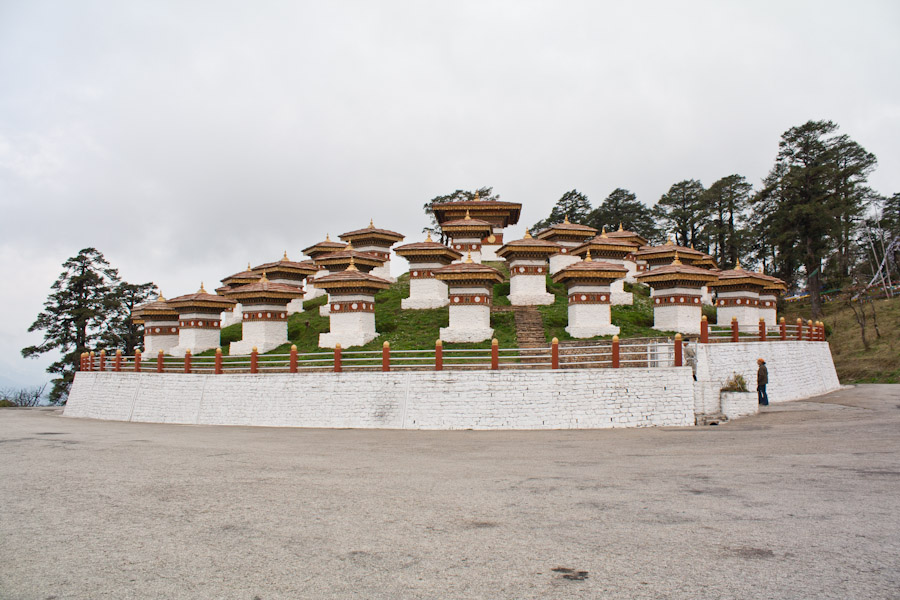 Chortens near Dochula Pass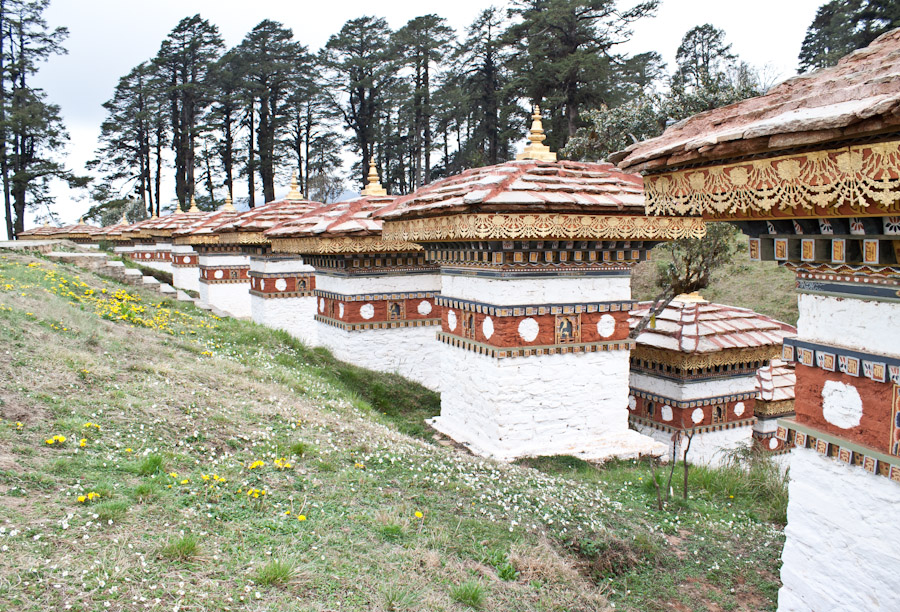 Chortens
A red notice board informed us that the area surrounding the pass was a botanical garden and "collection" of "live plants" was strictly prohibited. To me the whole of Bhutan had seemed like a large botanical garden - the idea that a small area was demarcated as one, seemed a little bizarre. We had seen hills covered with red and pink rhododendrons, magnolia trees with pale-white flowers and various other species of wild flowers and berries that were a mix of strange and vaguely familiar. And this spectacle continued far and beyond this "botanical garden"!
We also saw a much bigger notice board (again red) in the same general area, that read "Election Advertising Board". We would see more of these throughout our travel in Bhutan. Bhutan had embraced democracy barely a couple of months ago. The idea here was to give the various political parties and their candidates a place to put their posters rather than stick them to the walls of the beautifully, and I am sure painstakingly, painted houses. With elections now long over, most of the boards had been cleared of all the posters.
An hour later we were in the Wangdue valley. A few meters before a check-post we got down from the car and walked the small stretch along a river. What had caught our attention and prompted this walk was a cluster of cacti with big yellow flowers. The buds were a shade of maroonish-brown but once they blossomed, yellow completely took over.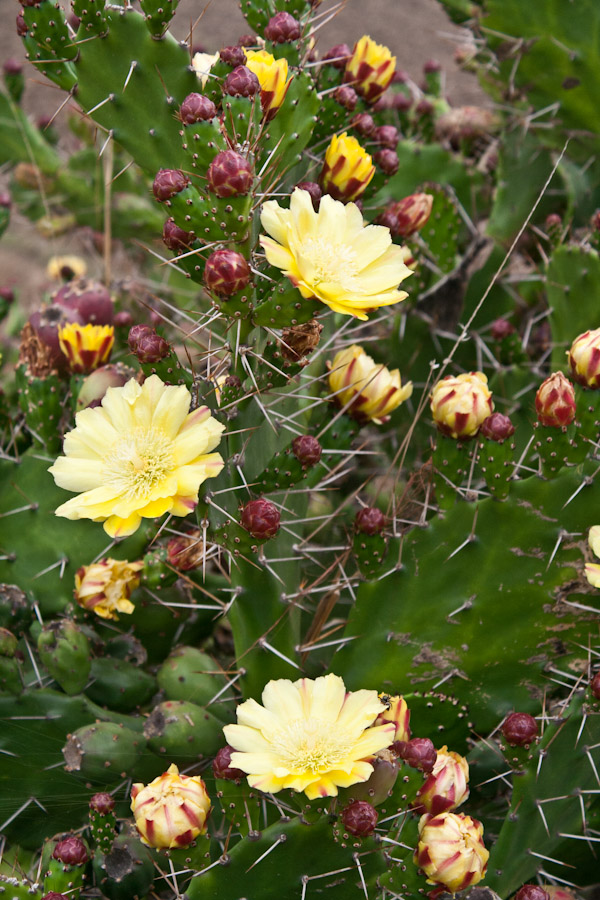 Cactus with yellow flowers
We drove on for another 3 hours on the curvy, mountainous roads. Most of them were remarkably good considering the harsh terrain. A few patches were being repaired or widened. The mountains had many faces. Some were covered in trees that were shedding their leaves while others had trees whose leaves sported hues of rust and green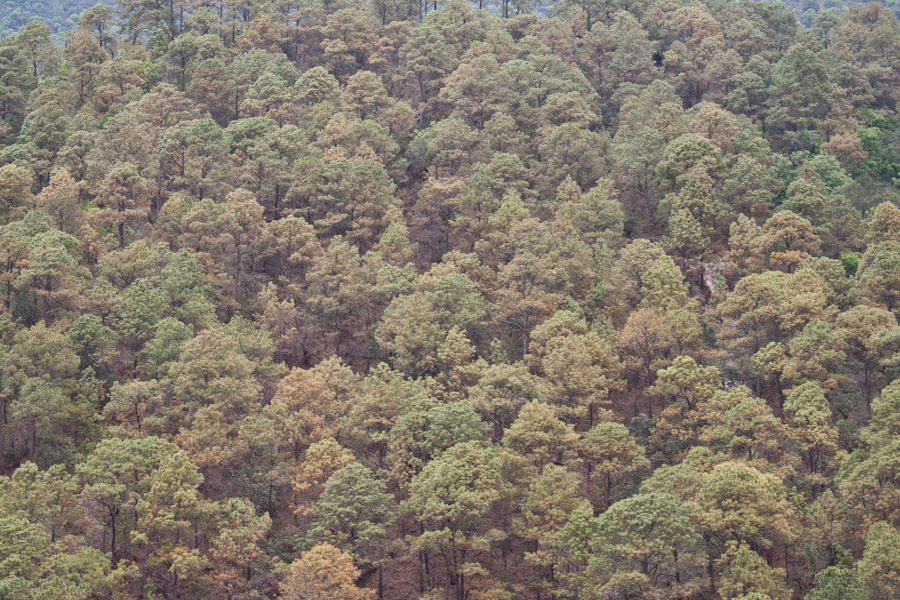 One of the many faces of the himalayas in Bhutan
Our breakfast had been plain old bread, butter, jam and tea so after over 5 hours of driving it was natural for us to be ravenous (the word reminds me that it is time for another piece of Bhutan related trivia - the Raven is national bird of Bhutan). We stopped at a small cafeteria down in a valley. A semi-circular attached room - which doubled up as a shop for handicrafts - led us into main dining area. From where I sat, I could see the lush mountains outside and hear a river roar. Colourful knitted woollen flowers were kept in a vase on each table - evidently a woman's touch. On a wall to our left hung a picture of the last king of Bhutan with his four wives.
We had a generous quantity of black tea followed by some delicious mushroom soup. The main course included french-fries, red rice, sautéed beans and a mélange of lightly cooked mushrooms, tomatoes and red onions. I looked at watermelon slices that followed in disbelief. I associate them too strongly with the unbearable heat of the plains to enjoy them in the cool mountain weather! Tea was served again along with the bill which was more or less on the same lines as what we had paid for dinner yesterday.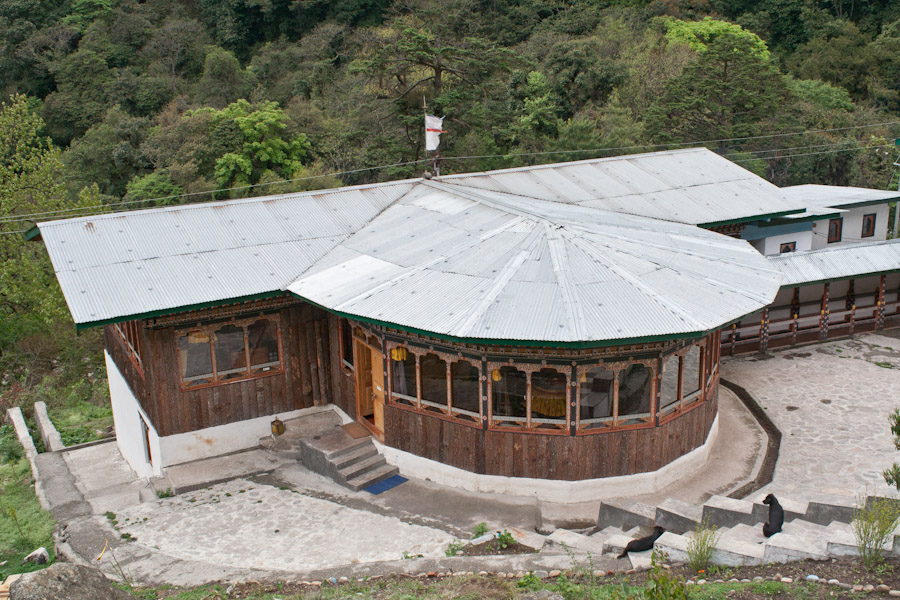 A small family-run restaurant in Bhutan
This was probably a family run establishment and our guide seemed to know the people here. Having been caged in the car for so long, we were eager to stretch our legs. So we left him to chat with his friends and stepped out. In the small courtyard outside, young dogs were frolicking about. There were a couple of old ones too. They exuded a zen-like calm and lay half-asleep on the concrete staircase that had led us to the café. Their coat was clean, lustrous and bordered on being fur. All of them were a remarkable specimen of their species. I took out my camera and started clicking them.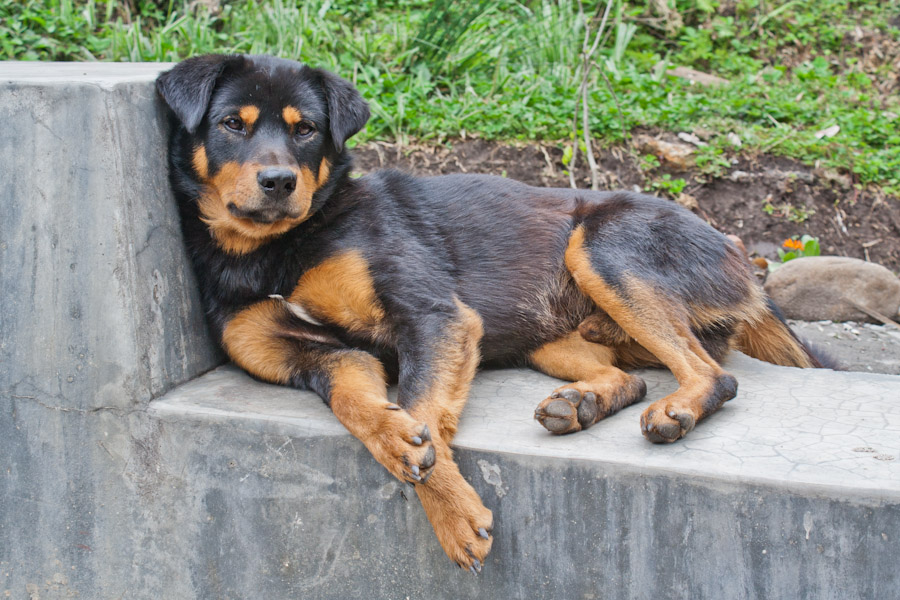 An adorable mountain dog
Just then I heard the pack of younger ones bark and charge in my general direction. I felt an adrenaline rush like no other but instead of fleeing, found myself firmly planted to same spot. Fortunately for me, the cavalry charge had been towards another dog that had strayed into their territory. They were still indifferent to my camera but I was too shaken up to continue clicking.
We walked a little on the roads which we had only been driven on so far. Grey clouds obscured the mountains ahead of us. In the valley below, I could see the river that I had only heard so far. It was still and pleasantly cool. Soon it started to drizzle. Before it could turn into a downpour, our car overtook us. Grudgingly we abandoned our short hike and got in.
I was soon asleep and must've dozed for at least an hour. I was woken up by the sound of rain pattering against our car's roof. The road was fully wet and the terrain had gotten more difficult if anything. The rain had laved all the trees and plants on the mountains and had heightened the intensity of the color green. I spent a few moments contemplating whether I was dreaming or if those surroundings were indeed real.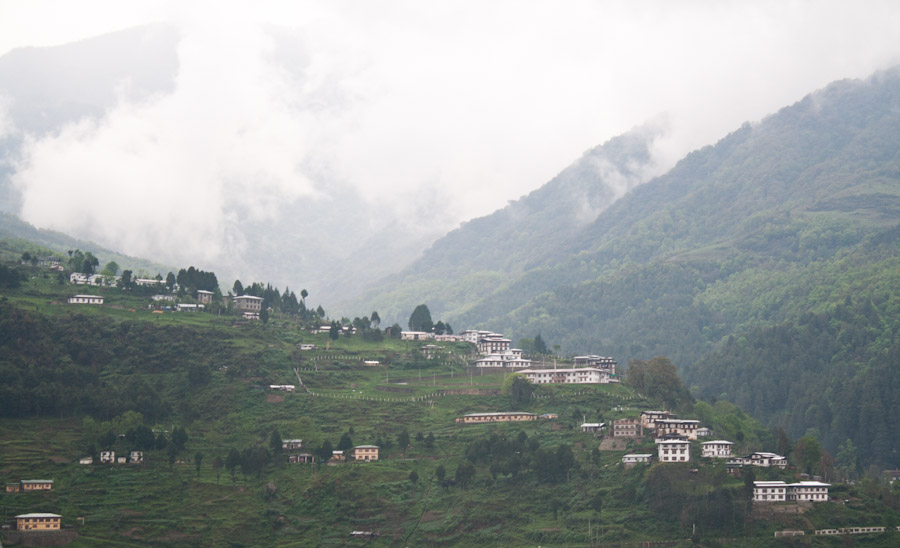 A cloud covered valley that wasn't a dream
Just then we stopped at another pass. Most passes are marked with a small white stupa decorated with colorful prayer flags.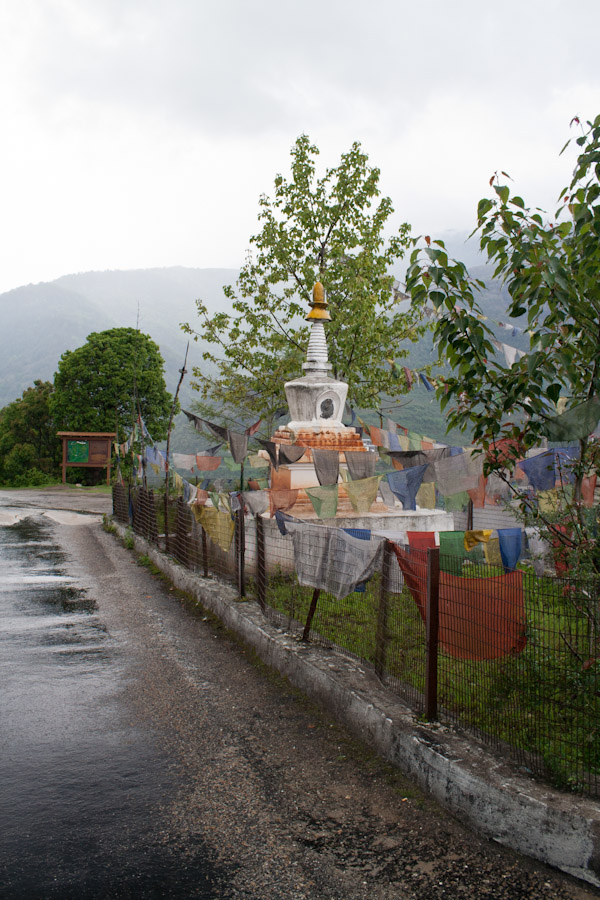 A Stupa
The rain had dwindled into a gentle drizzle again so we could get down and look at the valley before us. A small concrete platform of sorts indicated a "viewing point" from where we could see Trongsa Dzong. Dzongs are a combination of a monastery and a fort. Most of them are built on mountain slopes and have white walls (there is no intention of a camouflage) which gently taper off towards the roof. A little higher-up on the same mountain was its cylindrical watch-tower. The dzong is accessible on foot via a trail that closes at 2:00 PM. At close to 4:00 PM, we were obviously late for trekking to the dzong and would be taking the more mundane motorable route to it tomorrow.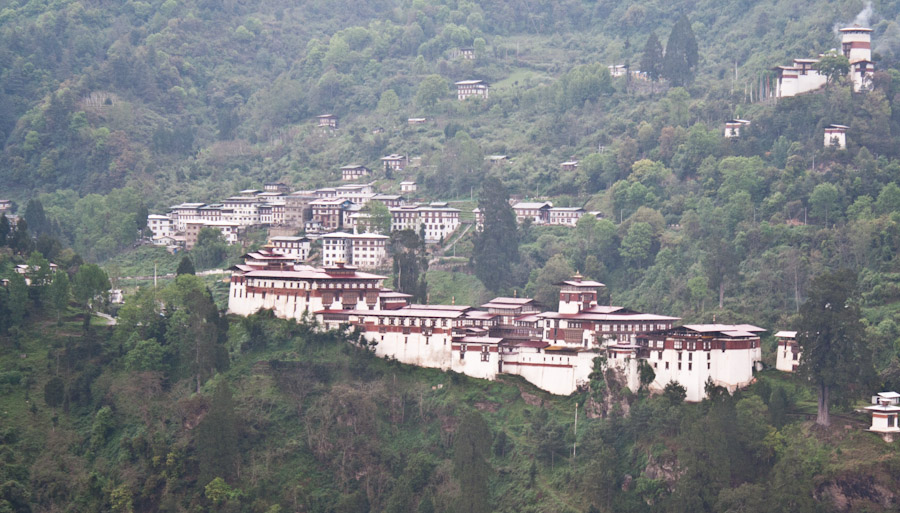 Trongsa Dzong
We soon reached the Trongsa town. The supply of Britannia fruit cake and roasted gram we had picked from the army canteen yesterday had served us well. We supplemented it with a pack of Parle G (3 Rupees, but marked up by 2 Rupees) and a bottle of drinking water (20 Rupees, but marked up by 5 Rupees - hey we were gullible tourists). Our guest house was just a few minutes' uphill drive away from the town. We were soon enjoying black tea with a traditional Bhutanese snack of something that looked like an intricately carved wooden hair-clip and tasted like a mildly sweet fortune cookie that they serve at the end of your dinner in a chinese restaurant. A common feature of all the places where we had eaten was a big and beautifully painted thermos flask with hot water for tea always ready.
We strolled in the dim dusk light on an uphill road that would take us to Bhumtang tomorrow. I finally got a chance to photograph flowers that I had only seen in passing so far.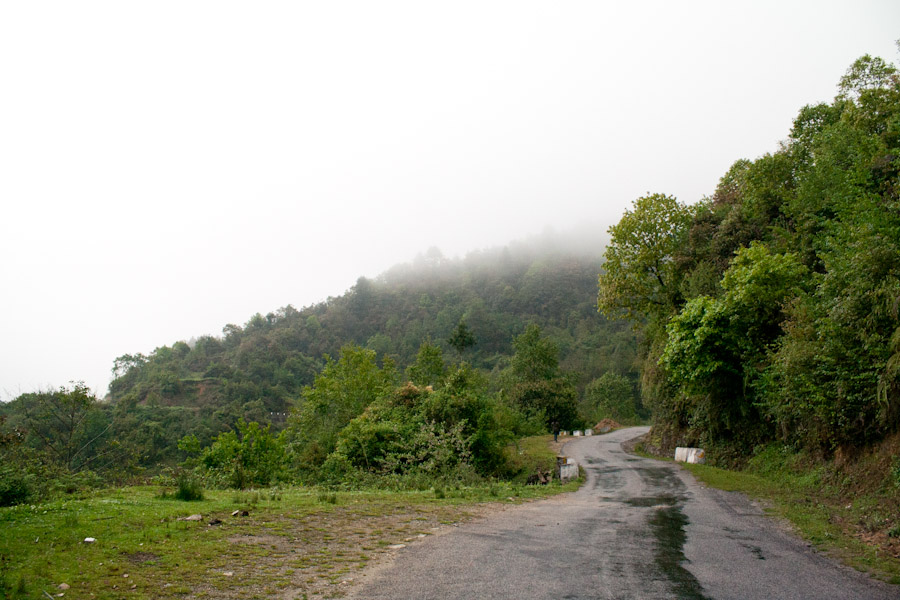 An evening stroll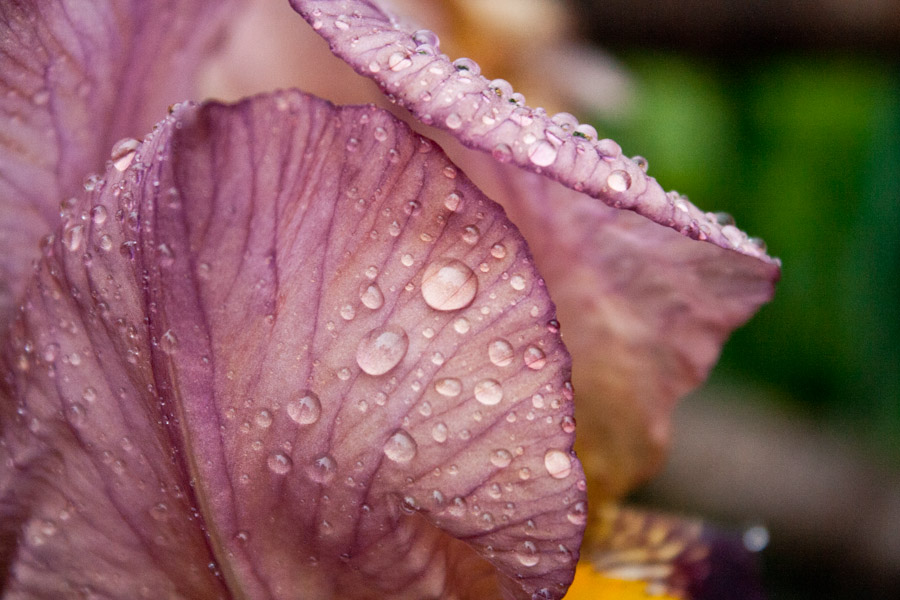 Large pink petals of a flower
Our food was falling into a fixed pattern of sautéed mushrooms (the shiitake variety this time), ferns, beans, cabbage and carrots. The chef at our guest house (another small family run enterprise) attempted a remarkably Indian tasting curry of potato pea and carrot. The experiment with lentils was off the mark; though welcome for the deviation from the sautéed fare.
Trongsa Dzong looked eerie and magical from our room's balcony.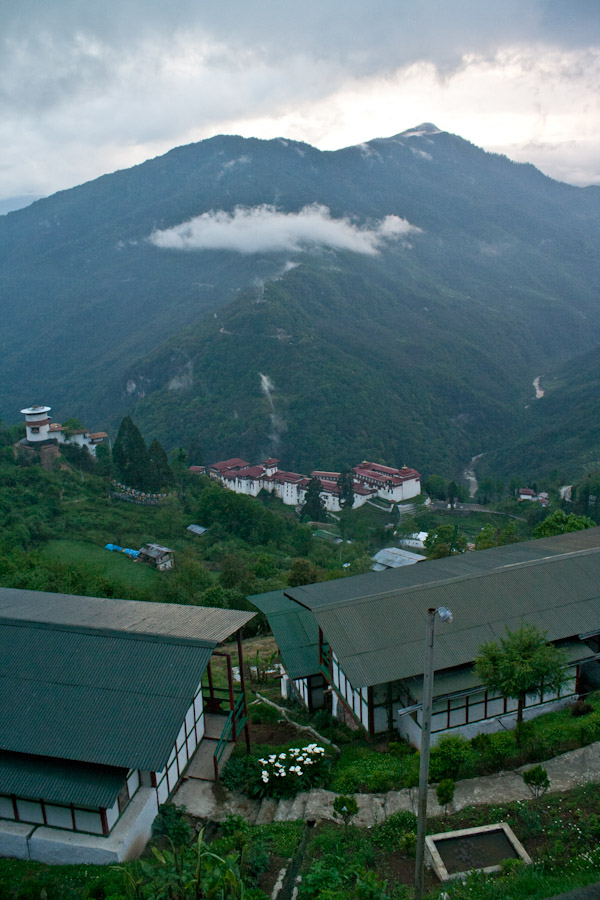 Trongsa Dzong from our room's balcony
Far far away headlights of vehicles would occasionally traced the same curved path that we had hours ago. The days of long drives were behind us. For next two days we'll get to spend a decent time on foot. I could've stayed up all night in anticipation but the sleep got the better of me…
---
Date
May 3, 2008
---
---