Bhutan - Day 3.1 - Trongsa Dzong
This is when things got interesting. For next two days we spent more time outside than inside the car. It has hardly been a week since we returned from Bhutan, but already the entire trip seems like it was one long day. I kept a meticulous account of each day in my notepad - right down to details of each meal - and that has helped me bring some sense of chronology to these posts. The material I have in my log for the 3rd day demands that I break this write-up into two. Trongsa was the first dzong that I have ever entered so I have a lot to tell. Our description of visits to other dzongs will become less detailed and will state only what is unique to each one.
It was a sunny but cold morning in Trongsa. We checked out of our guest house and went straight to the Trongsa dzong. As we neared the dzong, our guide took out a long white scarf and wrapped it around himself. The common public must wear one before entering a dzong or face stiff fines. Tourists are fine - even in jeans.
The dzong was as beautiful as it was imposing. We entered through a large wooden door with the wheel of dharma painted on it. In its center was an ornate door knocker. It is a motif we'd see consistently on most doors across the dzongs.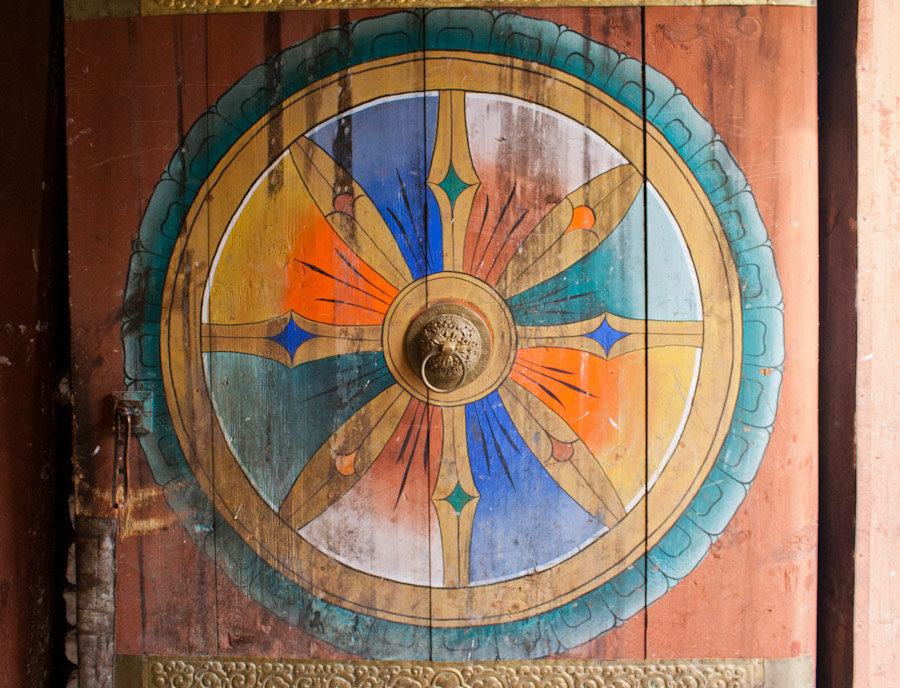 The Wheel of Dharma
A narrow passage, with rows of prayer wheels inside a long niche built into the walls on our either side, led us in. The ceilings were covered with beautiful mandalas.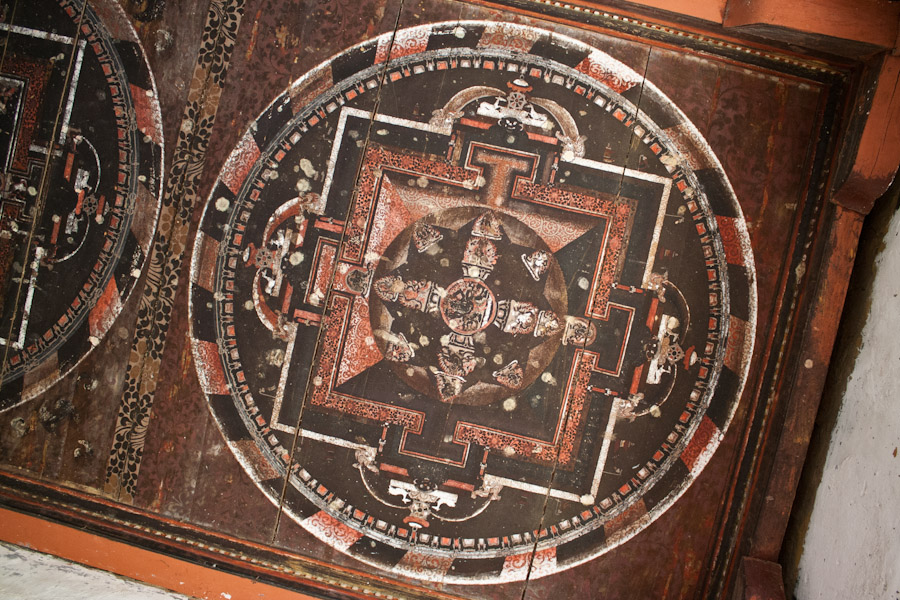 Painted ceiling at the entrance of the Dzong
Inside a riot of colours awaited us. Though shades of maroon and mustard dominated, colourful paintings on the wall supplied every possible color the human eye is capable of perceiving. The colours were so powerful that I could've stared at even mundane patterns - like this one made of swastikas - for hours…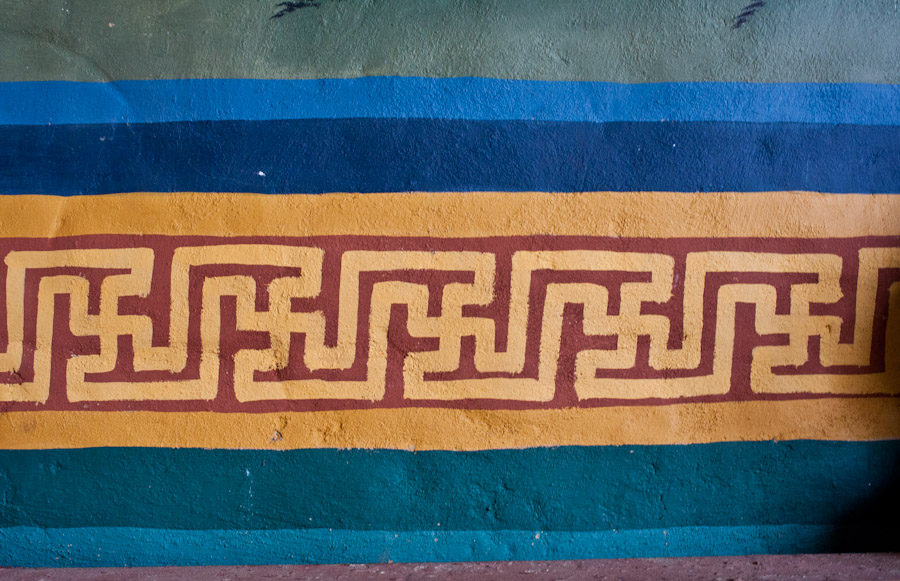 Powerful colours
The dzong was 2-3 storey high and almost the entire construction was in stone and wood. The architectural style seemed vaguely familiar - it was as if I was standing in an opulent haveli in Rajasthan. The material wasn't sandstone or marble but what the painters had done to the wood, made it look as grand. The windows and the balconies were painted in breathtaking detail.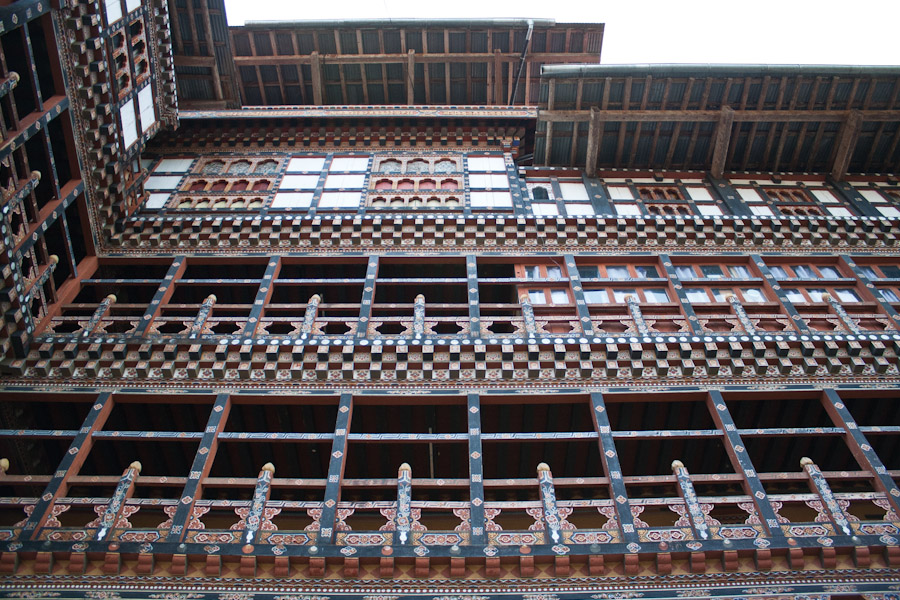 Inside the Trongsa Dzong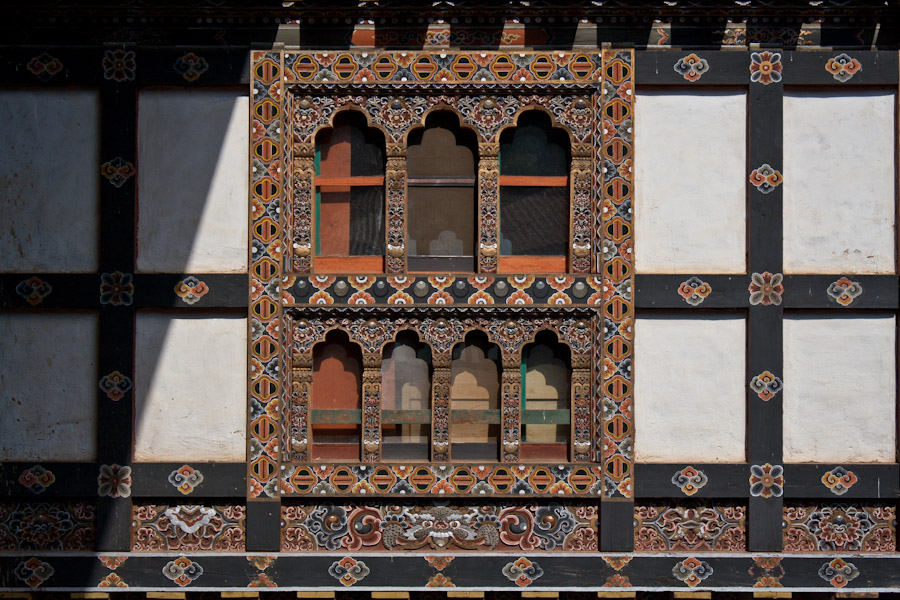 The painted window frames of the Trongsa Dzong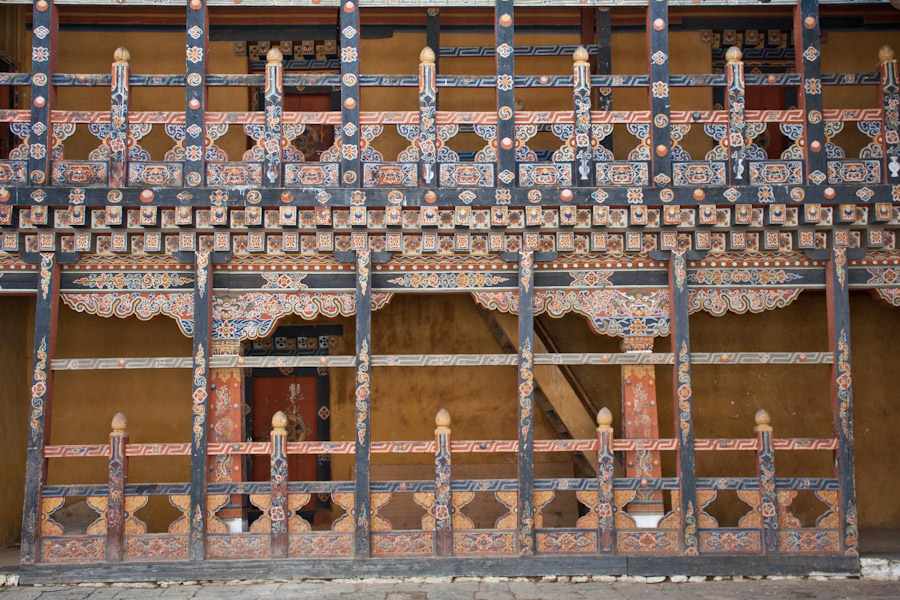 Painted balconies
Most floors were accessible to tourists - though it involved climbing a wooden structure which I can best describe as a cross between a ladder and a staircase. It was steep, creaky and much harder to climb down than up. The picture below will never convey what a terror it was!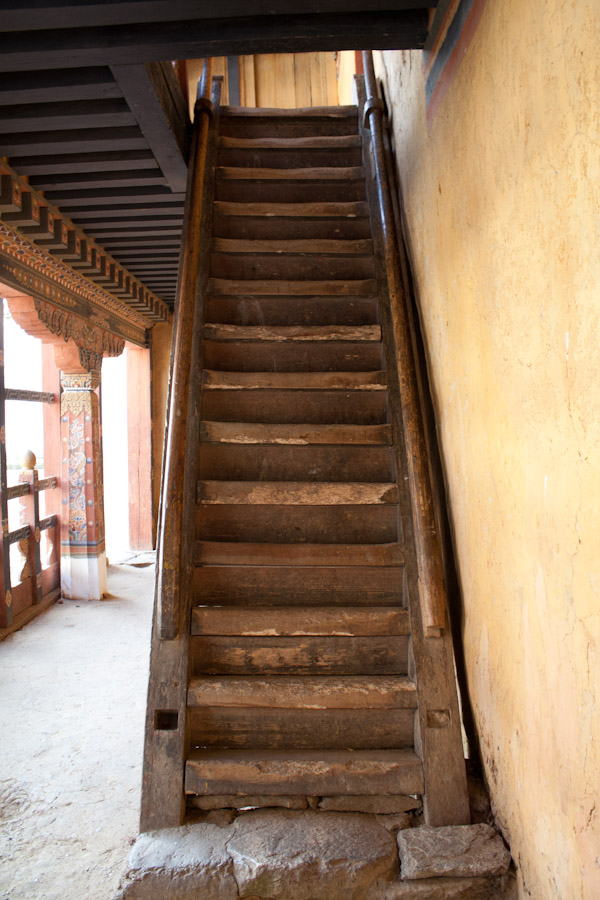 A cross between a ladder and a staircase
From the first floor I could see the walls of the dzong and mountains beyond. It felt like I was in a giant flying machine which had landed on a mountain.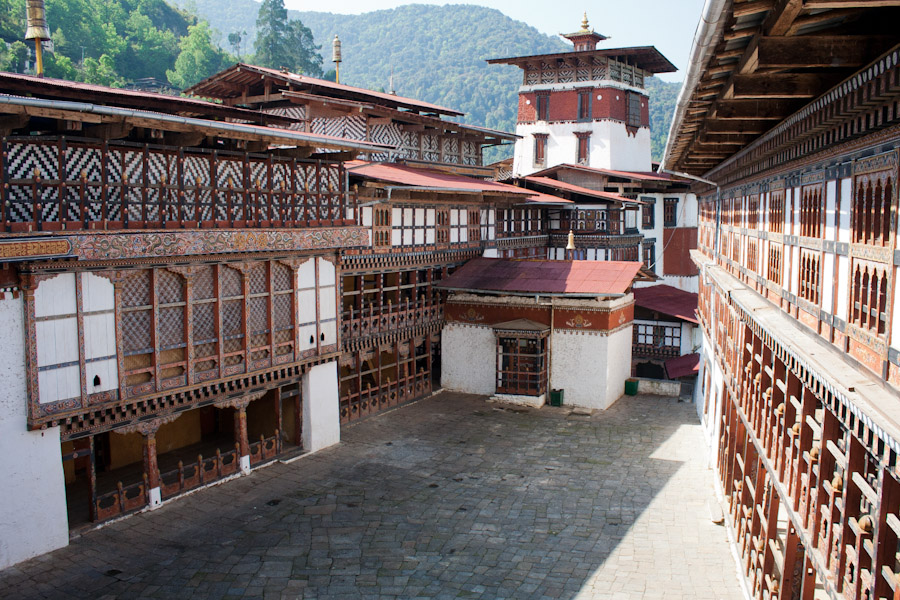 The Trongsa Dzong looked like it would take off like a spaceship
The dzong had two wings - one that is used for administrative purposes and the other where the monks pray, study and live. Roosters and cats played in the courtyard and seemed to accept each other's presence grudgingly. They paid heed to matters of official interests too.
Roosters frolicking about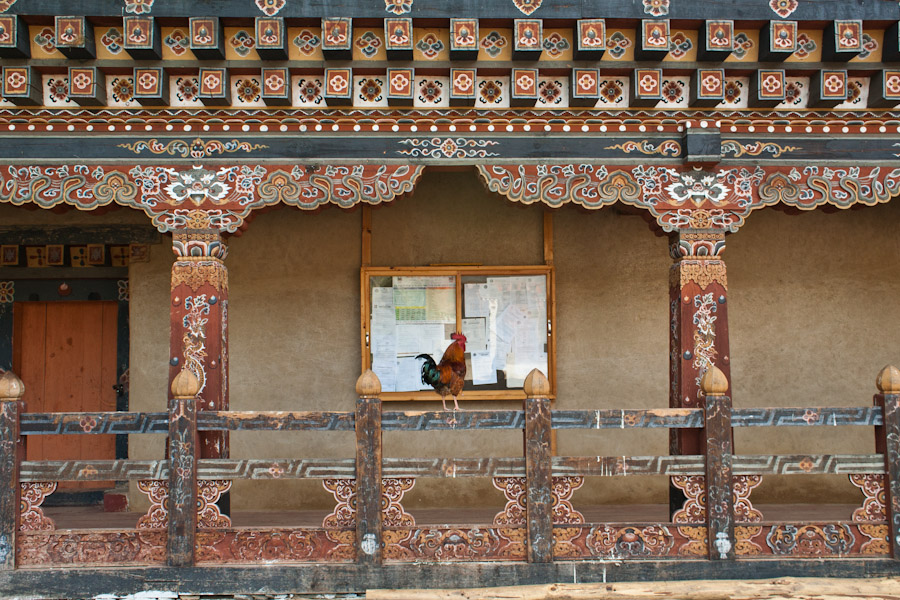 A rooster shows keen interest in paperwork
Sunday was the day off for monks. We saw practically no one other than an occasional priest or a tourist or two. The monk quarters had small temples - or rather prayer rooms with imposing idols of buddha or his various incarnations. Our guide arranged a visit to one of them on the first floor, outside which was this beautiful painting of a wrathful buddhist god with 9 heads and 18 arms.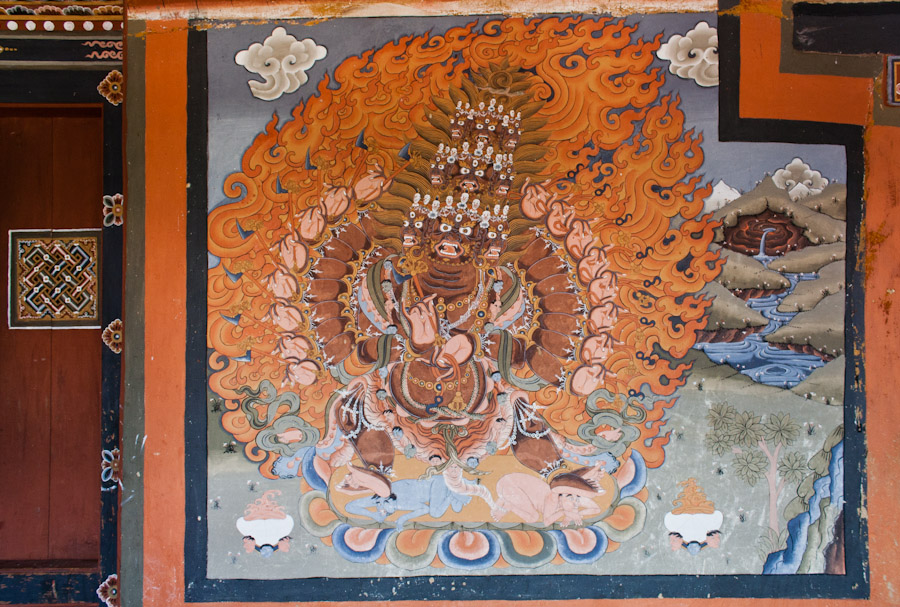 A Buddhist deity with 9 heads and 18 arms
Photography wasn't allowed inside the temple. With hardly any light coming inside, it was too dark anyway. There were statues both big and small, old and new and paintings that were fading and so covered with curtains. While showing us a row of statues of sitting Buddha, our guide enthusiastically explained how we could tell which one of them represented the "Past Buddha", which one "Present Buddha" and which one "Future Buddha" by looking the position of Buddha's hands. It was customary to offer some money before the statue of the deity - much like temples in India.
I was completely mesmerized and would have spent at least a few more minutes exploring. But we had to leave for Bhumtang - the spiritual heartland of Bhutan where more dzongs, monasteries and temples awaited us…
---
Date
May 4, 2008
---
---