Bhutan - Day 3.2 - Bhumtang
It took us slightly over an hour to reach Youtongla Pass. We were now in Bhumtang. A notice board near the pass reminded us that the specter of AIDS loomed large over Bhutan too. It read - "Thank You. No Time To Joke With AIDS. MSTF. Bhumthang".
On our way to the guest house, we made a short stop at a small village selling handicrafts in the Bhumtang valley. While the workmanship of the crafts was superb, we found their prices quite steep. Perhaps we'll visit one day with our salaries in Dollars, Euros or Pounds, and wonder what the fuss was all about.
Our guest house was a gorgeous concrete and wood structure on a hill. Its beautifully painted facade made up for the slightly curtailed visit to Trongsa Dzong!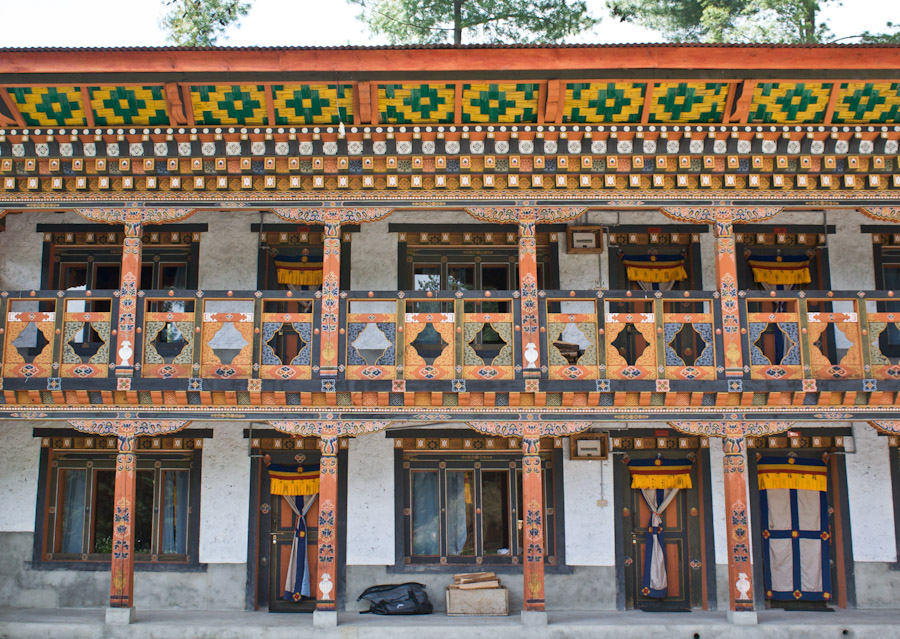 Our guesthouse in Bhumtang
A small river flowed in our backyard - its gentle murmur discernible in the room. It was impossible not to nap till the lunch was ready. Potatoes are one of the chief produce of Bhumtang and so they had to figure somewhere in the menu. We were served a portion of them "roasted"; though it was quite clear that the recipe involved deep-frying before roasting. Another surprise was "matar paneer" where tofu had switched roles with cottage cheese. The rest was the usual, traditional sautéed affair. We did love a fiery dish called the chilly-cheese - which was basically green chillies sautéed in melted cheese - lip-smacking, hear-attack inducing stuff.
Jakar Dzong was just minutes away from the guest house. At its entrance were two huge and brilliantly coloured prayer wheels - calling them prayer cylinders will be more appropriate. A stick attached to their axle hit a bell tied just above the cylinders each time they went round. The tempo of the bell's tolling would slow down as the wheel would come to a halt.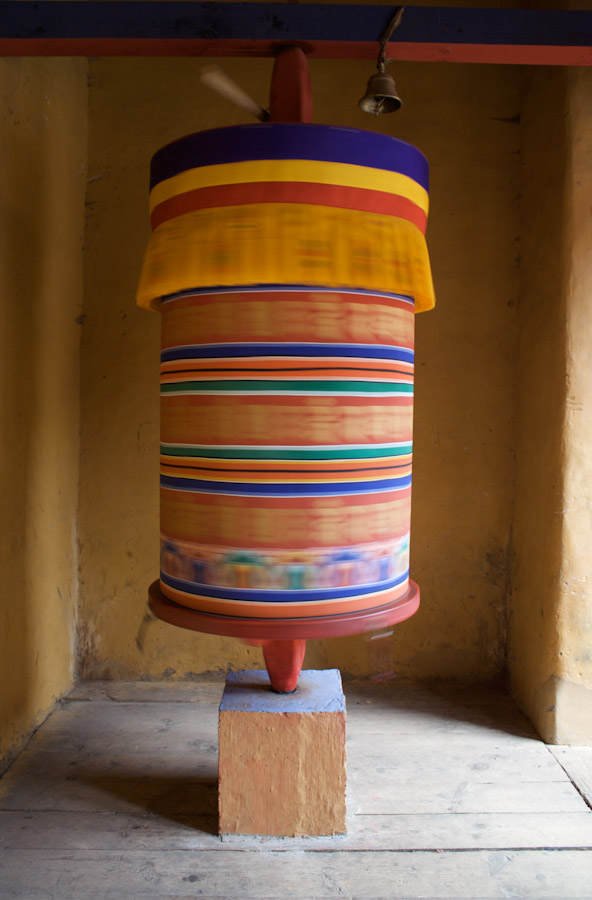 A prayer wheel at the entrance of Jakar Dzong
This (still) being a Sunday, the courtyards and corridors of the Dzong were empty.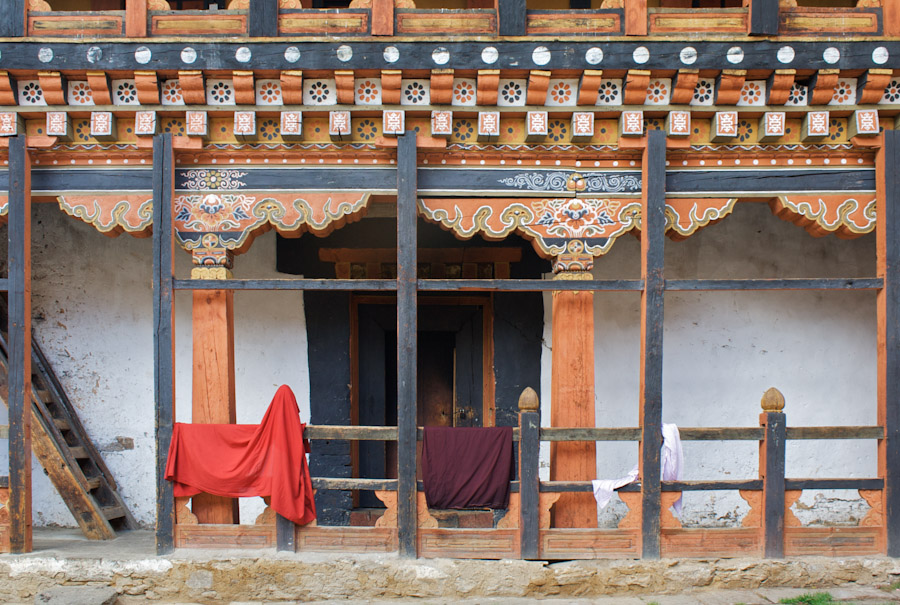 At an empty courtyard in Jakar Dzong
This is the first time I saw litter - including plastic litter strewn about in the open.
We then walked to a small temple nearby. At its entrance, we again saw beautiful prayer wheels running from a wooden block on the floor all the way to the ceiling.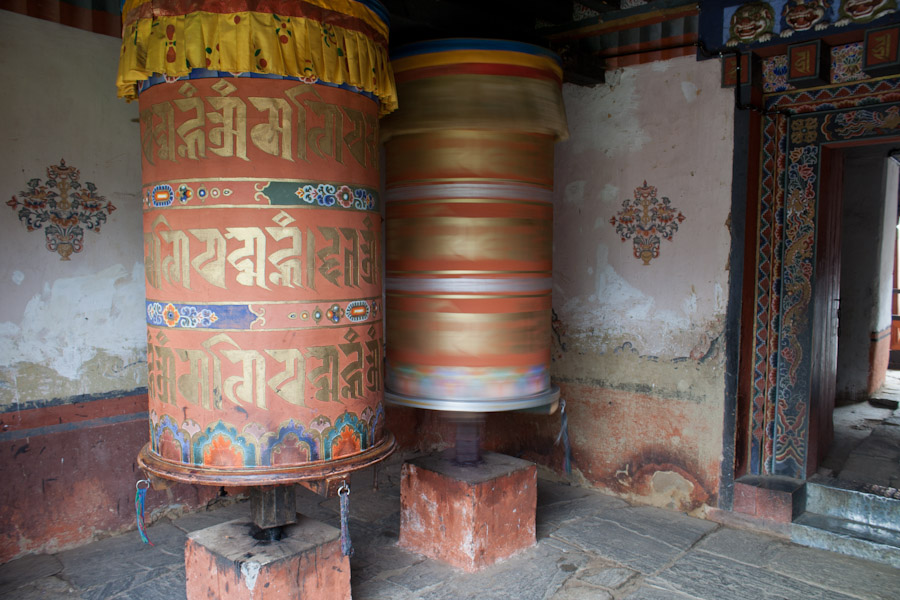 More prayer wheels
In addition to the usual wood work and the paintings, this temple also had some fine grill-work on the windows depicting Buddhist religious iconography. I saw several fire extinguishers is this most interesting setting. The wood and the traditional butter lamps used in these dzongs and temples are a tangible fire hazard and accidents happen almost every year.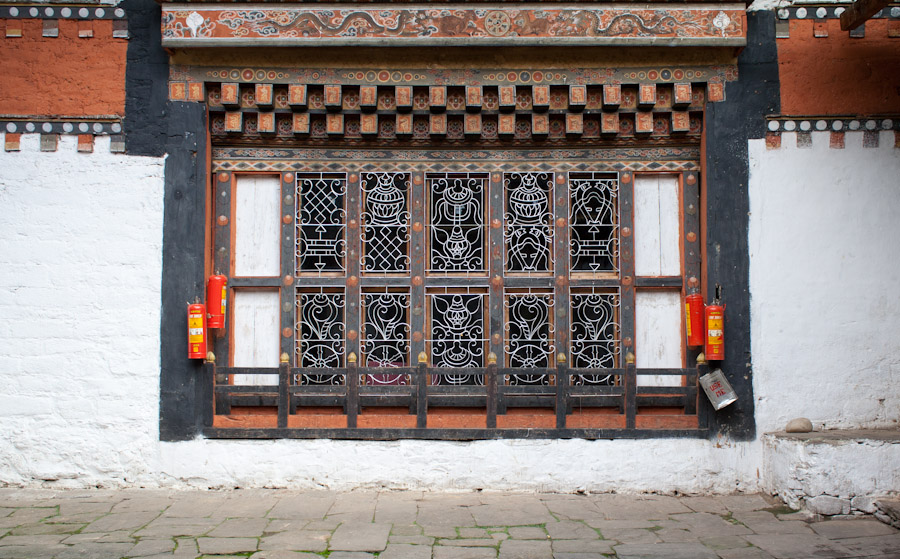 Grill work with fire extinguishers
We came out of the temple and took a dirt track flanked on either sides by paddy and potato fields. Clouds had come out and a surreal light illuminated patches of mountains surrounding us.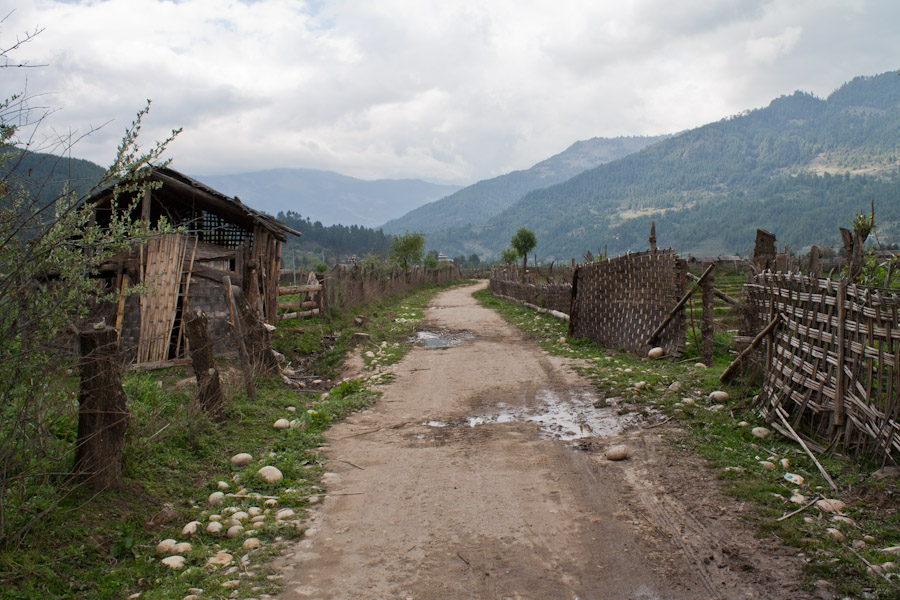 A dirt track in Bhumtang
At the end of the track one of the most breathtaking sights awaited us. In a huge, green field in a large valley stood a grand monastery. Cattle, calves and horses were grazing around freely. Boy monks in maroon robes ran about the temple. In a corner a cluster of tall, white prayer flags fluttered relentlessly. Take the odd electricity poles or two and their cables out and this was Fairyland.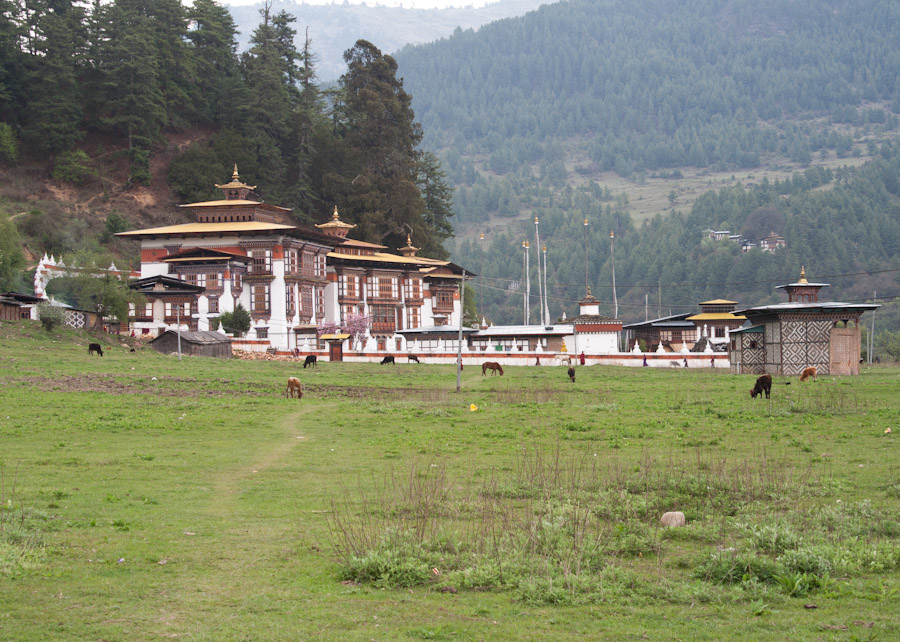 A fairytale land

Prayer flags and a monastery
The door on the side from which we approached the monastery was closed. A small ladder led us over a low wall and another small ladder received us at the other end. A peach tree was in full bloom in the courtyard. It bore delicate pink flowers which littered the ground.
The staircases that led us into the various prayer rooms in this monastery kept reminding me of Escher's Relativity.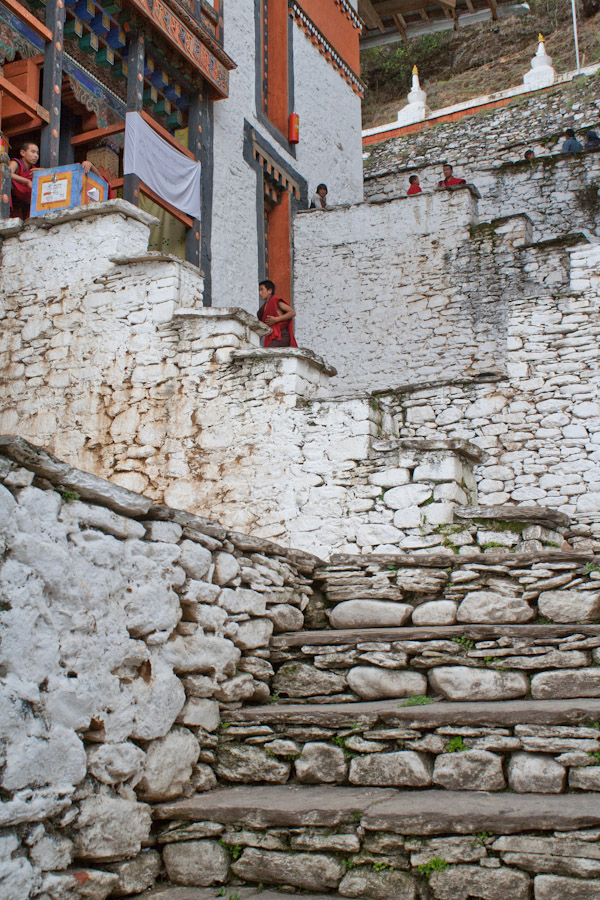 These staircases reminded me of Escher's Relativity
Inside, besides the colorful ceremonial cakes, packaged potato chips and biscuits (Sunfeast or Parle G) were kept as offerings to the deities. Teenaged monks tried to commit a page of an old manuscript to memory by chanting it aloud. A senior monk with a belt in his hand walked amidst them to ensure discipline. Outside, little boy monks played, fought and occasionally chased a dog or two with their robes.
One more temple was left on our itinerary and reaching it involved a long walk through a narrow, hilly dirt track. We also had to go across a river on a makeshift suspension bridge - my first time on one. It wasn't your typical nightmarish suspension bridge which is narrow, rickety and connects two distant points across a deep gorge, but a broad one over a docile river. But it was still a suspension bridge with no support in the middle and that variety tends to swing a lot. You feel it most when you are right in the middle - which in a way is good because going to the other end is as viable an option as returning back. And then as a child they burden your minds with dark scientific facts about resonant frequencies and soldiers breaking their march on a suspension bridge to prevent it from collapsing. It all comes flooding back and makes you wonder if you'll ever make it. Well, I made it fine - albeit with sweaty palms and trembling legs much to the entertainment of my lovely mountain goat of a wife.
The last temple was an ordinary one. The only memory I have of it, is that of a very heavy chain mail. I have no clue what it was doing there but our guide picked it up, put it on and made an elaborate ceremonial bow to a deity thrice. He said that it was like doing 300 of them and he wasn't exaggerating. I could barely move the mail, let aside put it on!
As we drove back to our guest house, I could see Jagar Dzong far away on a hill and a trail lined with white prayer flags that led to it.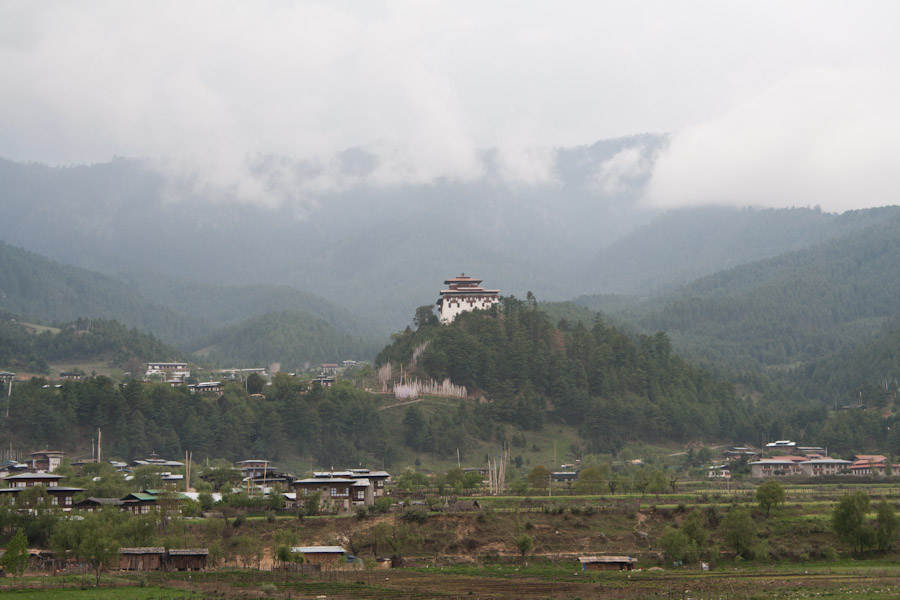 Jakar Dzong from a distance
It had cooled down fast and a spell of rain seemed imminent. Our room had a quaint, iron room-heater. They fed it with firewood and pine cones and lit them with a candle. The pine cones caught fire easily and helped ignite the wood.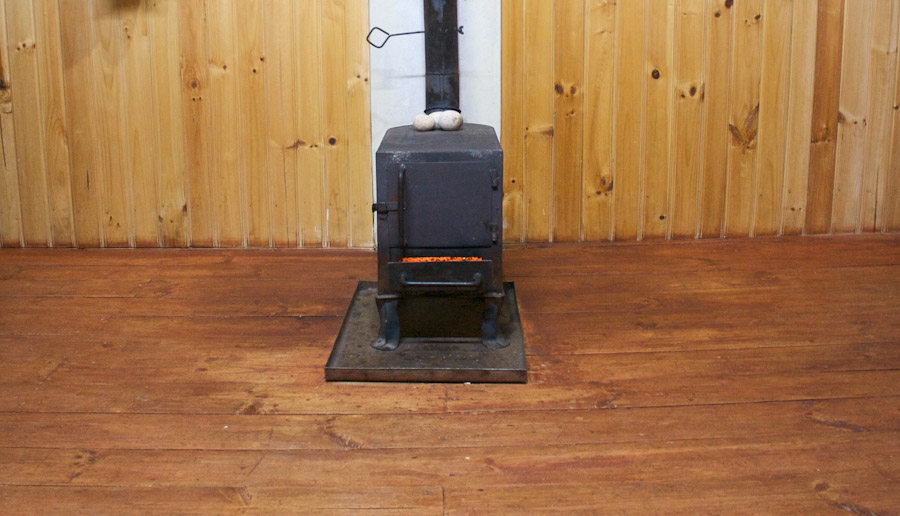 A quaint room heater
Soon the room was warm and cozy. Only dinner stood between us and a long night's sleep…
---
Date
May 4, 2008
---
---