Bhutan - Day 4 - Wangdue, Punakha
We started early next morning for Wangdue. With more than 6 hours of picturesque drive ahead and my altitude sickness fully gone, I was keenly looking forward to enjoying every moment.
After a few minutes' drive from Bhumtang, we had an encounter with a herd of Yaks. They were quite scared of our car and would be out of our way in no time. I found them remarkably agile for their size. A yak or two would even gallop downhill in panic but with the car gone and food readily in sight, they would forget all about the scare of just moments ago and resume grazing again.
We drove through patches of rainy weather and occasional sunshine. We drove through valleys and crooked mountain roads.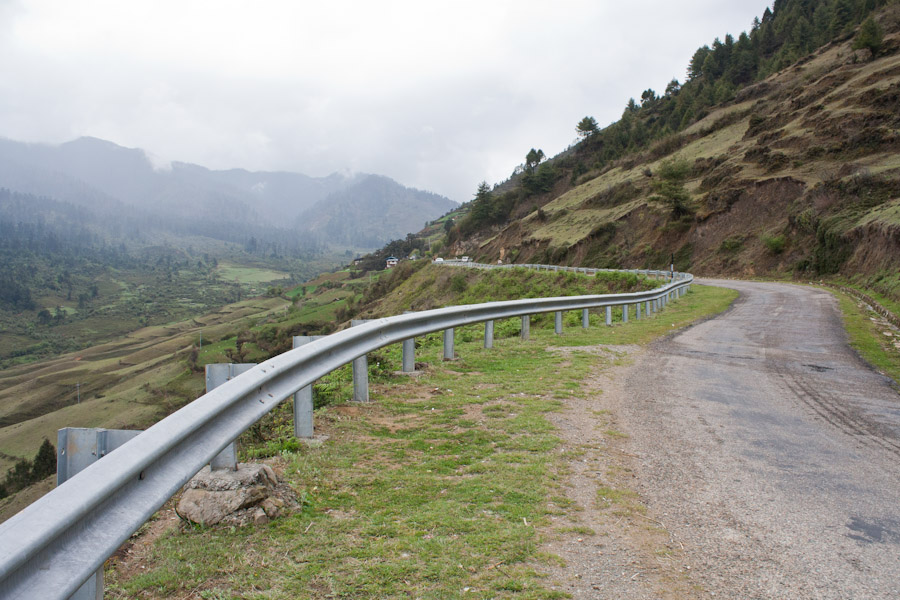 Crooked mountain roads
We saw mountain tops glistening in the distance - rivulets of rain-water or water from melting snow ran downhill from there. At almost every other sharp turn we would encounter a small stream or a waterfall - small only with respect to the mountains that surrounded us. If one of these waterfalls were to materialize somewhere close to Bangalore it would be one of the biggest tourist attraction in Deccan! Alas the picture below does a poor job of conveying its scale - this waterfall by the roadside was over 75 feet tall!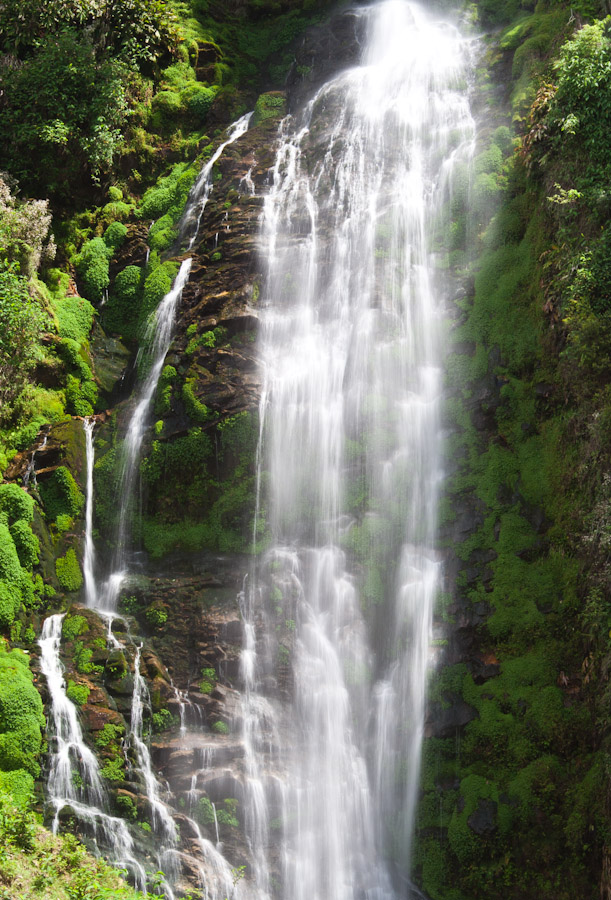 A random waterfall by the roadside
We saw small houses on the mountains and in the valleys. They had an attached terraced farm, and a private brook. A small covered structure with a prayer wheel inside was often seen over the brook. The water turned the prayer wheel and the wheel tolled the bell, announcing its presence to those passing by.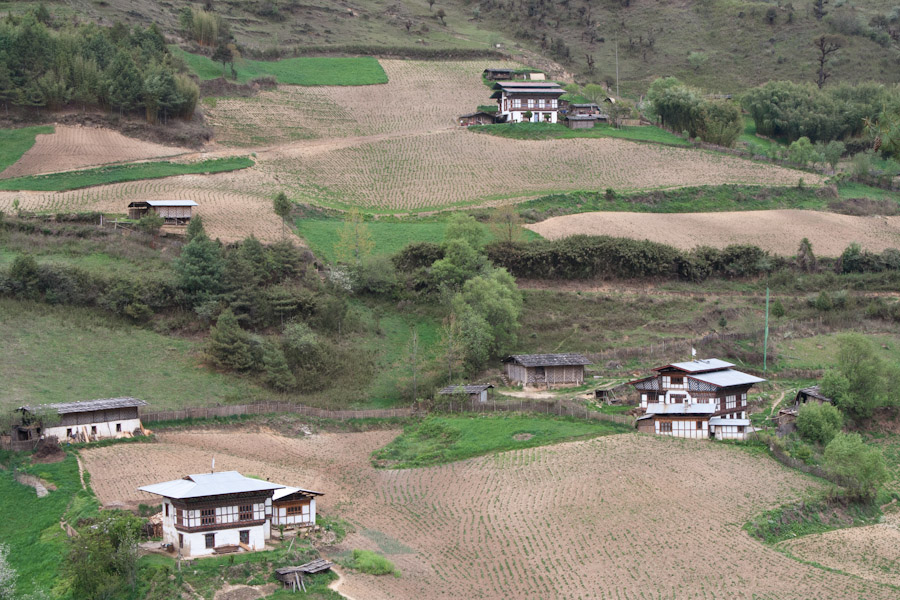 Valleys, houses, farms
We reached the Wangdue town at 3:00 and headed straight to the dzong there. This was to be our most disappointing experience. The monk quarters were dank and stank of urine, making it it impossible to stand there.
We politely declined the offer to be shown the temple rooms inside this dzong. It was prudent to head to Punakha - ex-capital of Bhutan and some 20 km away from where we were - to visit the famous dzong there while there was still some light left. Just as we were leaving, we ran into a boy who wanted us to take a picture of his. He looked as if all the happiness had abandoned his world. He had walked out of a Charles Dickens novel (think Oliver Twist or Nicholas Nickleby) into this dzong.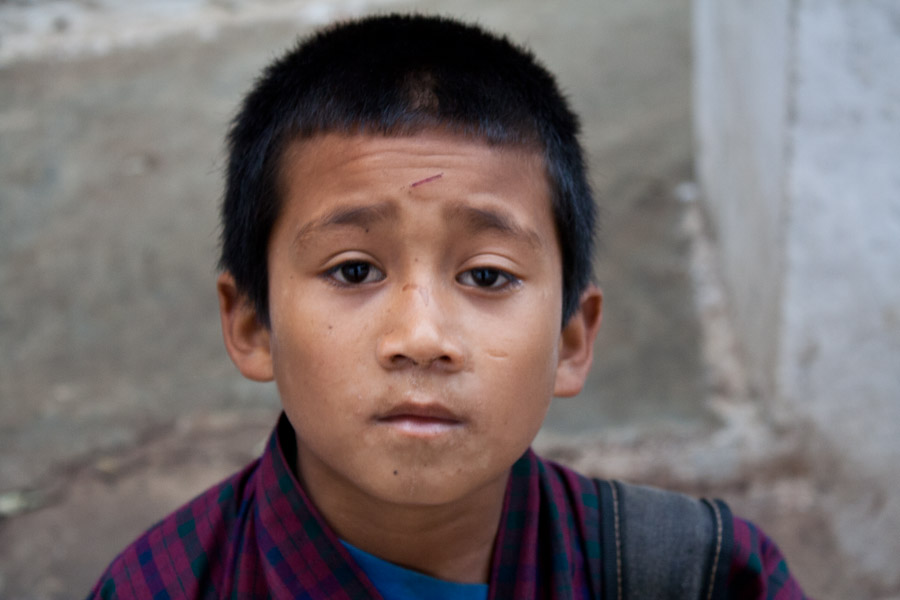 A Dickensian hero?
Punakha Dzong has been built near the confluence of two rivers. It had been recently restored and its whitewashed facade exuded a youthful exuberance. Several jacaranda trees that stood in its courtyard were in full bloom. Their purple canopies clearly visible as we approached the dzong.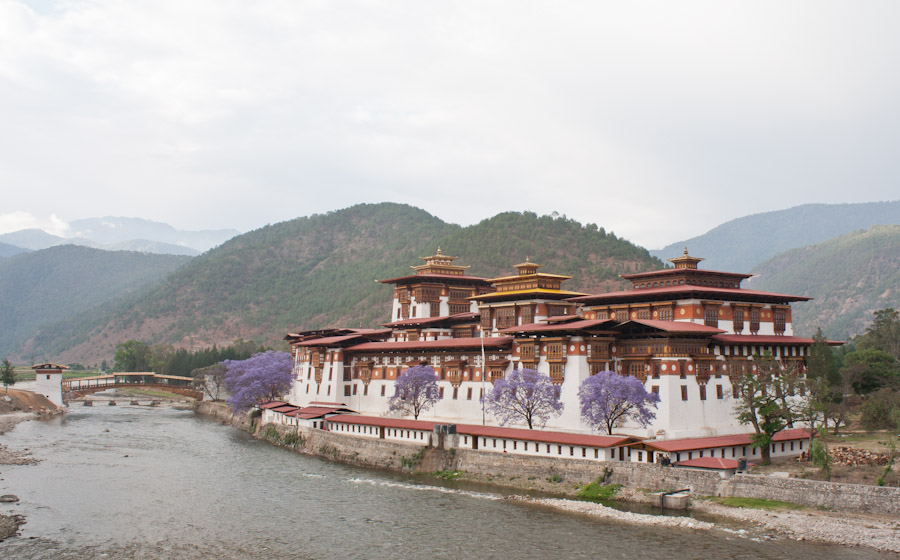 Punakha Dzong
Once we were at the entrance to the dzong, the sheer scale of its construction hit us. We would have to climb the same terrifying stairs that had been the bane of our existence in all the dzongs. Never before had we encountered them right at the entrance though. Never before were they this high either.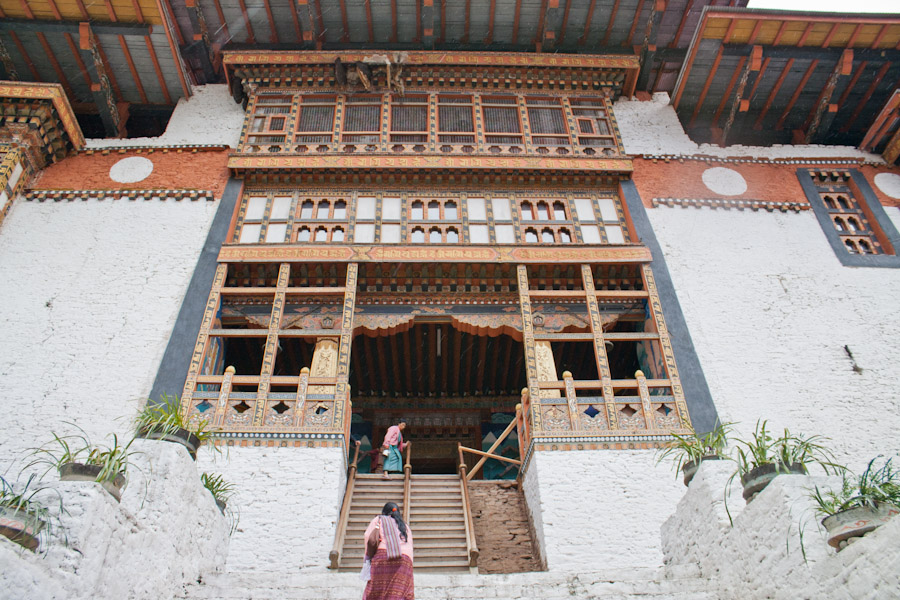 Dizzying scale of Punakha Dzong hit us at its entrance
The paintings on the wall of the dzong looked vibrant and almost freshly done up. The courtyards were clean, airy and lit-up by the beautiful evening light filtering through the clouds. In a courtyard in front of the dzong's main prayer hall monks fed pigeons pieces of ceremonial cake.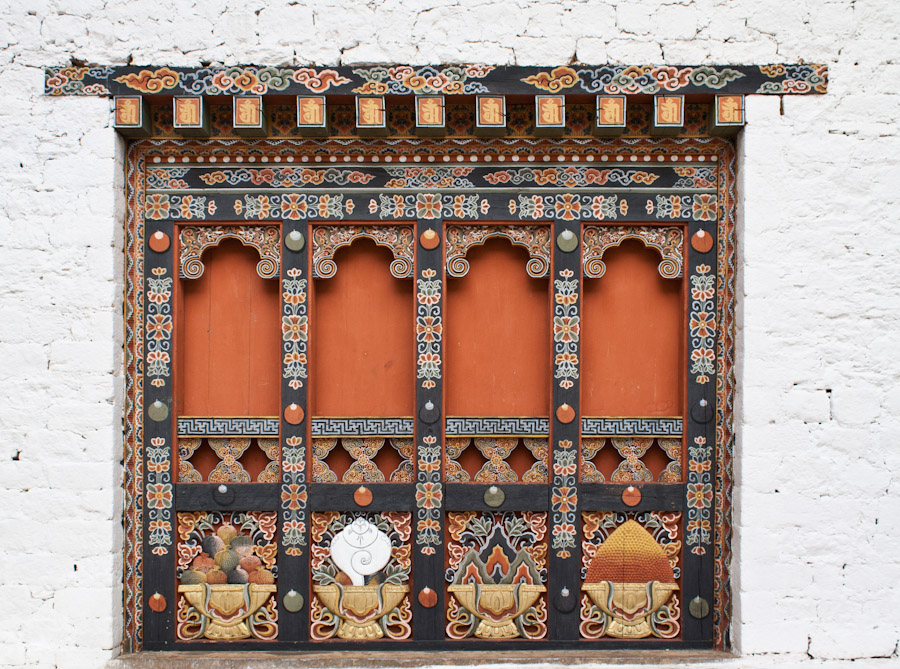 A window Punakha Dzong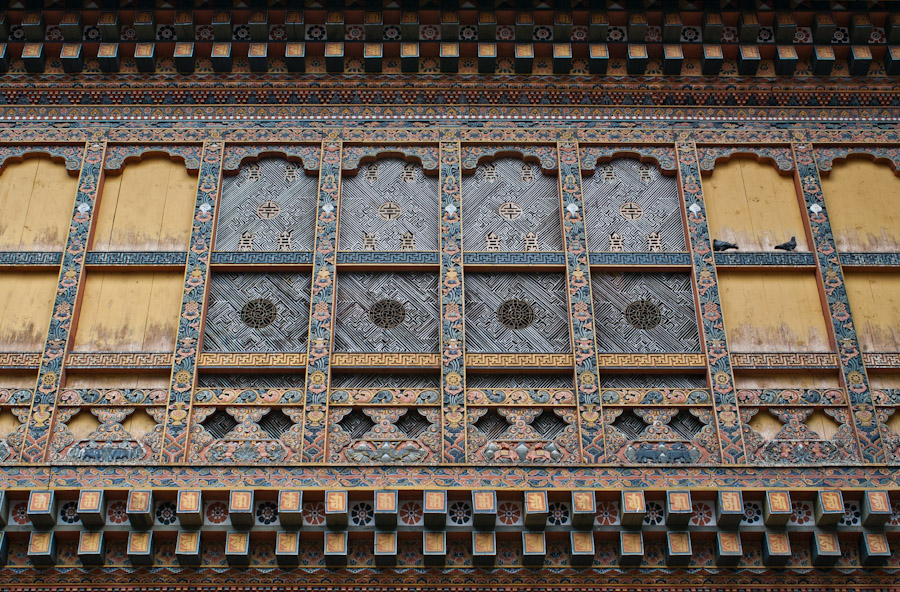 Colours inside Punakha Dzong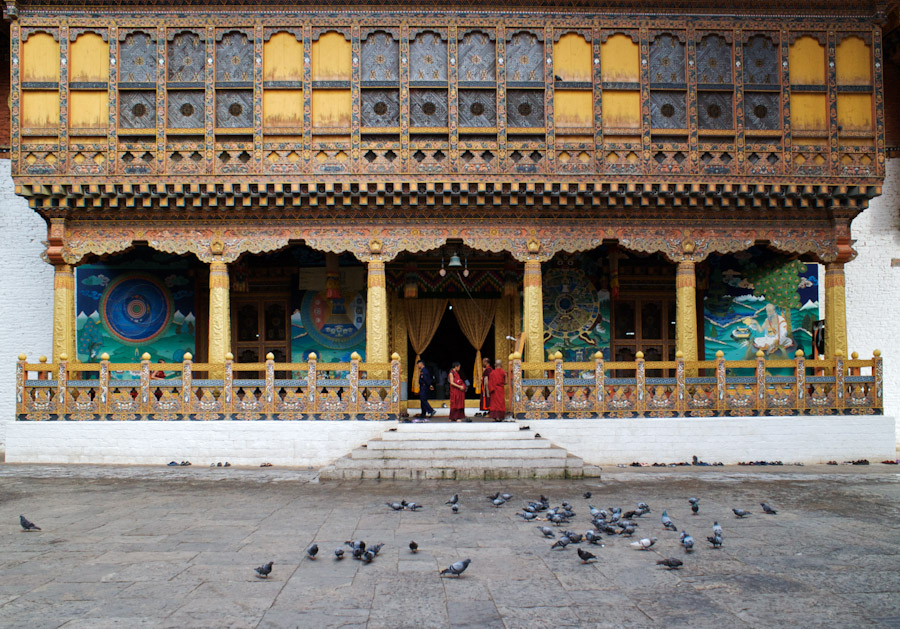 The pigeons have it nice inside the Dzongs
While we had driven to the dzong, on our way back we'd walk across the river over a bridge and then drive to the hotel from there. The main bridge had been recently renovated, and like everything else here, looked right out of a fairytale.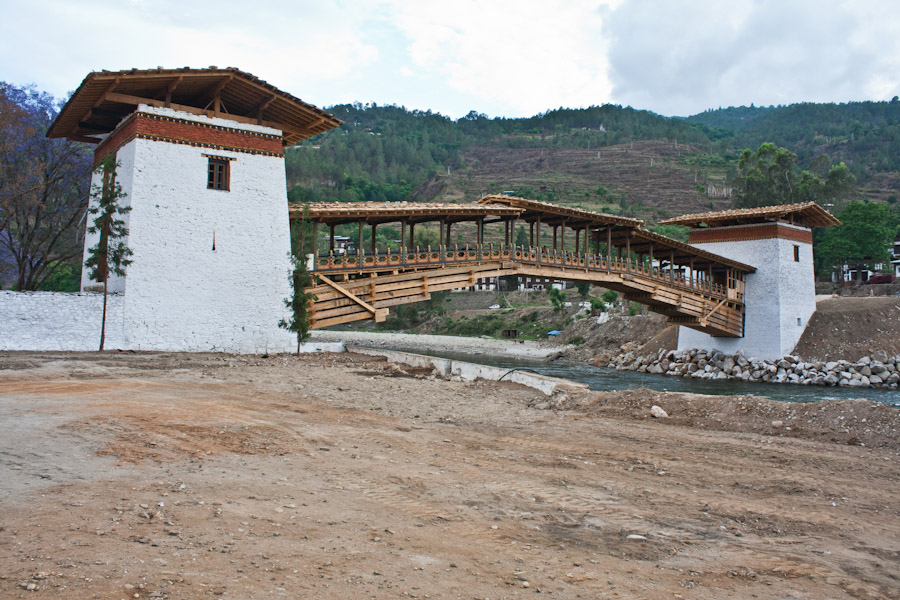 A fairytale bridge
For reasons, that I am unsure of to this moment, we chose to cross the river on a shabby, bamboo-wood bridge that ran parallel to it. It was almost as if someone had knocked together a ladder in 2 hours and just thrown it across the banks. It was supported in places by pillars made of rock but it still made the suspension bridge that we had crossed yesterday look like a cakewalk. The slats of wood were irregular, at times broken, and often non-existent. Through the gaps between the slats, you could see the river gushing below. It produced a head-spinning illusion of being on a raft and drifting in a direction opposite to the flow of the river. Worse, the bamboo hand railings were coming off in places. I would have preferred a raft indeed!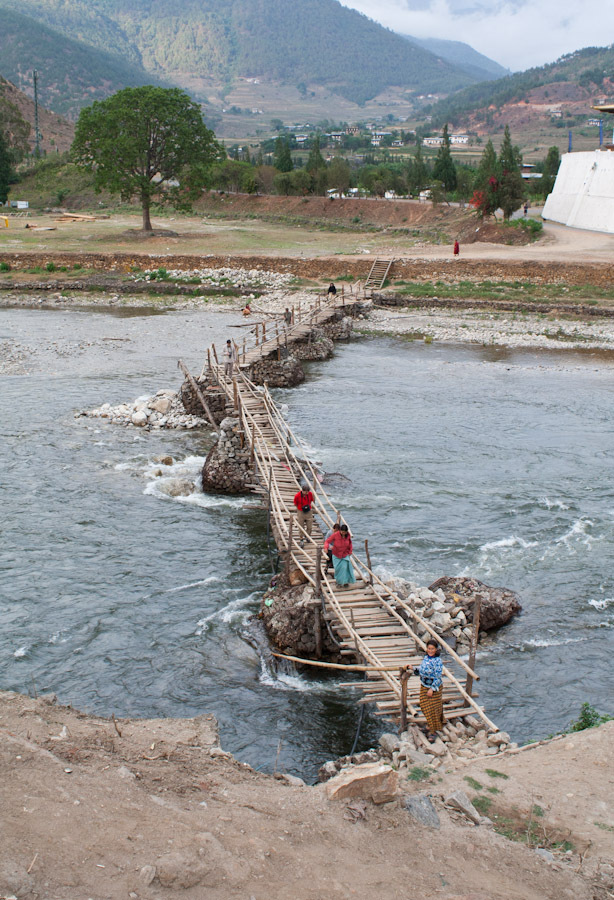 Hardly a bridge
As we headed to our hotel, sun crept out and painted a valley here and a mountain there in a dusky golden hue.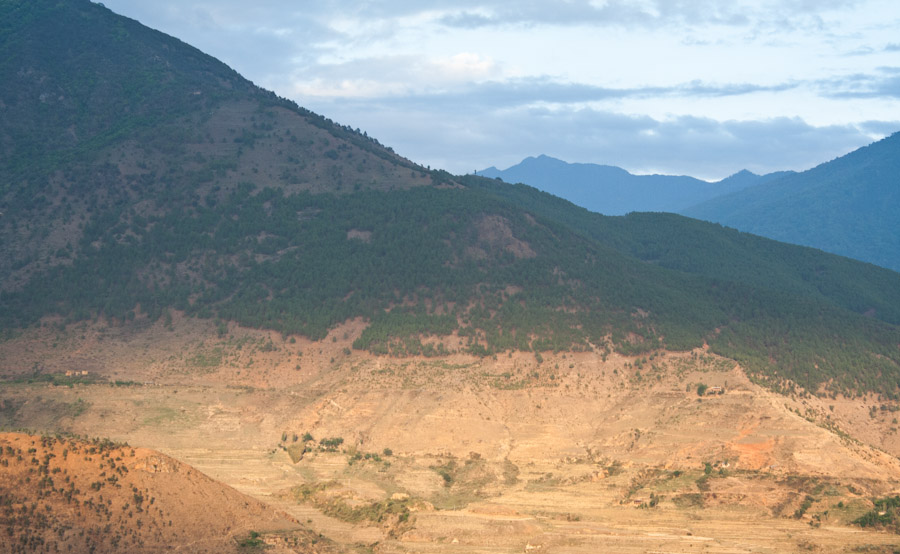 Dusky golden hue
It was hard not to feel sad at the thought of it practically being our last day in Bhutan tomorrow.
---
Date
May 5, 2008
---
---