Bhutan - Last Day - Paro
I close my eyes and fly back in my mind's eye to the last day of our stay at Bhutan. I have no notes, a few pictures and a memory that is already dented by daily buffetings of city life.
We left our hotel at Wangdue after the usual bread, butter, jam, tea fare. The view from our balcony was sadly the only good part about our stay at the hotel that went by the name - Dragon's Nest. Thanks to this exotic moniker, the picture of Harry Potter from the cover of Goblet Of Fire would keep flashing before my eyes randomly. An Indian family in the room next door; separated from us only by paper-thin walls, was keen to catch up on their dose of K-serials. जन्मों के प्यासे goes the phrase in Hindi. They were also a family of prodigal snorers, making it very hard for me to sleep. I spent the night turning in an otherwise comfortable bed.
On our way to Paro, we took a short detour to Thimpu and visited the art school there. Anyone can enroll for a four year course at the school after finishing class XII. We saw classes on wood carving, painting, weaving, sculpture and metal craft. The atmosphere was remarkably like what used to be in the physics or chemistry labs in our schools! I am sure that most artisans can make a decent living by doing up the houses and dzongs in Bhutan. While dzongs might be opting for the traditional decor out of cultural reasons, the houses have to do it by law.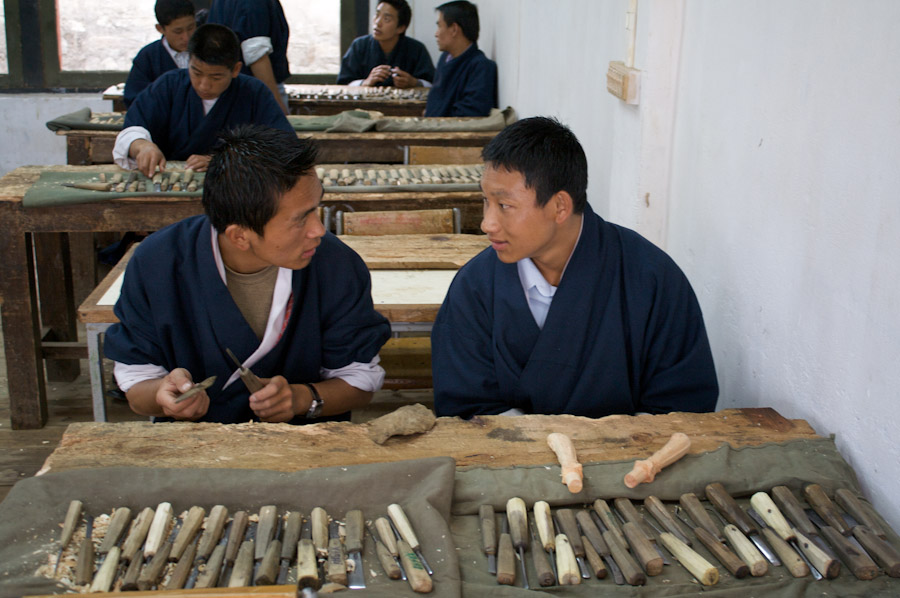 The wood carving class at the Thimpu art school
Just a few minutes before entering the main city, I had seen a beautiful prayer wheel at a small square. While I hadn't stopped the car then, I wanted to revisit it. The prayer wheel was installed inside a covered structure which served as a public space of sorts for old men, women and monks bent by age. The wheel itself was quite interesting and right between the big golden lettering were pictures of demons and snakes that looked straight out of an anniversary issue of Raj Comic's Nagraj series.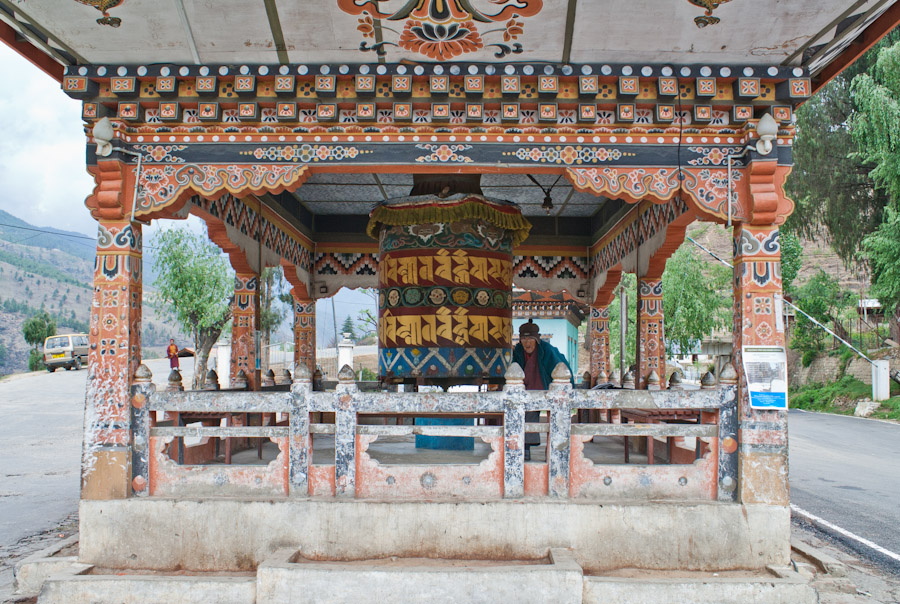 A prayer wheel
Just a few minutes from Paro, we saw another suspension bridge down in a valley. A small dirt track branching downhill off the side of the highway led to the bridge. We walked to it.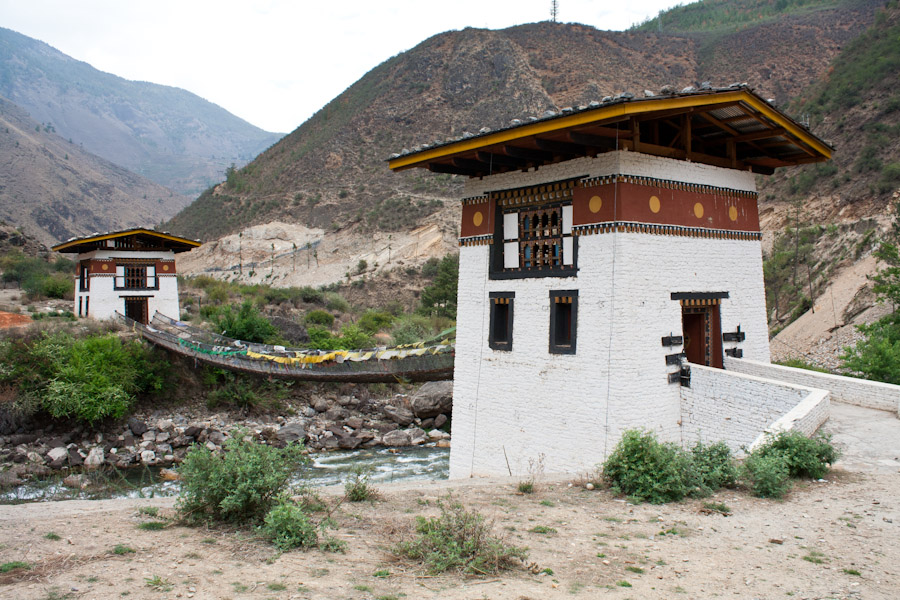 A bridge by the roadside
The two towers on each side of the bridge were two-storied. There were stairs inside that allowed you to go to the upper floor - whose walls were covered with beautiful paintings of Buddha, his incarnations, famous disciples and the man responsible for construction of a series of suspension bridges in Bhutan centuries ago.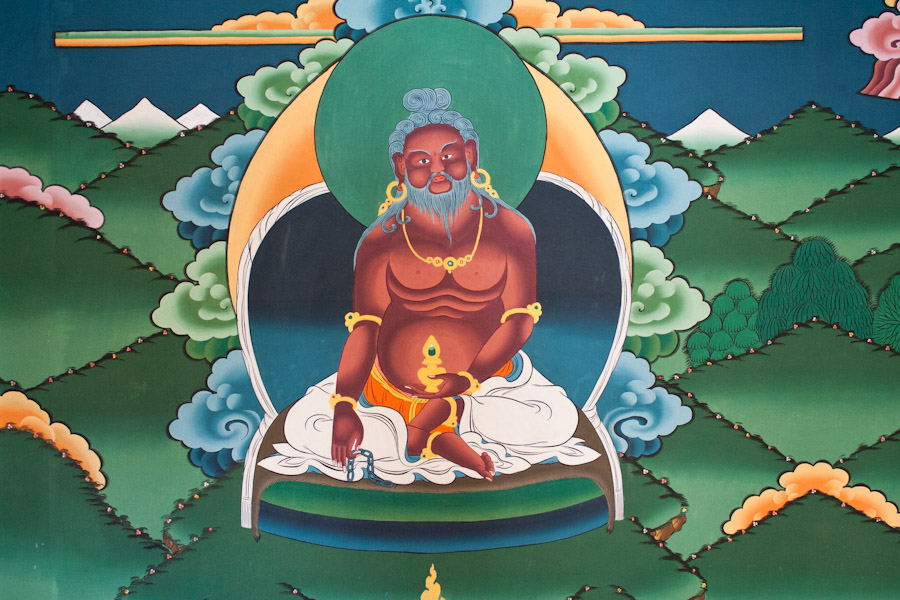 The paintings inside the towers of the bridge
Our guide informed us that some of the original iron chains used in construction of this bridge were reused during its recent overhaul. The bridge was covered with bamboo thatch - making it easy to cross without feeling giddy.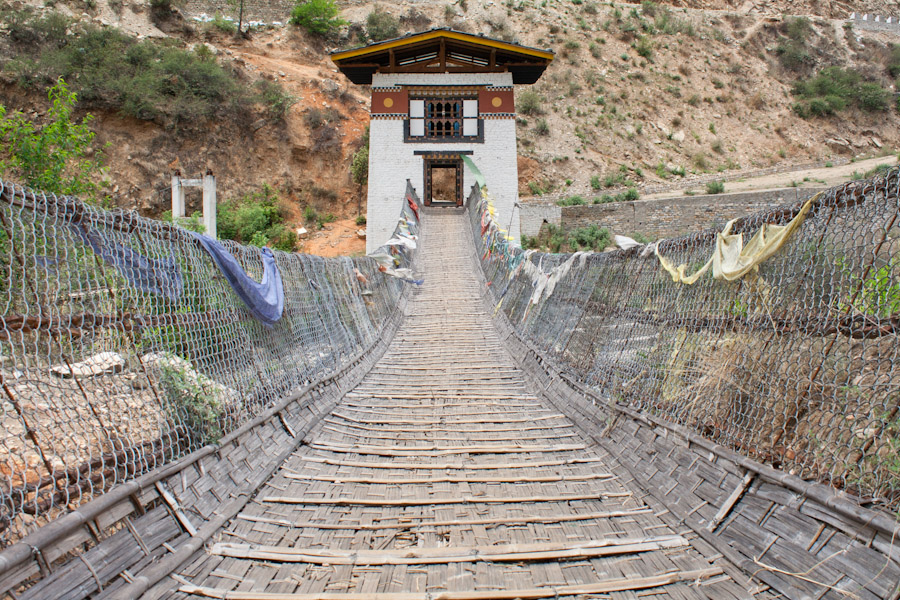 The Thatched Bridge
Paro has Bhutan's only airport and soon we were driving parallel to the runway. Our hotel was a cosy little place that served delicious Bhutanese and Indian fare for lunch. For a change we could order à la carte, allowing us to mix adventure of a new local dish (that turned out to be potatoes in melted cheese) with pragmatism of the hard-to-get-wrong Indian daal (that turned out to be very good indeed!).
It was already quite late in the afternoon and we headed straight to the Paro Museum. The building used to serve as a watch tower for the Paro Dzong before being converted into a museum. It was fascinating from inside - though some of the narrow, dark aisles that went in circles made you a little dizzy. If you've been to a big museum in India, the museum here will not hold much novelty for you. In fact the stories and depiction of a lot of deities of the Buddhist pantheon felt like they were a straight import from Hinduism. It is easy to overlook the richness, diversity and antiquity of our civilization during our day-today lives, but when you are in a foreign country - that too inside a museum - it is hard not to feel a degree of pride and a certain pang of separation. Still a small (silver?) statue of the Buddhist God of compassion, with hundreds of arms and eleven faces, had superb workmanship that impressed me profoundly.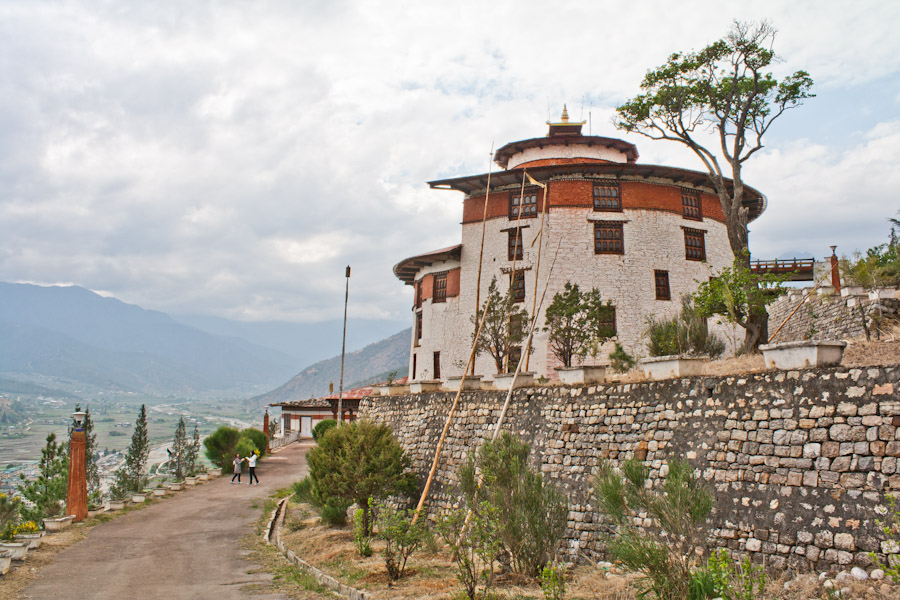 Paro Museum
Our next stop was the dzong at Paro. Minor repairs were being made inside. Workers applied a fresh coat of paint to the walls and windows.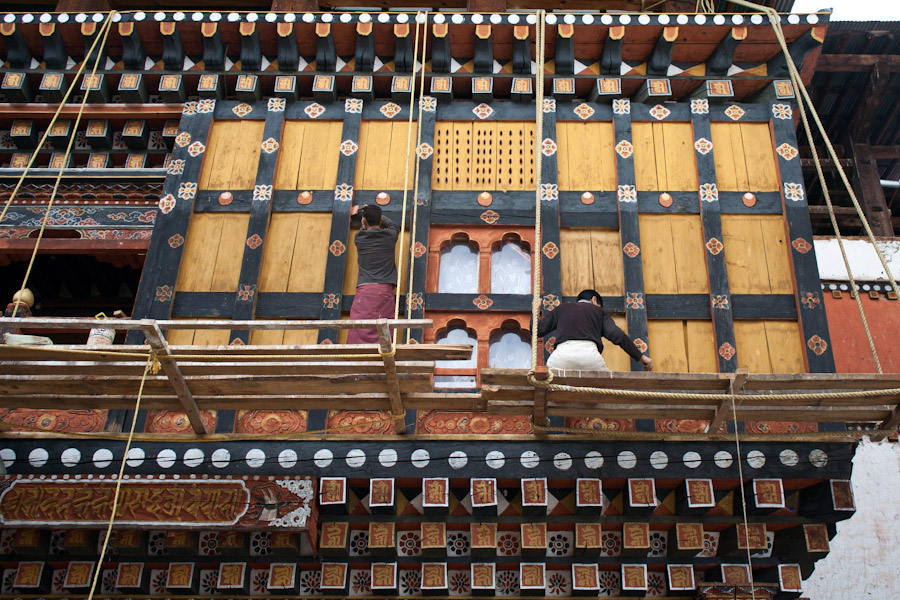 A wall gets a fresh coat of paint at the Paro Dzong
The paintings on the walls were covered with a thin, yellow, silk cloth. Little monk boys tussled over little monk issues that only little monks could have understood.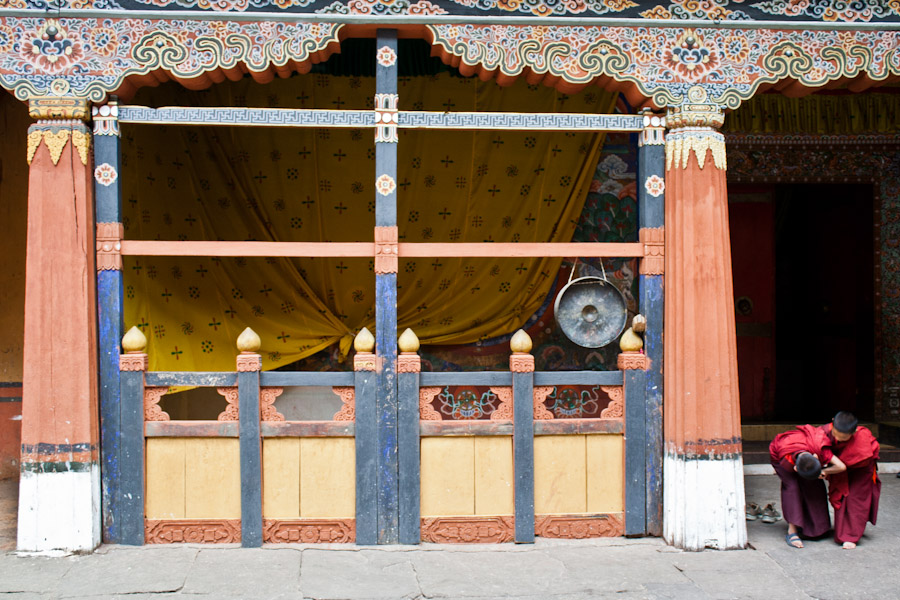 Boy monks in a friendly fight
A couple of them sat before a temple selling silk prayer threads. Their faces bore an expression of extreme serenity.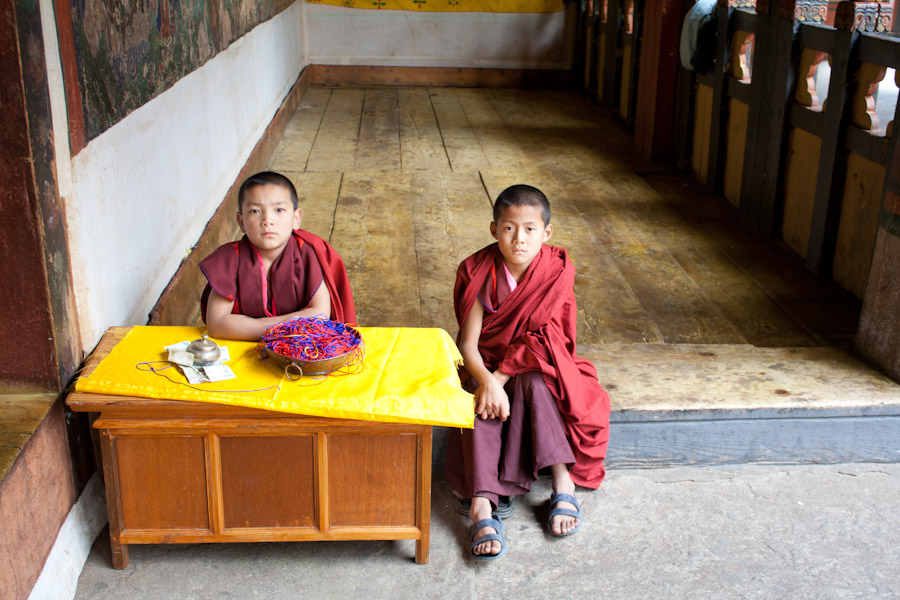 Boy monks at the entrance of a temple in Paro Dzong
Taktsang - a dzong built on a rocky hill and some two hours' trek from its base - was beyond us already. With a heavy heart, I took picture of the pine trees that lined the road. It was time to head back to the hotel and prepare for next morning's flight back home.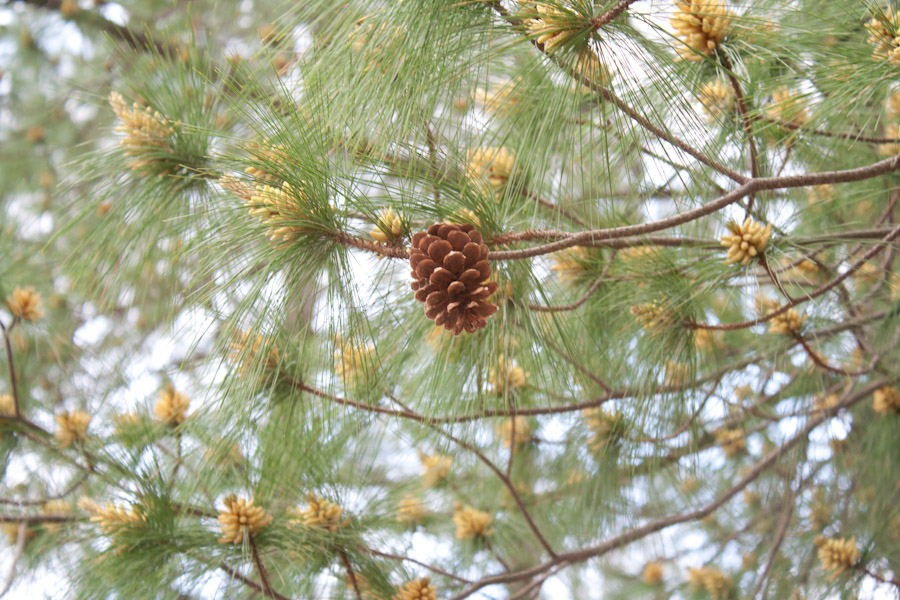 A pine cone
Paro airport is unlike any airport I have seen to date. I am sure the country's best artists were employed for doing it up. The construction was very contemporary and mostly used concrete and very little wood, but the paintings were probably the best modern specimens of Bhutan's traditional style. As we walked to our Druk Air plane, I turned around for one last look at the terminal - it was as if we had just walked out of a temple and not an airport…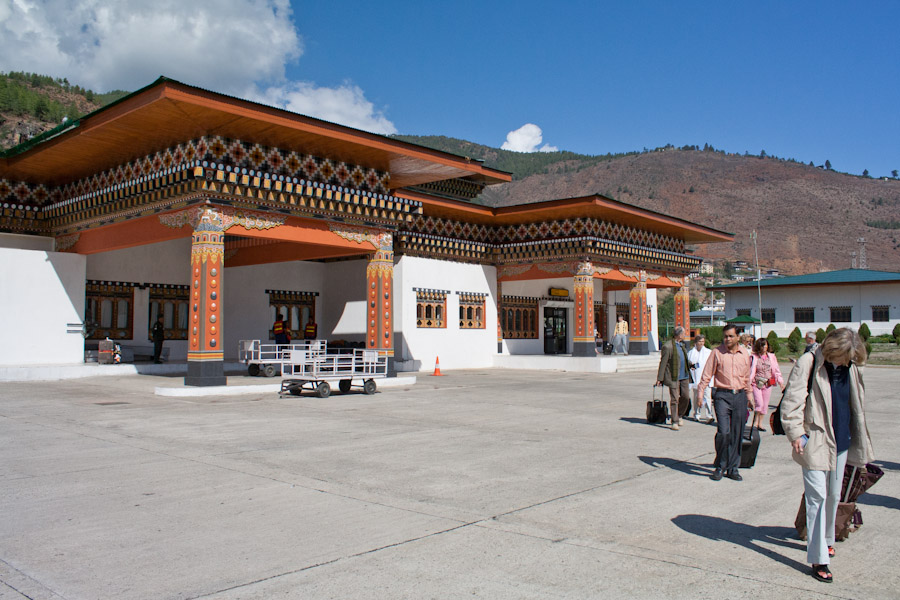 Paro Airport
We made sure that we got the window seat on the right. Our stay had been predominantly cloudy, but the sky had cleared up today. Some 30 minutes into the flight, we could see snow capped mountain peaks in a distance. I had a distinct feeling that this was just a beginning with my love affair with the Himalayas.
---
Date
May 6, 2008
---
---