Ladakh in April - Day 1
Within days of returning from our last visit to Ladakh, I had started keeping an eye on the temperatures there. The moment the maximum temperatures in Leh began to touch double digits, we decided to pack our bags for a quick vacation. The tourist season in Ladakh begins with the opening of the roads from Manali to Leh - which usually happens around the 3rd week of May. The weather in April is too cold; and as we discovered, too mercurial, to visit Ladakh. On the other hand, the town is a lot less crowded. And although only a handful of shops are open, it's easy to find restaurants serving good, multi-cuisine food.
We flew to Leh from Delhi after spending a day there. Now Delhi at this time of the year is nothing short of a blast furnace. While flying from Delhi airport during summers I had seen travelers to Jammu holding thick jackets, pullovers, mittens and mufflers, and shuddered at the thought of having to even touch all the winter wear in the sweltering Delhi heat. This time I wasn't a distant spectator but an active hoarder of all wintery clothes. Ironically, for someone visiting Leh in non-peak season, we couldn't get window seats - thanks to a large contingent of tourists on our flight. As we flew closer to Leh, from the furtive glances at the window from my aisle seat I could vaguley make out tall snow covered mountains. When we landed, the temperature outside was 4ºC. The mountains surrounding the runway, the azure sky with patches of drifting clouds and an ineffective but bright sun made for a mesmerizing view. We stood there soaking in the scenery while buses after buses loaded the passengers and took them to the terminal barely a few meters away from the runway. The bus ride is a security measure (the airport is used by the Indian Air Force so you wouldn't want passengers straggling away) and a convenience (walking uphill to the terminal after landing in the thin, oxygen deficient altitude of 11,000+ ft can take a herculian effort).
We were at the same guesthouse as our last visit. The garden where I'd spent considerable time clicking flowers during our last visit, was nothing but a bare, barren patch. It had been readied and seeded for summers but at the moment nothing grew here. The only exception was a lone, young, apricot tree at the entrance which was decked with delicate, pinkish-white flowers.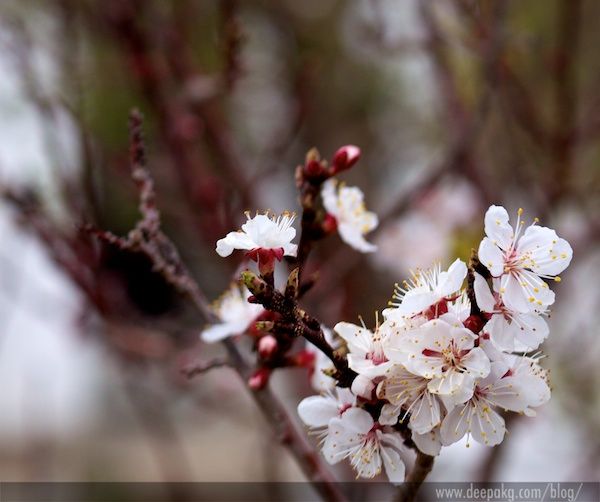 Ladakh in April - Day 1 1
The rooftop restaurant at the guesthouse was closed. The loos upstairs hadn't been assigned a gender yet.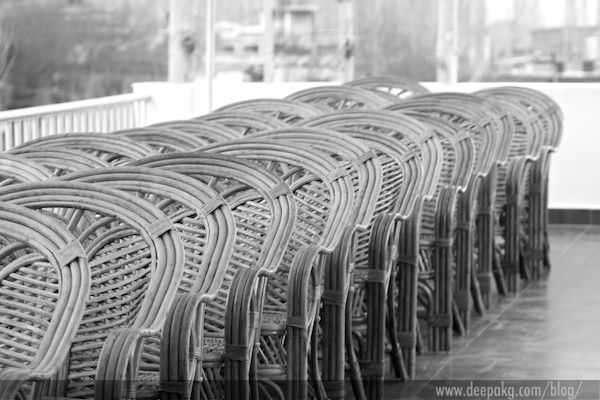 Ladakh in April - Day 1 2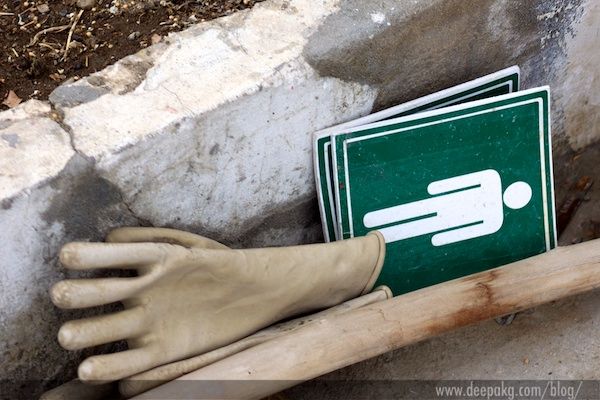 Ladakh in April - Day 1 3
The calendar outside the restaurant kitchen was stuck on October'09 - even time freezes in Ladakh once it starts snowing. In my mind this restaurant's utility lies more in the views of the Stok range that it offers than the food. The former was still being served fresh. Though again, it was a very different view from our last visit. The range was covered in snow, and menacing clouds obscured the tallest of peaks.

Ladakh in April - Day 1 4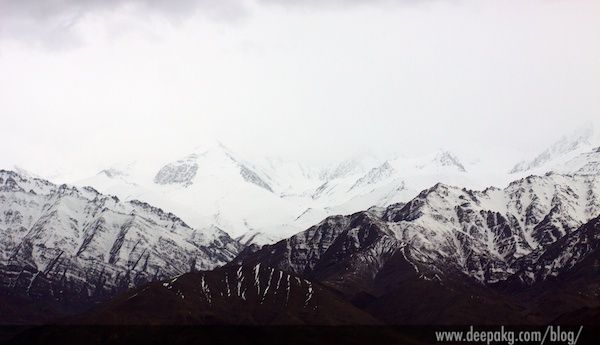 Ladakh in April - Day 1 5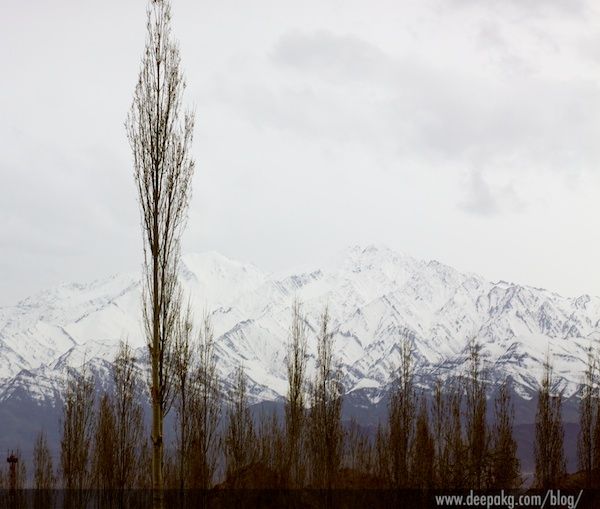 Ladakh in April - Day 1 6
Even people born and brought up in Ladakh take it easy when they return from the plains. Half a day of rest is mandatory while anything between 24-36 hrs is recommended for occasional visitors. Consequences of hurrying things up could be anywhere from headache, nausea, fever to even loss of consciousness. That said, we knew from our trip in August that even after those hours spent resting, you never quite acclimitize. It takes much longer than the 5 nights we were to spend here for the body to fully get used to such high altitudes. We slept through most of our first day.
Temperatures in Leh dip quite sharply after sunset. Not even two layers of heavy blankets would stop us from shivering. Since electricity supply in these parts is not very reliable, the guest house didn't provide any electrical heating. Though they readily made available this LPG powered, industrial-strength room heater (aptly called Superheat).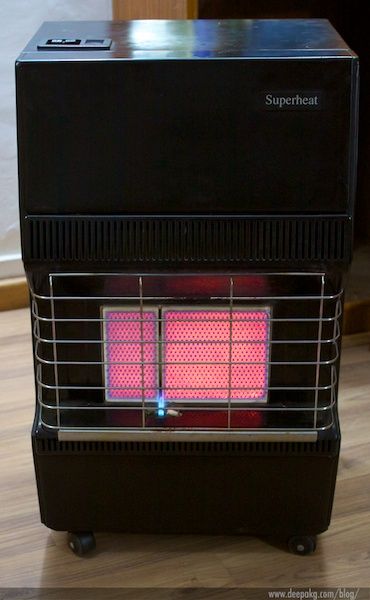 Ladakh in April - Day 1 7
And on cue there was a power cut. As we sat huddled in the ruddy glow of this somewhat noisey and very picturesque heater, it was not hard to wonder if we had done the right thing by visiting Leh in April.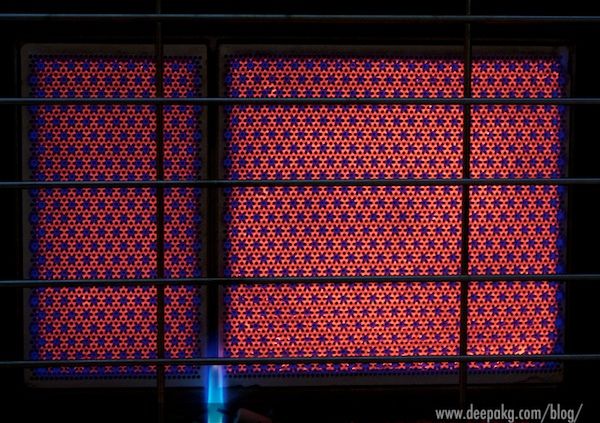 Ladakh in April - Day 1 8
p.s. The heater was turned off after a mere 20 minutes of usage. The huge LPG cylinder that powered this contraption scared us a little. And given the general oxygen deficiency we didn't want something else competing with us in the same room.
---
Date
April 27, 2010
---
---