2018: My year in music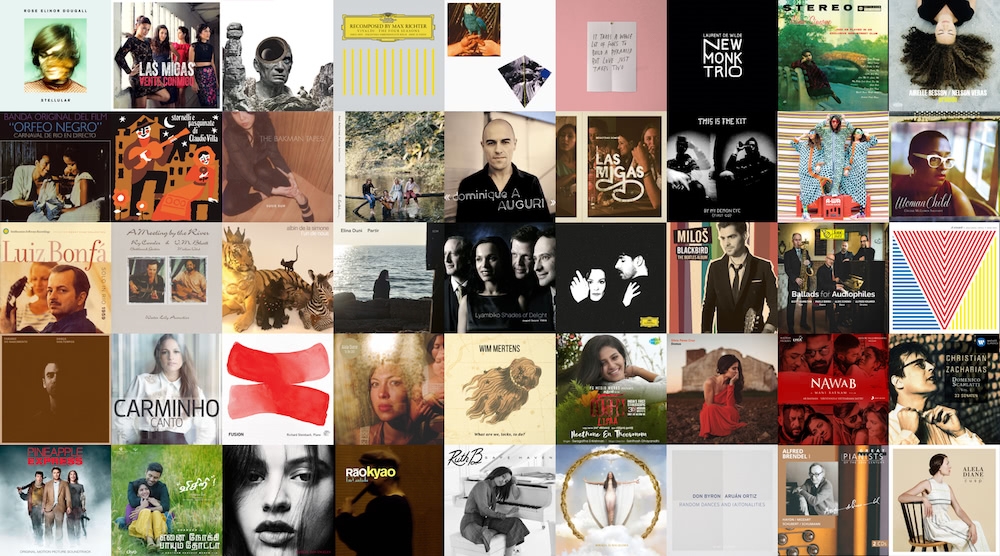 Montage
When I shared a list of my favourite songs from 2016, I wasn't sure if it was going to be a one-off exercise or if I'd be able to repeat it every year. Fortunately there has been no dearth of good music and this year's selection, like the years before, spans multiple genres and languages.
Just like in 2017, I heard music exclusively over streaming. In October this year, I switched to Apple Music. I still prefer Spotify, especially on macOS1 but in the end a streaming service is only as good as the size of its catalog and Spotify has been falling behind - especially when it comes to music from India.2
Back in the day when cassettes were the dominant format, my biggest anxiety was discovering that the quality of sound has deteriorated due to the tape wearing down. My personal equivalent in the streaming world is songs disappearing because the licensing deal with the record label expired in your country. You wake up one morning with a tune stuck in your head only to find the song is no longer playable. Both Apple Music and Spotify at least still show the song in your playlist. There'd be nothing more sinister than for it to disappear from your library without a trace.
The other thing that bothers me about streaming services is artists being available exclusively on one platform. This hasn't affected me personally yet as only mainstream music sees this kind of deal-making and eventually everything does come on all major platforms, but I fear that it's only a matter of time before streaming services also become record labels and start signing artists up and restrict them to only their platform. This already happens today with video content exclusive to Netflix, Amazon Prime etc.3
These are minor drawbacks compared to the sheer variety of music I've been able to enjoy each day. It's exhilarating to have instant access to nearly entire musical output of human race.
Finally, a reminder that these are tracks that I discovered and enjoyed in 2018. The date of their release has no bearing on their inclusion in this list.
Here is the playlist:
Colour of Water: Rose Elinor Dougall

YouTube
The electric guitar opening draws you in, the synths, the baseline, the drums, Rose Elinor's voice and just the overall energy and dynamism of the song keeps you hooked.
Calma: Las Migas

YouTube
Love the feeling of ebb and flow the guitars create in the beginning - like being adrift in a calm river. Plus the powerful vocals and fiddle ending.
Nobakitani: Kikagaku Moyo

YouTube
A Japanese psychedelic rock number that incorporates Sitar rather beautifully.
Recomposed by Max Richter: Vivaldi, The Four Seasons: Spring 1: By Max Richter - Max Richter, Daniel Hope, Konzerthaus Kammerorchester Berlin & Andre de Ridder

YouTube
A fine example of how to make something that's already close to perfect even better. Max Richter's take on Vivaldi sounds very familiar and very new at the same time.
Are You Serious: Andrew Bird

YouTube
Earlier this year, I left my cushy corporate job for a new gig at a startup.

"

Are you serious?" was therefore my personal refrain for quite some time this year.
Bucket & the Rag: You Raskal You

YouTube
Poignant lyrics. Quirky music video. An unexpectedly cheerful jazzy ending.
Misterioso: Laurent de Wilde

YouTube
Some fine jazz piano playing. The central theme (around 0:26 mark) has the player moving up and down the scale which for some reason reminds me of boss-level in a video game - think stage 4 in any of the worlds in Super Mario Bros.
Love Me or Leave Me: Nina Simone

YouTube
Initially I had come across a remix of this track that caused me to look up the original, which to my ears sounds a lot better. It's remarkable how contemporary Nina Simone sounds, especially given that this track is from her 1958 debut album. That said, the original source material that Nina drew from dates back to 1928!
Neige: Airelle Besson & Nelson Veras

YouTube
I have a soft spot for pieces that keep thing simple. This one features some inspired trumpet playing to a guitar accompaniment.
Manha de Carnaval / Eyridice: Elizete Cardoso & Luis Bonfá

YouTube
A hauntingly beautiful song.
Claudio Villa a mezza voce (Stornelli amorosi - Parte I): Claudio Villa

YouTube
Claudio Villa's voice is uplifiting. This is one of the four songs on this album in this style. The other two are sung in a fuller voice.
I Do: Susie Suh

YouTube
Intentionally left blank as an exercise for the listener.
Love Is Strange (2018 Remaster): Paul McCartney & Wings

YouTube
More than a third of this song is a long instrumental intro. Paul McCartney, when we do hear him, is instantly recognisable and at the time of this 1971 recording, still very much on top of his game.
Les enfants du pirée: Dominique A

YouTube
The opening of this song sounded very familiar. I realised that a cookware company in India had used the opening bars for their jingle. This one is a cover of the original from a 1960 Greek film.
Me Mueve el Aire: Las Migas

YouTube

A mí me mueve el aire, el aire me mueve a mí
A mí, a mí, a mí me mueve el aire

The air moves me, the air moves me
Me, the air moves me


It's hard to not interpret these lyrics literally when you are on a bike with wind on your back. Jokes aside, it's incredible how much energy this song exudes. You have to see them perform this live to appreciate how much it must take from them.
By My Demon Eye (First Go): This Is the Kit

YouTube
Intentionally left blank as an exercise for the listener.
Ya Shaifin al Malih: Awa

YouTube
Three-sister band from Israel that blends Yemenite traditional music with modern sounds.
John Henry: Cécile McLorin Salvant

YouTube
I am featuring a track from this album for the third time in a row. This is one of the more playful song on the album but it still showcases Cécile McLorin Salvant's impressive vocal range. Aaron Diehl's staccato piano playing provides the perfect accompaniment.
Sambolero: Luiz Bonfá

YouTube
Just a guitar and Luiz Bonfá humming.
Isa Lei: Ry Cooder & Pandit Vishwa Mohan Bhatt

YouTube

Back in 1993 when Vishwa Mohan Bhatt won the Grammy, I heard about it in news in India. However, it wasn't very clear what exactly he had been awarded the Grammy for. I assumed it was some kind of 'Lifetime achievement' award for his invention of Mohan Veena. It sounds ridiculous to think how much effort it took back then (before Internet and Wikipedia) to look up things like these, especially after they had drifted out of the news cycle. It was only when I heard the Mohan Veena interlude in a Tamil song some 4 or 5 years later, did I realise what it sounded like.

It made me very happy to have stumbled upon the album that got him the Grammy. This is my favourite track from the album. Ry Cooder's slide guitar and Mohan veena blend beautifuly to create a calm atmosphere.
Le grand amour: Albin de la Simone

YouTube
Included for Albin de la Simone's warm, soothing voice.
Oyfn Veg: Elina Duni

YouTube
A beautiful, minimalist rendition of a yiddish lullaby about a boy who wants to become a bird to give company to a leafless wintry tree because all the other birds have fled to warmer climes leaving it alone.
Malaika: Lyambiko

YouTube

I sometimes wonder if composers in India had nobler intentions for lifting tunes so blatantly - such as exposing the Indian masses to music from all over the world. Perhaps, in there minds they were merely recording a cover. Anyway, I heard Malaika first in its Hindi avatar. The original Swahili version's authorship is a bit murky and dates back to 1945. It became popular in the West in the 1980s thanks to the German band Boney M.

This particular cover of Maliaka couldn't be more distant from the disco days of Boney M and exudes refinement.
O Cessate Di Piagarmi (Arr. Voice & Electric Guitar): By Alessandro Scarlatti - Nora Fischer & Marnix Dorrestein

YouTube
I love modern reinterpretations of classical works, especially when they are done this well. This is what the original material would typically sound like. This one uses electric guitar in place of a piano. Both the vocals and the electric guitar are brilliant.
Lucy In the Sky With Diamonds (feat. Anoushka Shankar): Miloš Karadaglić

YouTube
I can see why Anoushka Shankar would be a natural choice for playing Sitar in a Beatles tribute album but I am surprised by the choice of the song. The original Lucy in the sky with diamonds has no Sitar. It does have a lose Indian connection becuase of the use of Tanpura in the background and perhaps that alone was enough. In any case, this particular rendition borrows only loosely from the source and Miloš and Anoushka truly make it their own.
The Shadow of Your Smile: Scott Hamilton

YouTube
This recording has an intimate feel redolent of the hey days of Blue Note records4.
These Days: St. Vincent

YouTube
Intentionally left blank as an exercise for the listener.
Forro Brasil (feat. Airto Moreira): Fabiano do Nascimento

YouTube
From 0 to foot-tapping in 10 seconds.
A Ponte: Carminho

YouTube
Modern Fado at its traditional best.
The Köln Concert: Part 2c: Richard Steinbach

YouTube

I had read about Köln Concert in Tim Hartford's book, Messy5. Apparently the original concert had everything going against it - a tired performer and the wrong kind of piano. The Wikipedia page has more details:

Jarrett arrived at the opera house late in the afternoon and tired after an exhausting long drive from Zürich, Switzerland, where he had performed a few days earlier. He had not slept well in several nights and was in pain from back problems and had to wear a brace

The piano they had was intended for rehearsals only and was in poor condition and required several hours of tuning and adjusting to make it playable. The instrument was tinny and thin in the upper registers and weak in the bass register, and the pedals did not work properly.

Despite these odds, Keith Jarrett gave a sublime performance that is both critically acclaimed and commercially successful.

He transcribed this 1975 performance in 1990, which has allowed others recordings of this work to become available. While the original is a must hear, I love this recording by Richard Steinbach as it showcases what's possible on a modern, grand piano. It sounds a lot fuller especially in the in lower registers. Despite being a studio recording under more controlled circumstances, it retains the verve and warmth of the original.
Lady Divine: Alela Diane

YouTube

I had discovered Alela Diane 11 years ago when Apple had featured another song (Dry Grass and Shadows) from this album (To Be Still) as part of their free weekly 'Song of the week' giveaway. Over the years I've come to appreciate her voice and whimsical (if somewhat dark) lyrics even more:

When the day, when the day falls to the light,
at the end of the end of my time, I fall, to the dark,
take the bones off my back.
And I chant, to the black, you were my lady divine.
Cause my children, are in hiding, mortar and pestal they grind.

Loosening the Ropes: By Wim Mertens - Wim Mertens

YouTube

Wim Mertens glorious voice soaring over piano (which he plays himself). Apparently, none of the songs in the album this track is from (What Are We, Locks, To Do?), have lyrics. A Dutch review I read summed it up nicely:

There is of course nothing wrong with singing nonsense, but due to the amount of space that the voice gets, this starts to get boring after a while.

Still as part of a larger, diverse playlist, I'd keep it.
Neethane En Thoovanam (From

"

Lisaa"): Swagatha S. Krishnan & Santhosh Dhayanidhi

YouTube
This song evokes the idyll of rural hill stations of South India. Swagatha's voice in this track reminded me of Bombay Jayashree a lot.
No Hay Tanto Pan: Silvia Pérez Cruz

YouTube
Silvia Pérez Cruz's voice in this song gives me goosebumps.

'

No Hay Tanto Pan' or

'

There is not enough bread' featured in a 2016 Spanish film (Cerca de tu casa) about the effect of the 2007 economic crises on families in Spain. Silvia Pérez also had a leading role in the film!
Bhaga Bhaga: A. R. Rahman & Shakthisree Gopalan

YouTube
The bigger hit from this album was Neeli Kanumallo (Mazhai Kuruvi if you prefer Tamil) but for me this song stood out for its unusual structure.

33

Sonaten Für Klavier: Sonate K. 380 (L 23) E-Dur: Andante Commodo: By Domenico Scarlatti - Christian Zacharias

YouTube
There is a passage with shops, cafés etc. in Centraal Station that runs between the South and North exit. At night, they pipe classical music (usually harpsichord works) over the

PA

system - purportedly to discourage teenagers from loitering. One night they were playing a recording of Scarletti piano sonatas and I immediately fell in love with this one. In fact, I might have lingered on a little longer than I would've. Now what are they to do about 40-somethings that loiter because they have classical music on?
Bird's Lament: Moondog & The London Saxophonic

YouTube
Brilliant counterpoint between tenor and baritone Saxophones (I am guessing the instruments based on sheet music I found on the internet: this is where I miss physical media with liner notes) - like two birds quibbling over something early in them morning.
Visiri (From

"

Enai Noki Paayum Thota"): Darbuka Siva, Sid Sriram & Shashaa Tirupati

YouTube
Tamil film music at its genre defying best.
Si Tú Supieras Compañero (feat. Raül Refree):

ROSALÍA


YouTube
Rosalia was my artist of the year. She has a beautiful voice, tremendous vocal range and excellent control. Listen to De Plata from the same album to get a sense of her vocal talent. This song is rooted in traditional Flaminco but has a dissonant string section in the end evocative of mourners wailing.
A Noite Gosta de Mim: Rão Kyao

YouTube
Fado is normally sung to the accompaniment of Portuguese guitar(s). To hear it performed with bamboo flute is quite unusual. Replacing the sonorous, steely sound of the acoustic guitar with soft, sinusoidal sound of flute alters the texture of the music entirely and yet it's distinctly Fado.
Lost Boy: Ruth B.

YouTube
Sublime lyrics and singing.

MALAMENTE

(Cap.1: Augurio):

ROSALÍA


YouTube
This is from Rosalía's 2018 Album El Mal Querer. It was a difficult pick because pretty much the entire album is a heady blend of flemenco, pop, trap, electronic and hip-hop. The music video for this song is quite brilliant and is full of visual metaphors for all things that would go badly (badly being the literal translation of

'

Malamente') - from bullfighters on bikes to a person in monk-like robes on a skateboard riddled with spikes.
Black and Tan Fantasy: Don Byron & Aruan Ortiz

YouTube
This grows on you. One morning I woke up convinced that it had been playing in the house. It was a few moments later.
Piano Sonata in E Minor, H.

XVI

No. 34: I. Presto: By Franz Joseph Haydn - Alfred Brendel

YouTube
Only a handful of the 60 odd Haydn piano sonatas are in minor keys. The opening movement of each of them draws you in the moment the first bars are played. This Alfred Brendel recording of the E-Minor sonata is magical.
Ether & Wood: Alela Diane

YouTube
This is the sort of song that makes me feel like I am standing alone in an expansive landscape - think American prairies - with a storm brewing far in the distance.
Congratulations and Condolences: Allison Miller's Boom Tic Boom

YouTube
A complex piece that is rich, full and bursting with energy.
Wo Ladki: Arijit Singh

YouTube
A Bollywood song built around a moderately complex piano piece is rare6. Arjit Singh's voice put any doubts I might have had about incorporating this into my year-end retrospective to rest.
---
Date
January 1, 2019
---
---